The JSE retreated on Tuesday as global markets traded relatively mixed as they try to gauge the possible outcomes from Brexit and trade talks between China and the USA.
Locally, there was disappointment in terms of economic data as the Business Confidence indicator for the 4th quarter came in weaker than expected at 31, instead of the anticipated reading of 40. On the JSE, broad-based sentiment continued to be the main driver of market direction. Stocks in Europe were mostly weaker despite a mixed trading session in major Asian bourses earlier.
PPC Ltd [JSE:PPC] came under significant pressure as lost 7.83% to end the day at R5.30, while Stadio Holdings [JSE:SDO] faced similar headwinds to end the day 7.2% weaker at R3.22. Packaging firm, Nampak [JSE:NPK] lost 6.69% to close at R14.51, while construction group, Murray and Roberts [JSE:MUR] closed 4.61% weaker at R15.31. Blue chip index constituent Mediclinic [JSE:MEI] dropped 4.14% to close at R61.40, and its sector peer, Life Healthcare [JSE:LHC] fell 3.57% to close at R26.71. Platinum miner, Anglo American Platinum [JSE:AMS] closed 3.22% weaker at R449.60, while gold miner, Harmony Gold [JSE:HAR] lost 2.82% to close at R21.75.
Arrowhead Properties [JSE:AWA] recouped some of Monday's losses as the stock jumped 14% to close at R3.99. Imperial Holdings [JSE:IPL] managed to post gains of 6.05% as it closed at R65.00 while Liberty Holdings [JSE:LBH] gained 3.34% to close at R112.26. Retailer, the Spar Group [JSE:SPP] closed 4.11% higher at R196.76, while The Foschini Group [JSE:TFG] rose 2.43% to close at R176.05.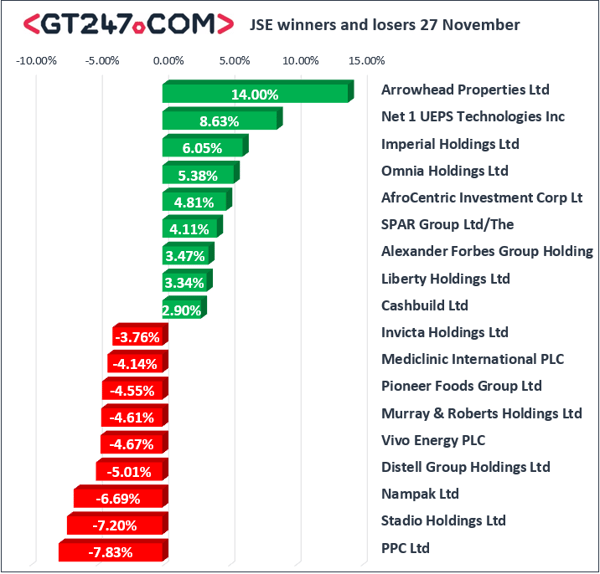 The JSE All-Share index eventually closed 0.65% weaker while the JSE top-40 index lost 0.7%. The Financials index was the only index to close firmer after it managed to eke out gains of 0.15%. The Industrials and Resources indices fell 0.78% and 1.34% respectively.
Metal commodities fell sharply in the afternoon session after trading mostly flat for the day. At 17.00 CAT, Gold was down 0.56% to trade at $1215.51/oz, Platinum had lost 1.23% to trade at $833.38/Oz and Palladium was 0.58% weaker at $1139.10/Oz.
Brent crude continued on its rebound from its recent lows as briefly traded above $61/barrel. The liquid gold was trading 0.84% firmer at $60.99 just after the JSE close.
At 17.00 Bitcoin was down 1.67% to trade at $3779.10/coin, while Ethereum was down 4.23% at $106.31/coin.