Local
JSE finishes the week in the red, the All-Share was 1.02% lower, with the blue-chip Top40 and industrials down by 1.04% and 1.31% respectively.
Financials were down 0.72%, as Capitec [JSE:CPI] and PSG [JSE:PSG] continued to recoup losses from earlier in the week, up 9.38% and 3.00%.
Elsewhere, Hudaco [JSE:HDC] was up 4.08% on the day, as the market reacted positively to the increase in operating profit and turnover, up 6% and 7% respectively.
While property stocks continued to get squeezed, with Nepi Rockcastle [JSE:NRP] down 4.02% and Fortress B [JSE:FFB] down 6.19%.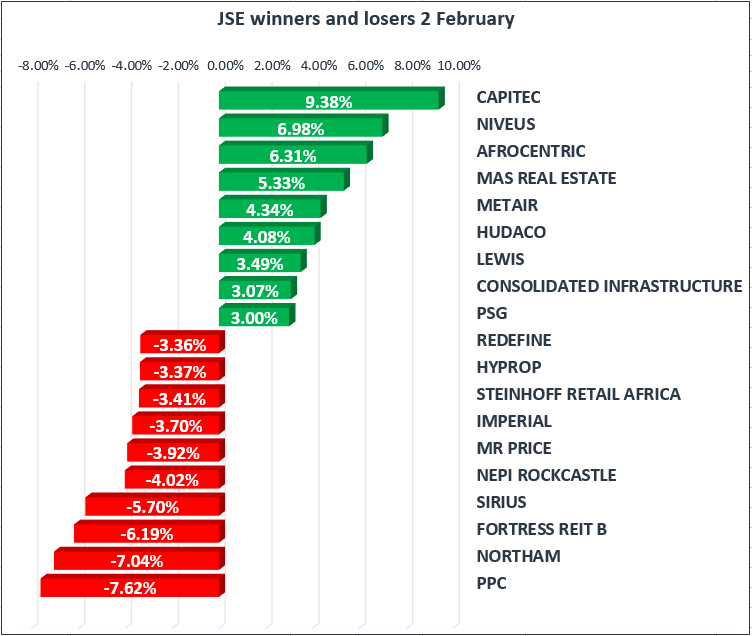 The rand was weaker against major currencies, as investors were cautious ahead of President Jacob Zuma meeting with the top six officials of the ruling party over his future. The rand was trading at R12.07 to the dollar, R17.03 to the pound and R14.98 to the euro.
Commodities
We saw gold prices drop after the Dollar index recovered marginally boosted by a better-then-expected U.S. jobs report.
Gold was trading at lower, at $1330.10 per ounce, silver down at $16.73 per troy ounce and platinum continued to ease, trading at $987.95 per troy ounce.
Oil prices reversed to trade down on the day, even with bullish sentiment from Wall Street's biggest banks. Brent Crude is currently trading at $68.09/bbl and WTI trading at $64.62/bbl.
Global Stocks
Global markets remained under pressure as U.S. bond yields continue to rise on increased inflation expectations. Asian markets ended the day mostly weaker, with Japan's Nikkei losing 0.90%, while China's Shanghai Composite which managed to buck the trend and close up by 0.46%.
Equities fall for a fifth day in Europe, as Deutsche Bank reported a net loss of about 497 million euros for 2017. We saw the DAX down by 1.46%, the CAC-40 closed down by 1.34%, and the FTSE down by 0.50% at the time of writing.
After a volatile week for U.S. equities, the Dow, S&P 500 and Nasdaq opened lower ending a four-week winning streak. Good earnings numbers from Apple and Amazon saw both companies shares rise after releasing their results, while shares in Google-parent Alphabet, fell 3.2% after its earnings missed expectations.
Cryptocurrencies
2018 continued for to be a miserable year for Bitcoin as the world's largest cryptocurrency traded under $8,000 for the first time since November 2017, roughly a 60% drop since it's peak.