The JSE closed weaker on Monday as global markets started on the backfoot due to increased trade war concerns.
Trade concerns were reignited following news that the Trump administration was set to announce measures to crack down on Chinese investment into key US technologies. Given the rise of Chinese tech giants such as Baidu and Alibaba which have significant US derived revenues, this has the potential to cause more trade turmoil.
Earlier on in Asian trading, the Hang Seng and the Nikkei lost 1.29% and 0.79% respectively while the Shanghai Composite Index was 1.34% weaker. European markets were trading mostly in the red and locally the JSE was also trading significantly softer.
Blue chips struggled in today's session which saw only 4 stocks close in the green. Index heavyweight Anglo American PLC [JSE:AGL] lost 3.5% to close at R294.96 per share, whilst Naspers [JSE:NPN] was 3.04% weaker to close at R3207.00 per share. Retailer, The Foschini Group [JSE:TFG] closed at R185.84 per share after dropping 2.17%, and telecommunications provider, Vodacom [JSE:VOD] eased to R123.65 after losing 2.5%.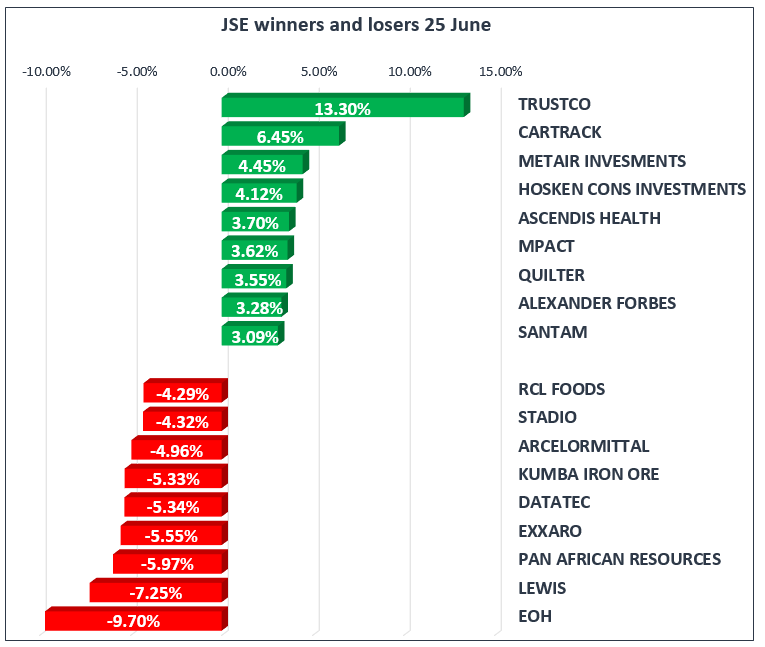 On the broader index, EOH Holdings [JSE:EOH] slipped by 9.7% to close at R26.73 per share and coal miner, Exxaro [JSE:EXX] lost 5.51% to close at R117.32 per share. Barloworld [JSE:BAW] closed at R128.38 per share after shedding 3.98%, and Brait [JSE:BAT] lost 2.11% to close at R41.31 per share.
Gains were relatively modest which saw stocks such as Ascendis Health [JSE:ASC] gaining 3.7% to end the day at R10.94 per share. Santam [JSE:SNT] and Telkom [JSE:TKG] gained 3.09% and 1.36% respectively, whilst Dis-Chem [JSE:DCP] closed at R26.87 per share after gaining 2.09%.
After a difficult trading session the JSE All-Share Index eventually closed the day 1.63% weaker, whilst the JSE Top-40 Index lost 1.74%. The Resources index was the biggest casualty of the day after it lost 2.05%. The Industrials and Financials indices lost 1.99% and 0.72% respectively.
The Rand recorded significant gains earlier on to peak at a session high of R13.41/$. However, it relinquished all the gains to trade at R13.57/$ at 17.00 CAT, down 1.09% for the day.
Trading in Gold was relatively stable as it managed to slide to a session low of $1264.53/Oz. At 17.00 CAT the precious metal had recovered to trade at $1266.61/Oz, down 0.31% for the day. Platinum was 0.94% softer at $869.15/Oz and Palladium was trading at $944.68/Oz, down 1.43% for the day.
Brent crude fell after Saudi Arabia and Russia pledged to increase supply by an additional 1 million barrels per day. The commodity slipped to a session low of $73.74/barrel before retracing marginally to trade at $74.04/barrel, down 2% for the day just after the JSE close.
Bitcoin jumped 6.99% to trade at $6277.20/coin at 17.00 CAT, while Ethereum was trading 7.57% firmer at $465.51/coin.