The JSE erased earlier gains to close weaker on Wednesday as blue-chip stocks withered.
The Nikkei and the Shanghai Composite Index managed to close firmer as they remained buoyant due to the firmer close in US equities on Tuesday. The Hang Seng was closed for a public holiday. The trend reversal was first recorded in European equities as concerns arose about automobile stocks due to slowing demand from China as well as vehicle emissions worries.
Locally, there was positive news as South African Retail Sales YoY increased by 2.5% which beat the forecasted contraction of 0.1%. Retail Sales MoM advanced 0.6% which beat the estimated decline of 0.8%.
On the JSE there were very few positives to take note off particularly for the JSE Top-40 index. Mediclinic [JSE:MEI] was the topic of the day after the company issued an interim trading update which disappointed after it flagged decreasing margins in Switzerland, which has been big source of revenue for the business. The stock slumped to R73.96 after dropping 16.9%.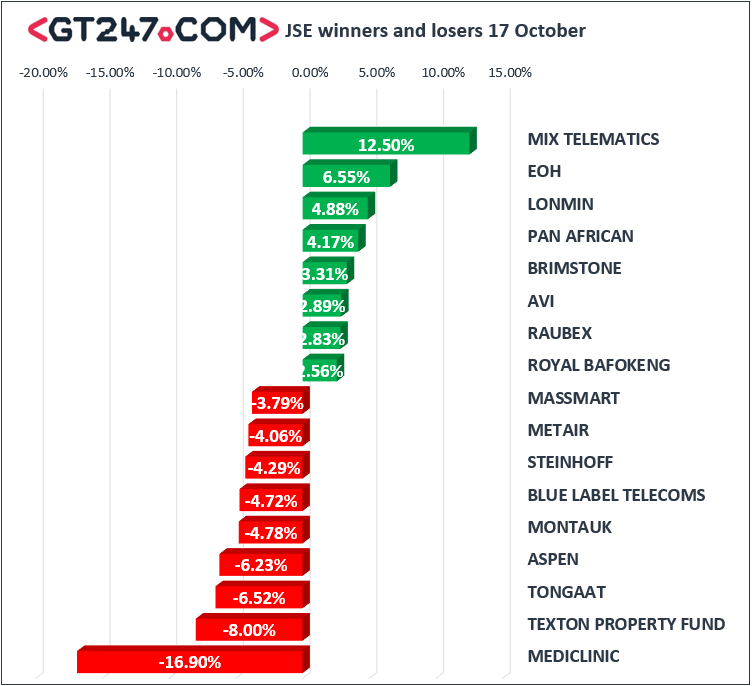 Aspen [JSE:APN] also came under significant pressure as the stock lost 6.23% to close at R158.66. FirstRand [JSE:FSR] retreated to close 3.33% weaker at R61.58, while Nedbank [JSE:NED] closed at R236.00 after shedding 2.04%. Retailer, The Foschini Group [JSE:TFG] closed 2.91% weaker at R163.90 despite better than expected retail sales data, and Shoprite [JSE:SHP] lost 2.57% to close at R184.34.
Gains were limited to five stocks on the blue-chip index which saw British American Tobacco [JSE:BTI] rally by 2.19% to close at R615.50. Clicks [JSE:CLS] gained a percent to close at R158.06 and Vodacom [JSE:VOD] inched 0.96% to close at R124.26. EOH Holdings [JSE:EOH] was one of the day's top gainers after adding 6.55% to close at R33.84, while platinum miner, Lonmin [JSE:LON] rose to close at R11.60 after gaining 4.88%.
The JSE All-Share index eventually closed 1.6% weaker, while the JSE Top-40 index lost 1.79%. All the major indices closed lower which saw the Industrials index drop 1.74%, while the Resources and Financials indices fell by 1.65% and 1.45% respectively.
Brent crude came under pressure following a big build recorded in US inventories data released this afternoon. The commodity had lost 2.57% to trade at $79.32/barrel just after the JSE close.
At 17.00 CAT, Gold was up 0.1% to trade at $1226.35/Oz, Platinum was down 0.65% to trade at $836.00/Oz and Palladium was 0.36% weaker at $1076.40/Oz.
Bitcoin was only up 0.09% to trade at $6734.10/coin and Ethereum was down 0.24% at $213.58/coin.