The JSE fell on Friday as cautious trading ensued due to the thanksgiving holiday in the USA.
Trading volumes across most equity markets were relatively low due to the limited trading hours of US stock markets because of the holiday. Today's slide was compounded by the release of weaker Purchasing Managers Index data for the Eurozone, which ignited concerns that growth could be slowing within that bloc. This in conjunction with Brexit and the current trade war between the US and China could have further detrimental effects on the economy of the union.
The local bourse came under significant pressure as miners traded mostly weaker. Kumba Iron Ore [JSE:KIO] fell 4.47% to R279.97, Glencore [JSE:GLN] lost 2.84% to close at R50.35, and Anglo American PLC [JSE:AGL] dropped 2.77% to end the day at R282.89. Index heavyweight Naspers [JSE:NPN] also aided in dragging the all-share index lower after it lost 1.33% to close at R2717.32. Exxaro Resources [JSE:EXX] weakened by 2.14% to close at R137.00, while Discovery Limited [JSE:DSY] closed at R155.90 after losing 1.42%. The current slump in oil prices has not spared Sasol [JSE:SOL] as the stock lost 5.2% to close at R404.32 in today's session.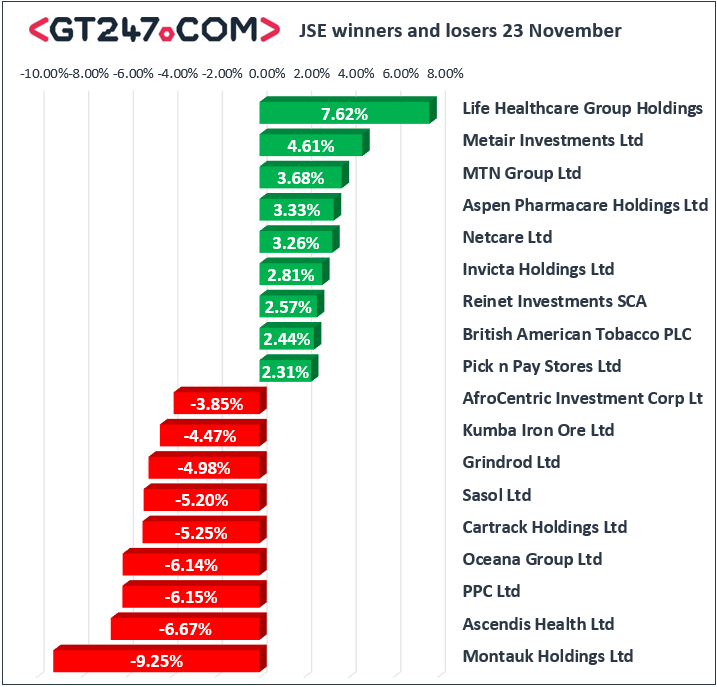 Life Healthcare [JSE:LHC] recorded a decent increase in revenue and earnings in its full-year results which saw the stock jump 7.62% to close at R26.42. Aspen Pharmacare [JSE:APN] managed to add 3.33% to end the day at R153.19, while MTN Group [JSE:MTN] was buoyant on the back of a potential resolution with the Nigerian central bank which saw the stock gain 3.68% to close at R89.00. British American Tobacco [JSE:BTI] rebounded to close 2.44% firmer at R488.71, whole Reinet Investments [JSE:RNI] rose 2.57% to R204.00. Newly unbundled Motus Holdings [JSE:MTH] gained 1.36% to close at R85.61, and Imperial Holdings [JSE:IPL] closed 1.71% higher at R58.23.
The blue-chip JSE Top-40 index fell 1.02% while the broader JSE All-Share index lost 0.96%. The Resources index lost 2.54%, while the Industrials and Financials indices dropped 0.2% and 1.15% respectively.
The rand traded marginally weaker against the greenback due to the US dollar advancing. The local currency retreated to a session low R13.90/$ before being recorded at R13.88/$ at 17.00 CAT.
Brent crude recorded one of its steepest intra-day declines to reach a session low of $58.92/barrel. The commodity was down 5.48% to trade at $59.17/barrel just after the JSE close.
At 17.00 CAT, Gold was 0.42% weaker at $1223.48/Oz, Platinum was down 0.39% at $844.14/Oz, and Palladium had lost 1.39% to trade at $1139.13/Oz.
Bitcoin was down 3.38% at $4401.20/coin, while Ethereum had slumped 6.7% to trade at $124.09/coin.