The JSE weakened further on Wednesday as the sell-off in emerging markets and the rand intensified.
The rand slumped to a session low of R15.69 against the US dollar as the greenback extended its gains earlier on. The US dollar did pullback, but this did little to change the direction of the rand. At 17.00 CAT, the rand had rebounded to trade at R15.42/$ but it was still down 0.69% on the day. The sentiment across most global equity benchmarks was mostly bearish as investors cautiously await the deadline for the imposition of new tariffs by the USA on China.
In Asian trading earlier, the Hang Seng came under significant pressure eventually closing the day down 2.61% while the Chinese mainland benchmark lost 1.95%. The Nikkei closed 0.51% softer. Equity markets in Europe also struggled due to the uncertainty surrounding the trade tensions.
On the JSE, banks weakened due to the softer rand which saw Nedbank [JSE:NED] drop 5.01% to close at R255.04, while FirstRand [JSE:FSR] lost 3.33% to close at R64.82 per share. Life Healthcare [JSE:LHC] fell to R25.70 after the stock lost 2.91%, and index heavyweight, Naspers [JSE:NPN], closed 4.02% weaker at R3055.60 per share after Tencent Holdings dropped 4.08% in Hong Kong.
Listed property stock, Resilient [JSE:RES] came under pressure to end the day down 4.67% at R54.10 per share. EOH Holdings [JSE:EOH] continued to struggle as it lost 4.04% to close at R34.45. Coal miner, Exxaro Resources [JSE:EXX] weakened to R149.00 after dropping 3.36%, and sugar producer, Tongaat [JSE:TON] closed 3.35% lower at R75.87 per share.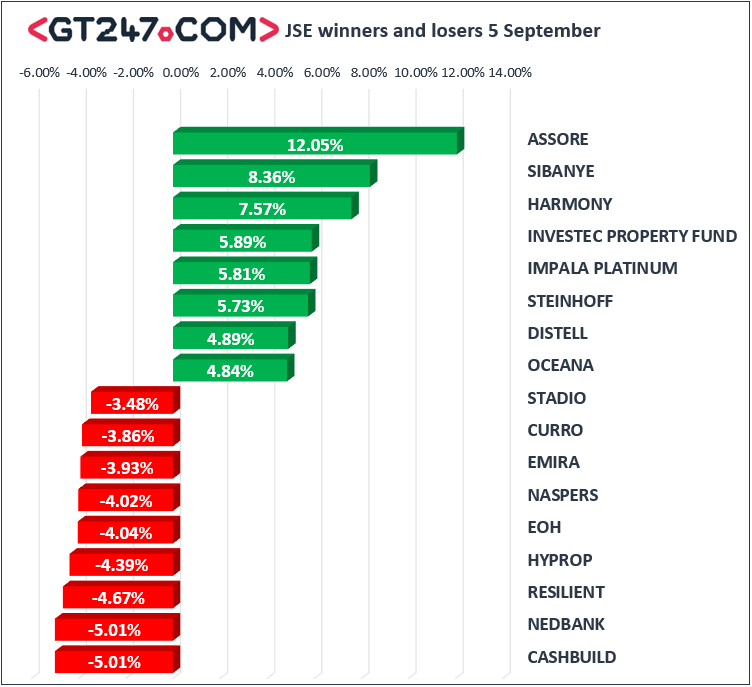 Assore [JSE:ASR] managed to close amongst the day's biggest gainers after the stock jumped 12.05% to close at R342.00 per share. Gold miner, Harmony Gold [JSE:HAR] rose to R26.87 after adding 7.57%, and Sibanye Stillwater [JSE:SGL] climbed to R9.85 after gaining 8.36%. Impala Platinum [JSE:IMP] eventually closed at R19.31 after it gained 5.81%, and its sector peer, Northam Platinum [JSE:NHM] gained 5.15% to R40.20 per share as platinum metal prices rose.
Gains were modest on the blue-chip index were MTN Group [JSE:MTN] rose by 2.78% to close at R74.00 per share as it recouped some of Tuesday's losses. Investec Limited [JSE:INL] was the odd performer among the financials index to end the day up 1.32% at R96.74 per share. Bidvest [JSE:BVT] recorded inched up to R201.42 after adding 0.71% and British American Tobacco [JSE:BTI] closed 1.03% firmer at R740.00 per share.
The JSE Top-40 index weakened further towards the close eventually closing 1.66% lower, while the JSE All-Share index lost 1.36%. The Financials index continued to trade under significant pressure which saw it drop another 1.81%. The Industrials and Resources indices lost 1.75% and 0.79% respectively.
At 17.00 CAT, Platinum had bucked the trend in other metal commodity prices to trade 0.77% firmer at $784.43/Oz. Palladium was down 0.67% to trade at $974.30/Oz and Gold was up 0.48% to trade at $1196.84/Oz.
Brent crude erased most of Tuesday's gains to trade 1.14% weaker at $77.28/barrel just after the JSE close.
Bitcoin traded under pressure after reports suggesting that Goldman Sachs would be ditching its plans to open a cryptocurrency trading desk surfaced. Bitcoin was trading 5.44% weaker at $7004.10/coin, and Ethereum was down 11.21% to trade at $257.66/coin.