The JSE closed weaker on Thursday following another flat trading session in which the local bourse struggled to find a catalyst for direction.
Global markets remain on edge as the deadline for the implementation of US tariffs on Chinese goods draws closer. Chinese equity markets have continued to slide and on Thursday the Hang Seng and the Shanghai Composite Index lost 0.21% and 0.63% respectively. Fears of the likely interruption of global supply chains have seen both developed and emerging markets slide, with the impact on the latter expected to be more severe.
On the JSE, there was some reprieve for Glencore [JSE:GLN] after the company announced a share buyback of US$1 billion. The stock reacted positively to the announcement eventually closing at R58.56 per share after gaining 1.33%. Diversified miner, Anglo American PLC [JSE:AGL] ended amongst the blue-chips top gainers after posting gains of 1.74% to end the day at R310.51. Vodacom [JSE:VOD] gained 2.37% to end the day at R128.98 while Growthpoint Properties [JSE:GRT] was 2.04% firmer at R27.04 per share.
Stadio Holdings [JSE:SDO] jumped 8.82% to close at R4.44 per share as it managed to end amongst the day's biggest gainers. RCL Foods [JSE:RCL] managed to record gains of 5.41% to close at R17.68 per share, while its sector peer, Rhodes Food Group [JSE:RFG], advanced to R20.00 after gaining 5.26%.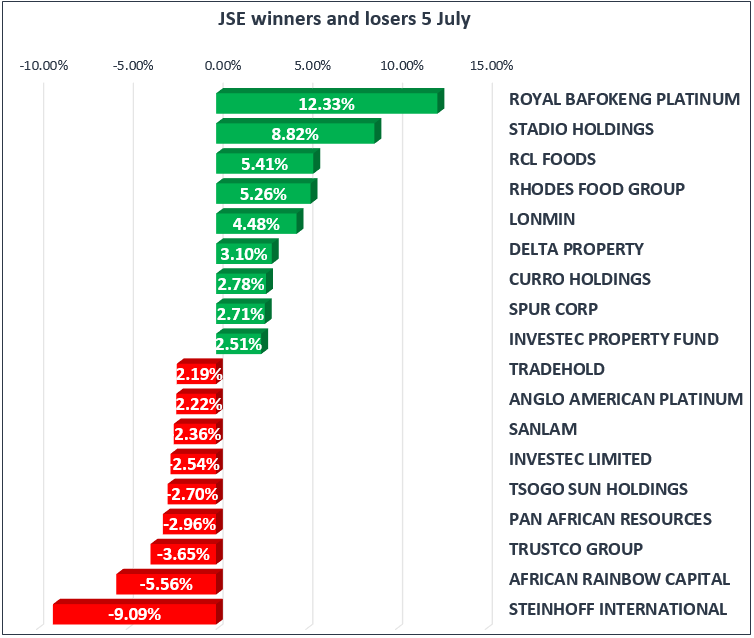 Steinhoff International [JSE:SNH] was one of the day's biggest losers after the stock slid by 9.09% to close at R1.60 per share. African Rainbow Investments [JSE:AIL] traded softer to end the day down 5.56% at R6.80 per share. Tsogo Sun Holdings [JSE:TSH] lost 2.7% to close at R20.94 while MMI Holdings [JSE:MMI] eased to R17.68 after dropping 1.72%.
On the Top-40 index, Sanlam [JSE:SLM] closed at R70.03 after losing 2.36% while Investec Limited [JSE:INL] relinquished some of the previous sessions gains to close at R96.83 per share after dropping 2.54%. Rand hedge, Richemont [JSE:CFR] traded weaker due to the relatively firmer rand which saw the stock close 1.84% weaker at R112.99. British American Tobacco [JSE:BTI] lost 2.11% to close at R704.36 per share.
The local bourse lost the small momentum that it had towards the JSE close to eventually end the day softer. The JSE All-Share index lost 0.32% and the blue-chip Top-40 index closed 0.35% weaker. The Industrials and Financials indices lost 0.66% and 0.6% respectively however the Resources index managed to gain 0.64%.
The rand strengthened to a session high of R13.52 against the greenback as the US dollar pulled back for a 3rd consecutive session. At 17.00 CAT the rand had retraced to trade at R13.59/$.
Gold struggled to gain significant momentum despite the US dollar trading softer. The precious metal only managed a session high of $1258.21/Oz before retracing to trade at $1257.21/Oz at 17.00 CAT. Platinum was 0.3% firmer at $844.43/Oz and Palladium was trading 0.42% weaker at $944.50/Oz.
Brent crude gained traded mostly weaker but it managed to spike up after the release of US crude oil inventories which indicated a surprise build of 1.2 million barrels. The commodity was trading at 78.40/barrel just after the JSE close.
Bitcoin was 1.75% weaker at $6581.20/coin and Ethereum was trading 1.5% softer at $468.16/coin.