There was no respite for the local market on Friday as the local bourse closed the day deep in the red. The JSE closed the quarter in the red, a period that was filled with political and economic uncertainty as the country plunged into a technical recession. The outlook for the economy looks gloomy as growth prospects continue to be revised lower by the central bank and the ratings agencies. Today's balance of trade number was significantly better than the markets expectations, however the Rand did not benefit much from this.
Asian markets closed the day firmer having given back some gains on Thursday. The Nikkei 225 closed the day up 1.36% to trade at 24120 points a stone throws away from its June highs. The Hang Seng and the Shanghai composite closed the day in the black recording gains of 0.26% and 1.06% respectively.
Losses were sustained by Naspers [JSE: NPN]which eased 0.89% to trade at 305164c/ share. Tencent continues to be the cause of Naspers pain, Tencent continues to fail to find a bid as the stock closed the quarter down 17.9%. This retreat in the tech giants share price has been one of the largest quarterly moves lower for the share. Naspers traded sub 300000c today an area where the stock has been finding support but managed to claw back in the later part of the day. Notable losses were recorded by Coronation [JSE: CML], Liberty 2 Degrees [JSE: L2D],and Steinhoff [JSE: SNH]which shed 5.29%,4.67%, 4.17% respectively.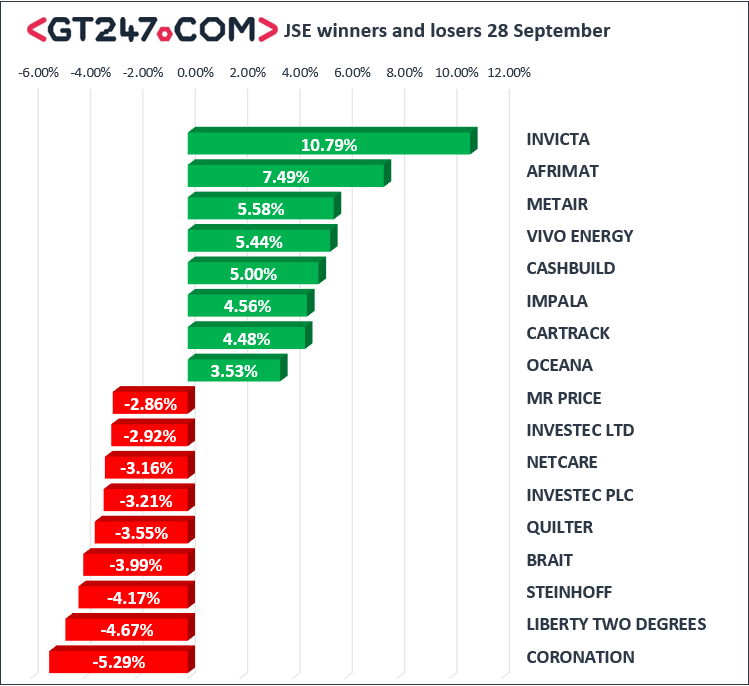 Notable gains on the exchange were recorded by Invicta [JSE: IVT], Afrimat [JSE: AFT], and Metair [JSE: MTA], whichadvanced 10.79%, 7.49% and 5.58% respectively.
The resource 10 index was the only index to trade in the black on Friday, as the Financial and Industrial indices shed 1.42% and 0.5% respectively. The All share closed the day down 0.5% whilst the Top40 eased 0.56% to trade at 55708 and 49520 points respectively.
The local unit was marginally weaker against the majors today and was trading at R14.14/ $ at the time of writing. The Rand also retreated against the Euro and the Pound and was trading at R16.45 and R18.46 respectively. South African 10 Year Bonds (R186), were flat at 8.99% at 17:00 CAT.
Commodities were firmer on the day as the precious yellow metal advanced to $1190/ounce. Brent crude shock off all the aggression form the oil bears on Friday to trade at $82.77, this is the first time the commodity has traded at these levels since September of 2014.
Crypto currencies were firmer on the day as Bitcoin and Ethereum gained 2.41% and 4.11% to trade at $6663 and $226 respectively.