The JSE got off to lukewarm start for the week despite other global equity markets rallying on news that Donald Trump had postponed the date for increasing tariffs on Chinese imports.
Asian markets rocketed on the news which saw the Shanghai Composite Index rally 5.95% while the Hang Seng inched up 0.5%. Gains in Europe were milder, but the trend was still mostly higher on the day. The US dollar retreated on the back of the news which resulted in the rand along with other emerging market currencies trading firmer on the day. At 17.00 CAT, the rand was trading 1.14% firmer at $13.83/$.
On the JSE, retailers scored some decent gains due to the firmer rand. Pick n Pay [JSE:PIK] added 1.61% to close at R69.30, Massmart [JSE:MSM] gained 2.03% to close at R90.80, and Mr Price [JSE:MRP] closed 0.7% higher at R219.53. Northam Platinum [JSE:NHM] managed to post gains of 2.95% to close at R53.38, while South32 [JSE:S32] ended the day 0.97% stronger at R38.48. Blue Label Telecoms [JSE:BLU] was the day's biggest gainer after the stock climbed 8.99% to close at R5.94. Rand hedge, Richemont [JSE:CFR] managed to post gains of 1.06% to close at R104.91, while Bid Corporation [JSE:BID] firmed to R299.82 after adding 1.59%.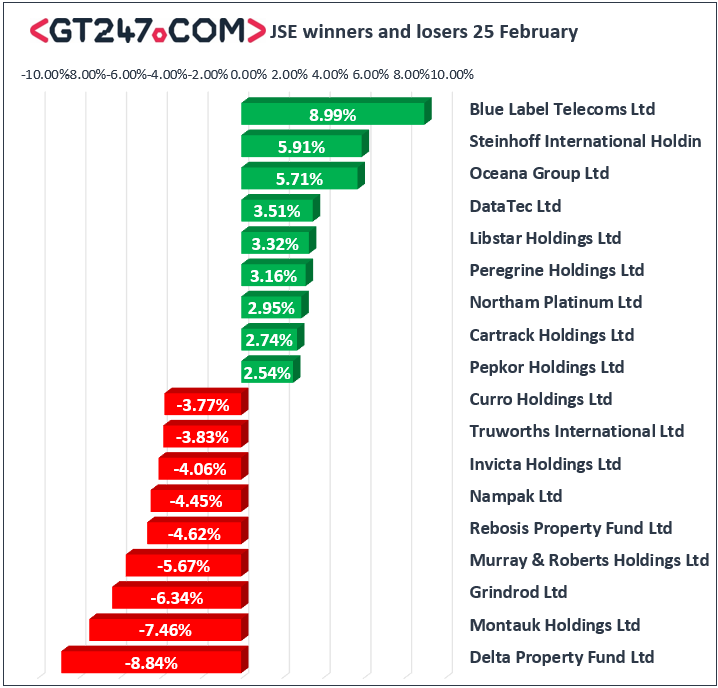 Grindrod traded under pressure in today's session as it lost 6.34% to close at R7.68 to finish amongst the day's biggest losers. Listed property stocks struggled on the day which saw most of them trading weaker. Delta Property Fund [JSE:DLT] fell 8.84% to end the day at R2.99, Rebosis Property Fund [JSE:REB] closed 4.62% weaker at R1.86, and SA Corporate Real Estate [JSE:SAC] lost 1.08% to close at R3.66. Miners also struggled which saw Harmony Gold [JSE:HAR] drop 2.11% to end the day at R28.29, while diversified miner Anglo American PLC [JSE:AGL] closed 1.53% weaker at R367.97. Coal miner, Exxaro Resources [JSE:EXX] dropped 2.38% to close at R150.06, and sugar producer, Tongaat Hulett [JSE:TON] closed at R35.84 as it lost 3.16%.
The JSE All-Share index eventually closed 0.2% weaker while the JSE Top-40 index also weakened by 0.2%. The Resources index came under significant pressure eventually closing the day 1.29% lower. The Industrials and Financials managed to gain 0.11% and 0.4% respectively.
At 17.00 CAT, Gold was up 0.19% to trade at $1331.96/Oz, Platinum was up 1.19% at $852.89/Oz, and Palladium had gained 2.04% to trade at $1530.35/Oz.
Brent crude bucked the trend recorded in the metal commodities as fell to a session low of $65.25/barrel. The commodity was trading 1.85% weaker at $65.88/barrel.
At 17.00 CAT, Bitcoin was up 0.05% at $3882.00/coin and Ethereum was down 1.59% at $140.22/coin.