The JSE closed softer on Wednesday following disappointment in South Africa's retail sales numbers for July which came in lower than expected.
Retail sales constant YoY slowed down to 1.3% from a revised prior recording of 1.8%, while MoM they improved to 1.3% from a prior recording of -1.1%. There was also some disappointment in the SACCI Business Confidence numbers released on Wednesday morning which indicated a decline to 90.5 from a prior recording of 94.7.
The rand strengthened to briefly trade below R15/$ due to the weaker US dollar. The rand rallied to a session high of R14.97/$ before retracing to trade at $15.02/$ at 17.00 CAT.
The stronger rand failed to inspire gains in rand sensitive stocks such as banks and retailers as they traded mostly weaker on the day. Truworths [JSE:TRU] came under significant pressure amongst the retailers as it shed 4.24% to close at R80.00 per share. Spar Group [JSE:SPP] weakened to R189.77 after dropping 1.35%, while Woolworths [JSE:WHL] pulled back to close at R51.00 after losing 2.5%. FirstRand [JSE:FSR] struggled on the day as it lost 3.46% to close at R66.40, and Standard Bank [JSE:SBK] closed 2.66% weaker at R172.82 per share.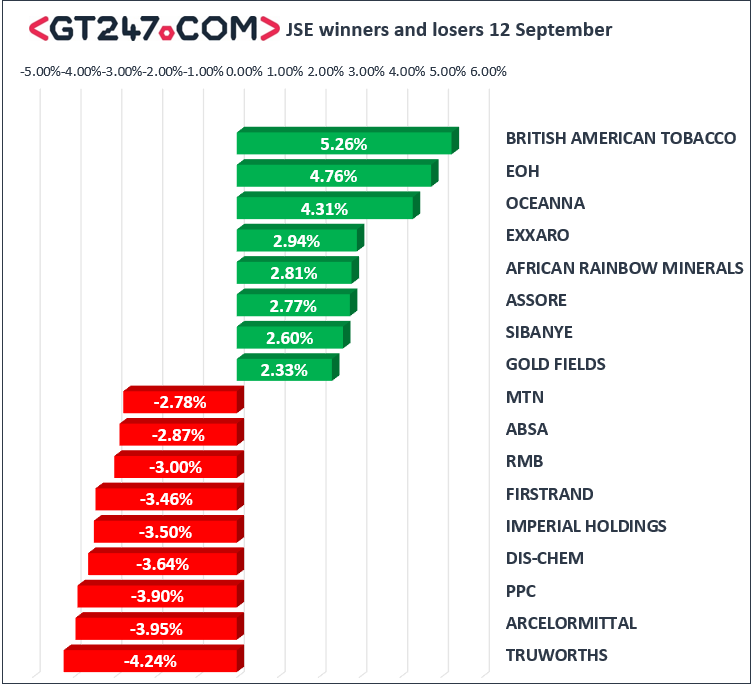 British American Tobacco [JSE:BTI] jumped to close at R736.80 after gaining 5.26%. This was following the announcement by the Food and Drug Administration in the USA, which threatened to pull flavoured electronic cigarettes off the market if the tobacco industry does not take more measures to combat usage by teenagers and children.
Coal miner, Exxaro Resources [JSE:EXX] also recorded significant gains on the day as the stock gained 2.94% to close at R148.74 per share. Gold Fields [JSE:GFI] rose on the back of marginally higher gold metal prices to end the day 2.33% firmer at R33.86, while Sibanye Stillwater [JSE:SGL] closed at R9.07 after gaining 2.6%. Famous Brands [JSE:FBR] gained some momentum to end the day 2.1% higher at R99.04, and Massmart [JSE:MSM] bucked the trend in other retailers to end the day 1.27% firmer at R99.04 per share.
The JSE All-Share index erased its earlier gains to end the day 0.4% weaker, while the JSE Top-40 index lost 0.45%. The Resources index was the only major index to record gains on the day as it added 0.77% The Industrials and Financials indices lost 0.58% and 1.36% respectively.
Gold traded mostly flat on the day and at 17.00 CAT it was trading at $1197.93/Oz, only down 0.06% on the day. Platinum was up 0.35% to trade at $794.59/Oz and Palladium was trading 0.54% firmer at $980.69/Oz.
Brent crude gained on the day as fears of supply disruption in the US east coast due to an incoming hurricane arose. The commodity was trading 0.9% firmer at $79.77/barrel just after the JSE close.
Bitcoin traded largely unchanged which saw it trading 0.57% firmer at $6287.10/coin at 17.00 CAT, while Ethereum had lost 6.7% to trade at $173.22/coin.