The JSE paused on Tuesday as it took a breather along with most global markets following a significant rally in the previous session.
Stocks were mixed in Asian trading as the Hang Seng managed to gain 0.21% while the Shanghai Composite Index dropped 0.07%. The Nikkei was flat as it shed 0.02%. In Europe, sentiment was still upbeat as most of the major indices advanced on the day.
Locally, the rand found some momentum as it rallied to a session high of R14.07 against the greenback. However, the US dollar rebounded sharply which saw the local currency relinquish all of its gains to trade softer on the day. At 17.00 CAT, the rand was trading 0.5% weaker at R14.22/$.
On the JSE, gains were relatively modest particularly for blue-chip stocks. Ascendis Health [JSE:ASC] rose 5% to close at R3.57, as it finished amongst the day's biggest movers. Curro Holdings [JSE:COH] gained 2.62% to close at R23.10, while WBHO [JSE:WBO] added 3.56% to close at R112.89. Coal miner Exxaro Resources [JSE:EXX] managed to post gains of 2.92% as it closed at R172.29, while Northam Platinum [JSE:NHM] closed at R64.06 after gaining 2.1%. Diversified miner, Anglo American PLC [JSE:AGL] advanced 1.6% to end the day at R394.23, while Old Mutual [JSE:OMU] gained 1.67% as it closed at R21.93.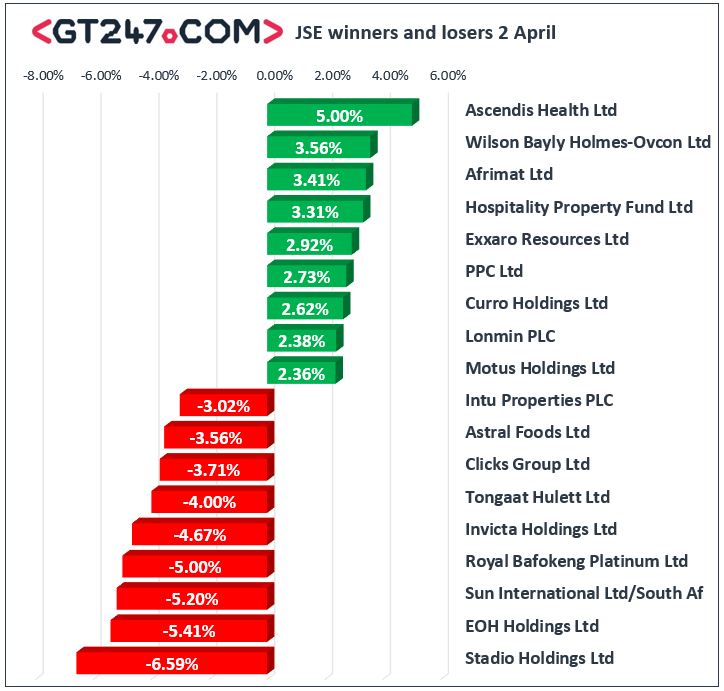 Stadio Holdings [JSE:SDO] closed amongst the day's biggest losers after the stock lost 6.59% to close at R3.40. Another volatile session ensued for EOH Holdings [JSE:EOH] which lost 5.41% to end the day at R10.50, while Royal Bafokeng Platinum [JSE:RBP] fell 5% to close at R32.30. Sugar producer Tongaat Hulett [JSE:TON] also came under pressure as it fell 4% to close at R20.64, while Clicks [JSE:CLS] weakened by 3.71% to close at R178.86. Other significant drops on the day were recorded for Intu Properties [JSE:ITU] which lost 3.02% to R19.56, Pan African Resources [JSE:PAN] which dropped 2.91% to R1.67, and Sappi [JSE:SAP] which fell 2.57% to R65.33.
The JSE eventually closed flat with the All-Share index shedding 0.04% while the blue-chip JSE Top-40 index shed 0.03%. The Resources index was the only major index to advance on the day after it gained 0.49%. The Industrials and Financials indices lost 0.2% and 0.45% respectively.
Brent crude continued to advance as data from OPEC indicated another decline in output for the 4th consecutive month. The commodity was trading 0.36% firmer at $69.26/barrel just after the JSE close.
At 17.00 CA, Gold was 0.23% firmer at $1290.69/Oz, Palladium had dropped 0.35% to trade at $1418.16/Oz, and Platinum was up 0.23% at $851.93/Oz.