The local bourse struggled for direction on Tuesday as global markets digested the imposition of a 10% tariff on Chinese goods by the USA, which is set to kick in on the 24th of September.
Despite most of the blue-chip constituents trading in the green, there was not sufficient momentum for the All-Share index to break out higher. Miners continued to track higher as they were supported by firmer metal commodity prices. Positive sentiment from Asian equity markets trading on Tuesday also helped the JSE to inch higher. The mainland China equity benchmark closed 2.01% firmer, while the Japanese Nikkei rose by 1.41%.
On the JSE, gains were recorded for MTN Group [JSE:MTN] which has traded under considerable pressure recently. The stock gained 4.52% to end the day at R72.72 per share. Gains amongst the miners were led by Pan African Resources [JSE:PAN] which gained 6.54% to close at R1.63, while Glencore [JSE:GLN] managed to add 3.35% to close at R6.42 per share. Gold miner, Gold Fields [JSE:GFI] managed to record gains of 3.1% to end the day at R35.61, while platinum miner, Anglo American Platinum [JSE:AMS] climbed to R458.63 after gaining 4.7%.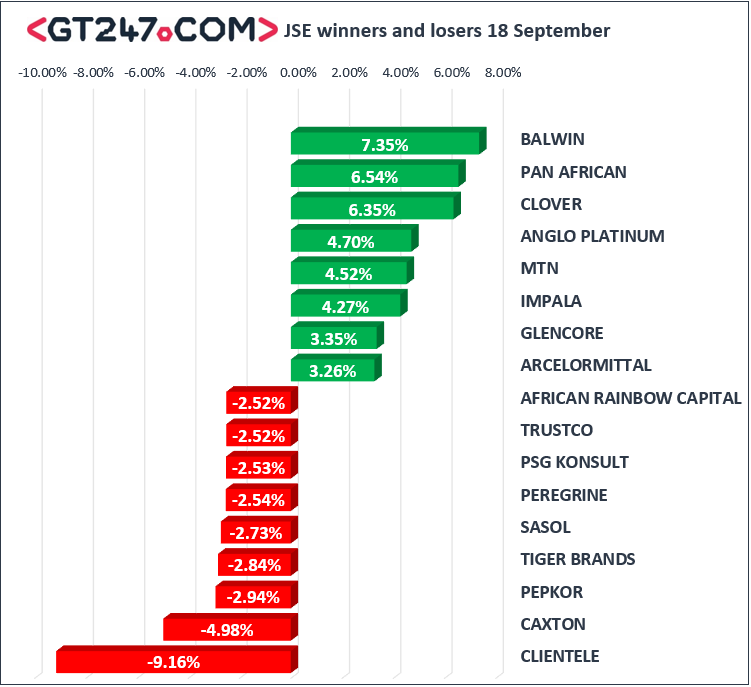 Losses on the blue-chip index were relatively modest with Sasol [JSE:SOL] ending amongst the index's biggest losers after shedding 2.73% to close at R551.76. Tiger Brands [JSE:TBS] retreated by 2.84% to close at R277.80, while rand hedge, British American Tobacco [JSE:BTI] fell by 2.37% to close at R704.48 per share. Aspen [JSE:APN] pulled back by 2.23% which saw the stock close at R188.25, and Mediclinic [JSE:MEI] also ended the day 2.23% lower at R87.99 per share.
The JSE All-Share index eventually closed 0.15% firmer while the blue-chip Top-40 index inched up 0.05%. The Industrials closed 0.2% weaker however, the Financials and Resources indices managed to add 0.75% and 0.25% respectively.
The US dollar eased as for a second consecutive session which resulted in the rand advancing from its overnight lows. The rand managed a session high of R14.81 against the US dollar before being recorded at R14.83 at 17.00 CAT.
Gold struggled to gain despite the weaker US dollar and at 17.00 CAT it was trading flat at $1200.28/Oz. Platinum had jumped 2.21% to trade at $818.03/Oz, while Palladium was up 2.33% to trade at $1011.96/Oz.
Brent crude rallied as supply concerns due to the hurricanes and the impact of Chinese sanctions heightened. The commodity was trading 1.46% firmer at $79.19/barrel.
At 17.00 CAT Bitcoin was trading 1.34% firmer at $6348.40/coin, while Ethereum was up 2.46% to trade at $212.10/coin.