The JSE struggled for direction on Friday eventually closing marginally weaker as it faded towards the close.
Despite the majority of the local bourse's main indices trading weaker on the day, the resources index mitigated this downside as most miners rebounded following significant losses in the prior session. Modest gains were also recorded in Asia where the Nikkei inched up 0.2%, while the Hang Seng and Shanghai Composite Index gained 0.14% and 0.62% respectively. US markets reached all-new time highs right at the open in today's session as market participants remain optimistic of a rate cut from the US Fed following Jerome Powell's testimony at congress.
On the currency market emerging market currencies faced headwinds as they slipped against the US dollar. The rand fell back above R14/$ to a session low of R14.03 before it was recorded trading 0.53% weaker at R14.02/$ at 17.00 CAT.
On the JSE, Steinhoff International [JSE:SNH] recorded significant gains on the day following the release of its half-year report which despite indicating a comprehensive loss of over 400 million euros, provided more clarity for investors. The stock climbed 13.39% to end the day at R1.44. Pan African Resources [JSE:PAN] also surged mainly on the back of an operational update which showed healthy increases in production volumes. The stock closed the day 8.24% higher at R1.97. Ascendis Health [JSE:ASC] had a stellar session as it climbed 7.23% to end the day at R5.04, while Famous Brands [JSE:FBR] added 4.9% to close at R93.00. Barloworld [JSE:BAW] rose 2.92% to close at 130.90, while retailer Massmart [JSE:MSM] managed to add 1.66% to close at R64.35. Diversified miner Anglo American PLC [JSE:AGL] firmed to close at R377.02 after adding 0.94%, while Old Mutual [JSE:OMU] gained 1.26% to close at R21.71.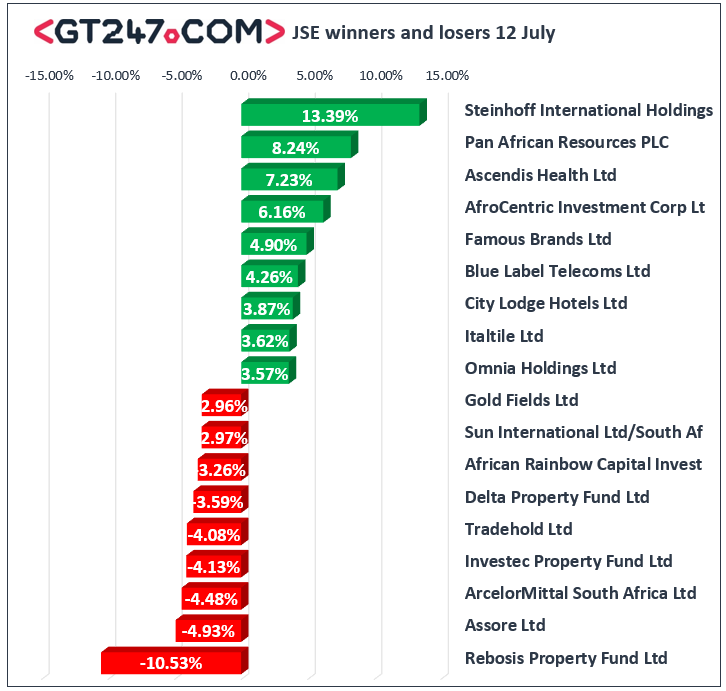 Losses on the local bourse were led by listed property stocks which traded mostly weaker on the day. Rebosis Property Fund [JSE:REB] lost 10.53% to close at R0.68, Delta Property Fund [JSE:DLT] shed 3.59% to close at R1.88, and NEPI Rockcastle [JSE:NRP] dropped 1.52% to close at R129.55. EOH Holdings [JSE:EOH] couldn't catch a reprieve as it lost 1.03% to close at R22.01, while Sappi [JSE:SAP] lost 2.24% to close at R49.80. Other significant losses on the day were recorded for Naspers [JSE:NPN] which fell 1.68% to close at R3405.69, Gold Fields [JSE:GFI] which lost 2.96% to close at R72.21, and Impala Platinum [JSE:IMP] which closed at R72.30 after dropping 2.56%.
The JSE All-Share index eventually closed 0.05% weaker while the blue-chip JSE Top-40 index shed 0.06%. The Resources and Financials indices inched up 0.6% and 0.34% respectively, while the Industrials index shed 0.48%.
Brent crude inched higher on the back of concerns over a tropical storm which is approaching the USA which could affect supplies. The commodity was trading 0.38% firmer at $66.77/barrel.
At 17.00 CAT, Palladium was up 1.01% to trade at $1544.10/Oz, Platinum was 0.1% firmer at $824.70/Oz, and Gold was up 0.31% at $1408.18/Oz.
---
Disclaimer:
Any opinions, news, research, reports, analyses, prices, or other information contained within this research is provided by GT247.com at GT247 (Pty) Ltd t/a GT247.com ("GT247.com") as general market commentary, and does not constitute investment advice for the purposes of the Financial Advisory and Intermediary Services Act, 2002. GT247.com does not warrant the correctness, accuracy, timeliness, reliability or completeness of any information which we receive from third party data providers. You must rely solely upon your own judgment in all aspects of your trading decisions and all trades are made at your own risk. GT247.com and any of its employees will not accept any liability for any direct or indirect loss or damage, including without limitation, any loss of profit, which may arise directly or indirectly from use of or reliance on the market commentary. The content contained within is subject to change at any time without notice.