The JSE paused its significant downtrend on Tuesday as earlier gains from financials and resources saw the local bourse trade mostly flat.
The minor strength on the JSE was also aided by a rebound in European counters as well us equity futures which traded mostly firmer on the day despite a weaker trading session earlier in Asia. Local financials were buoyant on the back of a firmer rand which rebounded following weakness in the prior session.
In terms of local economic data there was some disappointment as Statistics SA released South Africa's 1st quarter unemployment rate data. The unemployment rate for the period increased to 27.6% from a prior recording of 27.1%, further indicating how the South African is struggling to expand and create jobs. The rand was more reactive of the trends in other emerging market currencies which strengthened against the greenback. The rand peaked at a session high of R14.19/$ before it was recorded trading 0.74% firmer at R14.22/$ at 17.00 CAT.
On the JSE, significant gains were recorded for Zeder Investments [JSE:ZED] which rose 4.4% to close at R4.27, while Delta Property Fund [JSE:DLT] managed to gain 3.83% to close at R2.71. Rand sensitives were buoyant on the back of the firmer rand which saw Shoprite [JSE:SHP] rise 2.89% to end the day at R178.21 while Spar Group [JSE:SPP] added 1.26% to close at R197.79. FirstRand [JSE:FSR] managed to gain 0.23% to close at R68.22, while ABSA Group [JSE:ABG] firmed 1.31% to close at R170.70. Telecoms provider Telkom [JSE:TKG] gained 1.91% to end the day at R84.15, while Discovery Limited [JSE:DSY] closed at R149.75 after gaining 2.02%.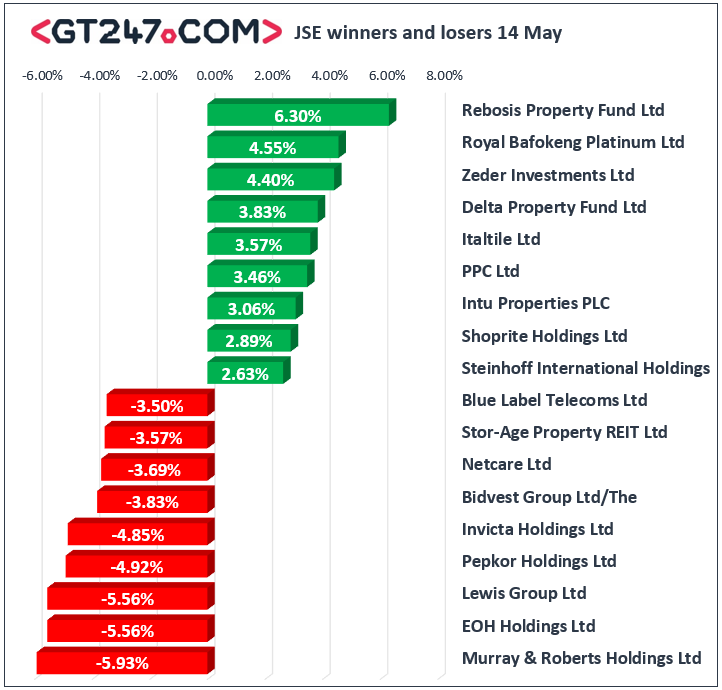 Of the day's losers, EOH Holdings [JSE:EOH] came under pressure as it fell 5.56% to close at R21.07, while Murray & Roberts [JSE:MUR] also closed amongst the day's biggest losers after dropping 5.93% to close at R14.11. Retailer, Pepkor Holdings [JSE:PPH] lost 4.92% to close at R18.32, while Massmart Holdings [JSE:MSM] dropped 1.9% to close at R84.37. Other significant losses on the day were recorded for Bidvest [JSE:BVT] which lost 3.83% to close at R210.50, Kumba Iron Ore [JSE:KIO] which retreated 2.77% to close at R402.00 despite releasing a positive trading statement, and Nedbank [JSE:NED] which fell 2.21% to close at R268.67.
The JSE All-Share index eventually closed 0.09% weaker while the blue-chip JSE Top-40 index closed 0.03% lower. All the major indices eventually closed weaker as gains were relinquished towards the close. Industrials lost 0.12%, Resources dropped 0.22%, and Financials closed 0.02% weaker.
At 17.00 CAT, Gold was 0.3% weaker at $1295.98/Oz, Platinum was 0.08% firmer at $854.05/Oz, and Palladium had lost 0.2% to close at $1319.60/Oz.
Brent crude has remained buoyant and as it advanced further in today's session. It was trading 1.1% firmer at $71.00/barrel just after the JSE close.
---
Disclaimer:
Any opinions, news, research, reports, analyses, prices, or other information contained within this research is provided by GT247.com at GT247 (Pty) Ltd t/a GT247.com ("GT247.com") as general market commentary, and does not constitute investment advice for the purposes of the Financial Advisory and Intermediary Services Act, 2002. GT247.com does not warrant the correctness, accuracy, timeliness, reliability or completeness of any information which we receive from third party data providers. You must rely solely upon your own judgment in all aspects of your trading decisions and all trades are made at your own risk. GT247.com and any of its employees will not accept any liability for any direct or indirect loss or damage, including without limitation, any loss of profit, which may arise directly or indirectly from use of or reliance on the market commentary. The content contained within is subject to change at any time without notice.