The local bourse closed weaker on Tuesday as stocks globally struggled to find a reprieve.
The rand was volatile as the market tried to gauge whether the South African finance minister would be relieved of his duties, and the possible replacements if the position became vacant. President Cyril Ramaphosa announced that Tito Mboweni would replace Nhlanhla Nene as finance minister towards the JSE close. The rand had fallen to a session low of R15.06 against the greenback before it pared the losses as the president's announcement became imminent. It was trading at R14.77/$ at 17.00 CAT.
Aspen [JSE:APN] traded under considerable pressure as it slipped to a session low of R150.79. The stock recovered to close at R157.00 but it was still down 3.69% on the day. Vodacom [JSE:VOD] closed 2.83% weaker at R123.50, while index giant, Naspers [JSE:NPN], retreated to close at R2847.38 after dropping 1.53%. More pronounced losses were recorded for Lewis [JSE:LEW] which fell by 5.86% to close at R30.50 per share. Steinhoff International [JSE:SNH] pulled back to end the day 4.08% weaker at R2.35 per share.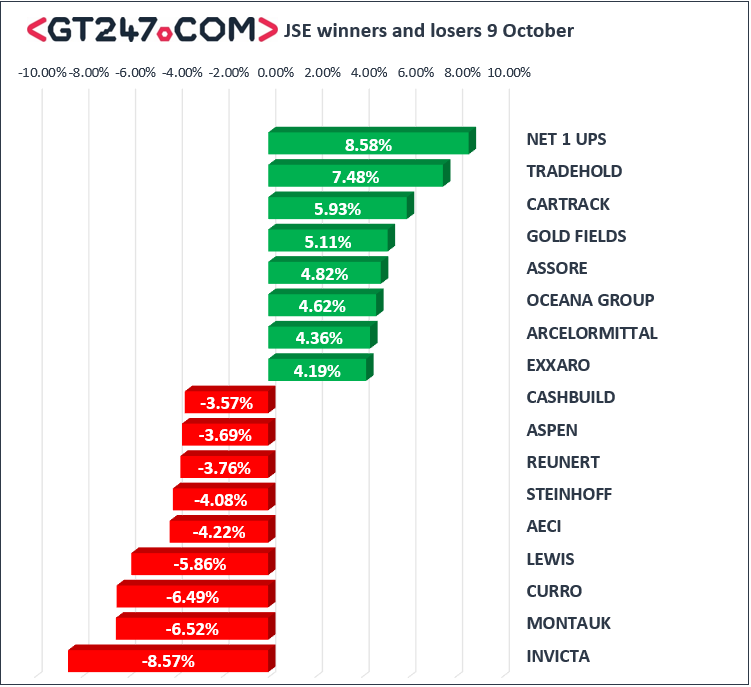 Miners led the gains on the local bourse with gold miner Gold Fields [JSE:GFI] climbing 5.11% to close at R37.26 per share. Exxaro [JSE:EXX] added 4.19% to end the day at R154.40, Royal Bafokeng Platinum gained 4% to R26.52, and AngloGold Ashanti [JSE:ANG] firmed to R125.39 after adding 3.05%. Mr Price [JSE:MRP] rose to R224.00 after gaining 1.92% and Spar Group [JSE:SPP] managed to close 0.85% firmer at R174.11 per share. Assore [JSE:ASR] managed to gain 4.82% to close the day at R331.60 per share.
The JSE All-Share index closed flat after shedding 0.06% while the JSE Top-40 index weakened by 0.15%. The Resources and Financials indices managed to gain 0.71% and 0.52% respectively, however the Industrials index closed 0.71% weaker.
Brent crude tracked mostly higher as supply concerns rose due to the hurricane that is approaching the US south-east coast. After managing to peak at a session high of $85.04/barrel, the commodity retraced to trade at $84.55/barrel just after the JSE close.
At 17.00 CAT, Gold was flat to trade at $1188.05/Oz, Platinum was 0.38% to trade at $822.64/Oz and Palladium was down 0.45% to trade at $1072.67/Oz.
Bitcoin was down 0.88% to trade at $6635.90/coin and Ethereum was down 1.24% to trade at $228.33/coin.