The JSE swung into gains towards the close on Tuesday before closing flat, following a session where it traded mostly softer.
Locally focus was on South Africa's GDP numbers for the 2nd quarter. The economy recorded better than expected growth of 3.1% QoQ compared to the consensus estimate of 2.4% growth. GDP YoY expanded by 0.9% compared to a prior recording of zero growth. Despite this GDP data, there was some gloom following the release of the ABSA Manufacturing PMI which fell to 45.7 from a prior recording of 52.1.
The improved GDP numbers as well as a weaker US dollar saw the rand advance to a session high of R15.07 against the greenback, before retreating to trade 0.73% firmer at R15.12/$ at 17.00 CAT.
Stocks on the JSE were rather mixed in today's session but notable gains were recorded for Aspen Pharmacare [JSE:APN] following the release of a trading statement which highlighted the a decrease in net debt and a positive cash flow. The stock rallied 7.26% to close at R82.41. Murray and Roberts [JSE:MUR] surged to close amongst the day's biggest gainers after it added 7.44% to close at R13.00. Retailer, The Foschini Group [JSE:TFG] advanced 5.9% to close at R157.63, while its sector peer Truworths [JSE:TRU] managed to gain 2.2% to close at R53.40. DRD Gold [JSE:DRD] was buoyed the release of a positive set of full-year results which saw the stock rally 5.19% to close at R7.10, while AngloGold Ashanti [JSE:ANG] gained 2.61% to close at R352.88.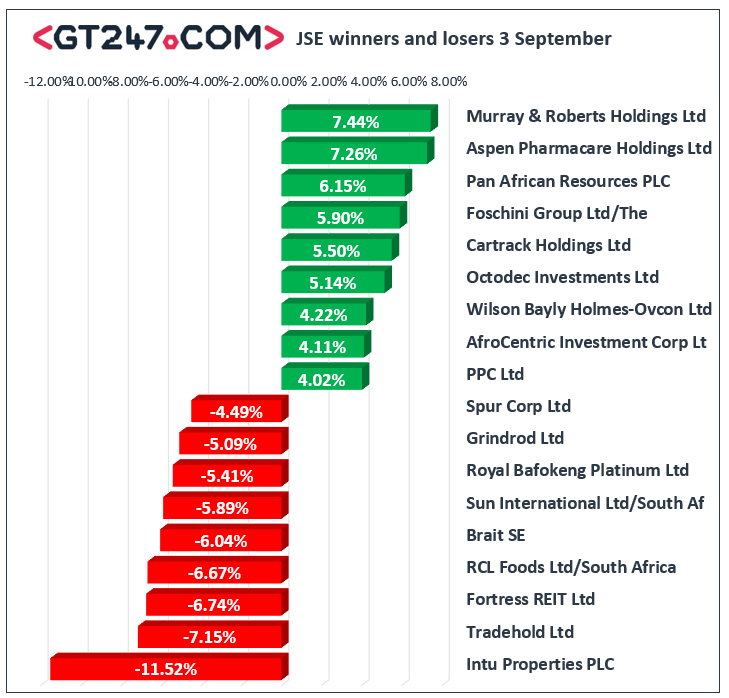 Listed property stock, Intu Properties [JSE:ITU] came under pressure in today's session as it tumbled 11.52% to close at R6.30, while Fortress REIT [JSE:FFB] fell 6.74% to close at R10.10 after it announced a decrease in its dividend per share. Brait [JSE:BAT] struggled as it lost 6.04% to close at R14.00, while hospitality group Sun International [JSE:SUI] lost 5.89% to end the day at R40.61.Other significant losers on the day included Sappi [JSE:SAP] which lost 4.03% to close at R41.24, Sibanye Stillwater [JSE:SGL] which dropped 2.39% to close at R20.45, and Glencore [JSE:GLN] which closed at R42.88 after adding 1.58%.
The JSE All-Share index eventually closed 0.08% softer while the JSE Top-40 index shed 0.03%. The Resources index was the biggest casualty of the day as it lost 0.71%. The Financials and Industrials indices managed to gain 0.68% and 0.06% respectively.
Brent crude slipped further in today's session to be recorded trading 1.77% weaker at $57.63/barrel just after the JSE close.
At 17.00 CAT, Palladium was up 0.27% at $1540.70/Oz, Platinum had rallied 2.21% to trade at $951.20/Oz, and Gold was trading 1.05% higher at $1545.22/Oz.
---
Disclaimer:
Any opinions, news, research, reports, analyses, prices, or other information contained within this research is provided by GT247.com at GT247 (Pty) Ltd t/a GT247.com ("GT247.com") as general market commentary, and does not constitute investment advice for the purposes of the Financial Advisory and Intermediary Services Act, 2002. GT247.com does not warrant the correctness, accuracy, timeliness, reliability or completeness of any information which we receive from third party data providers. You must rely solely upon your own judgment in all aspects of your trading decisions and all trades are made at your own risk. GT247.com and any of its employees will not accept any liability for any direct or indirect loss or damage, including without limitation, any loss of profit, which may arise directly or indirectly from use of or reliance on the market commentary. The content contained within is subject to change at any time without notice.