The JSE had a mixed session on Friday as it eventually closed flat despite opening the session weaker.
Equities in Asia also struggled for direction in Friday's session which saw the Nikkei and Hang Seng drop 0.45% and 0.69% respectively, while in Shanghai Composite Index only inched up 0.19%. Stocks in Europe tracked mostly higher while in the USA investors waited in anticipation of the first estimate of US GDP QoQ which, although slower came in better than expected at 2.1% compared to a forecast of 1.8%. This saw US markets open higher with tech stocks leading the charge on the back of good earnings from the likes of Google parent Alphabet.
On the currency market the US dollar continued to advance which did not play into the rand's fortunes as the local currency slipped further. The rand fell to a session low of R14.26/$ before it was recorded trading 1.38% weaker at R14.26/$ at 17.00 CAT.
The JSE was a sea of mixed fortunes as it swung between marginal gains and losses. Rand Merchant Holdings [JSE:RMI] came under significant pressure as it closed the day 3.59% weaker at R30.32, while EOH Holdings [JSE:EOH] lost 3.44% to close at R17.67. Brait [JSE:BAT] dropped 3.29% as it closed at R15.00, while packaging specialist Nampak [JSE:NPK] fell 2.75% to close at R10.61. Other significant losers on the day included Discovery [JSE:DSY] which fell 3.29% to R129.50, Old Mutual [JSE:OMU] which lost 2.7% to close at R20.19, and diversified mining giant Anglo American PLC [JSE:AGL] dropped 3.3% to close at R369.18.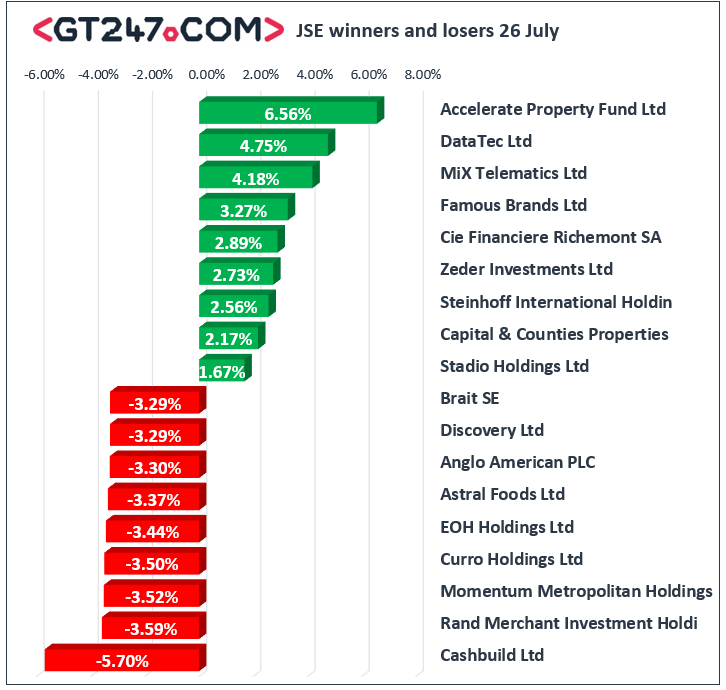 Gains were modest especially for blue-chips stocks with significant gains being recorded for Richemont [JSE:CFR] which advanced 2.89% to close at R124.85, while Bid Corporation [JSE:BID] gained 1.46% to close at R313.27. Listed property stock Capital and Counties [JSE:CCO] managed to post gains of 2.17% to end the day at R38.21, while Accelerate Property Fund [JSE:APF] closed as one of the day's biggest gainers after advancing 6.56% to close at R3.25. Significant gains were also recorded for Zeder Investments [JSE:ZED] which rose 2.73% to close at R4.90, Vodacom [JSE:VOD] which gained 1.29% to close at R115.00, and British American Tobacco [JSE:BTI] which closed at R536.30 after gaining 1.15%.
The JSE All-Share index eventually closed 0.08% weaker while the JSE Top-40 index inched up 0.01%. The Financials and Resources indices lost 1.23% and 0.41% respectively, while the Industrials index managed to gain 0.59%.
Brent crude eased from its session highs however it was still trading firmer on the week as Middle East tensions and a drop in US inventories have seen it gain. The commodity was trading 0.14% weaker at $63.30/barrel just after the JSE close.
At 17.00 CAT, Gold was up 0.47% to trade at $1420.88/Oz, Palladium was down 0.1% to close at $1529.60/Oz, and Platinum was 0.35% weaker at $864.00/Oz.
---
Disclaimer:
Any opinions, news, research, reports, analyses, prices, or other information contained within this research is provided by GT247.com at GT247 (Pty) Ltd t/a GT247.com ("GT247.com") as general market commentary, and does not constitute investment advice for the purposes of the Financial Advisory and Intermediary Services Act, 2002. GT247.com does not warrant the correctness, accuracy, timeliness, reliability or completeness of any information which we receive from third party data providers. You must rely solely upon your own judgment in all aspects of your trading decisions and all trades are made at your own risk. GT247.com and any of its employees will not accept any liability for any direct or indirect loss or damage, including without limitation, any loss of profit, which may arise directly or indirectly from use of or reliance on the market commentary. The content contained within is subject to change at any time without notice.