The JSE closed marginally firmer on Thursday after another mixed trading session.
Locally, investors were anticipating the interest rate decision from the South African Reserve Bank which was left unchanged at 6.5%. This was in line with most analysts' expectations but there wasn't much reaction in the rand which was already trading significantly weaker because of the firmer US dollar.
The US dollar quickly spiked to its most recent highs as indicated by the US dollar index which peaked at a session high of 95.652 index points. The rand suffered as a result, which saw it slip to a session low of R13.51/$. At 17.00 CAT, the rand was down 1.78% against the greenback to trade at R13.47/$.
On the local bourse, EOH Holdings [JSE:EOH] jumped 21.56% to close at R42.79 per share, following the announcement of the appointment of a new CEO as well the implementation of a new business structure. Steinhoff International [JSE:SNH] also rose 18.67% to close at R3.60 per share after the company issued a statement on the progress of its lock-up agreements with creditors. Dis-Chem [JSE:DCP] tracked higher to close 7.07% firmer at R26.86, following the release of a positive trading statement for the four months ended 30 June 2018, and an earnings guidance for 2019.
Other top gainers on the day were Massmart [JSE:MSM] which closed at R107.00 after gaining 7.98%, as well as Steinhoff Africa Retail [JSE:SRR] which added 2.31% to close at R16.80. Truworths [JSE:TRU] firmed to R76.77 per share after adding 2.36%, whilst Richemont [JSE:CFR] and Old Mutual [JSE:OMU] closed 1.59% and 0.81% firmer respectively.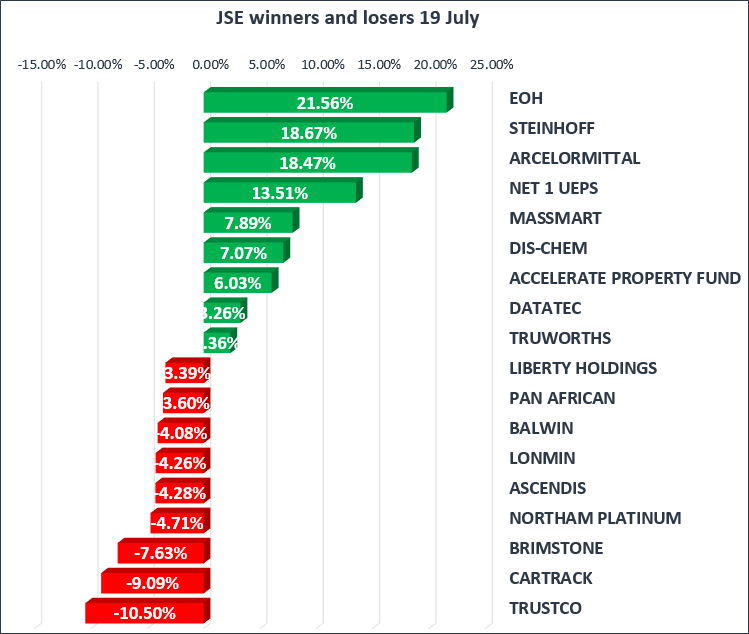 Platinum miner, Northam Platinum [JSE:NHM] traded under pressure to eventually end the day down 4.71% at R34.59 per share. Sibanye Stillwater [JSE:SGL] lost 2.87% to close at R7.10 while its takeover target, Lonmin [JSE:LON], dropped 4.26% to close at R6.51 per share. Liberty Holdings [JSE:LBH] weakened to R114.00 after shedding 3.39%.
On the Top-40 index, Aspen [JSE:APN] slipped by 2.18% to close at R246.42, and Vodacom [JSE:VOD] eased to R126.98 per share after shedding 2.2%. Retailer, Shoprite [JSE:SHP] lost 2.5% to close at R207.00 whilst Anglo American PLC [JSE:AGL] also closed 1.95% weaker at R288.59 despite a relatively positive production update.
The JSE Top-40 index closed 0.06% weaker whilst the broader JSE All-Share index lost 0.07%. The Resources and Financials indices lost 0.1% and 0.38% respectively, however the Industrials index managed to gain 0.38%.
Gold slumped to a fresh new 12-month low of $1211.63/Oz as the US dollar continued to advance. At 17.00 CAT the precious metal had rebounded marginally to trade at $1217.40/Oz, however it was still down 0.78% on the day. Platinum was down 1.9% at $802.90/Oz, while Palladium was 3.72% weaker at $875.01.
Brent crude advanced after Saudi Arabia allayed market fears over potential oil oversupply. This resulted in brent crude peaking at a session high of $73.79/barrel. The commodity was trading at $73.04/barrel just after the JSE close.
At 17.00 CAT, Bitcoin was 0.64% firmer at $7464.6/coin, while Ethereum was down 3.61% to trade at $474.27/coin.