The JSE closed firmer on Wednesday after a relatively muted trading session.
The local bourse struggled to find a significant catalyst for direction as it swung marginally between gains and losses. Locally, Statistics SA released inflation numbers for the month of June. CPI YoY climbed up to 4.6% from a prior recording 4.4%, while CPI MoM increased to 0.4% from a prior recorded level of 0.2%.
Retail sales numbers were slightly more positive as they beat most analysts' estimates. Retail sales YoY recorded a surprise jump of 1.9% for the month of May which was higher than the forecasted 0.8%. MoM the figure rose to 1.1% which is a significant jump compared to the contraction of 1.2% recorded prior.
There was a rather muted response by the rand to these two sets of data. The rand weakened mainly due to the stronger US dollar which has recovered significantly over the past two trading sessions. The rand weakened to a session low of R13.37/$ before rebounding to trade at R13.27/$ at 17.00 CAT.
On the JSE, Lewis Group [JSE:LEW] came under significant pressure to end the day down 7.09% at R28.45 per share, whilst its sector peer, Shoprite [JSE:SHP] lost 3.73% to close at R212.30. Miner, Sibanye Stillwater [JSE:SGL] weakened to close at R7.31 after dropping 4.32%, and Lonmin [JSE:LON] closed 3.55% weaker at R6.80 per share. The Foschini Group [JSE:TFG] and Spar Group [JSE:SPP] lost 2.32% and 1.4% respectively.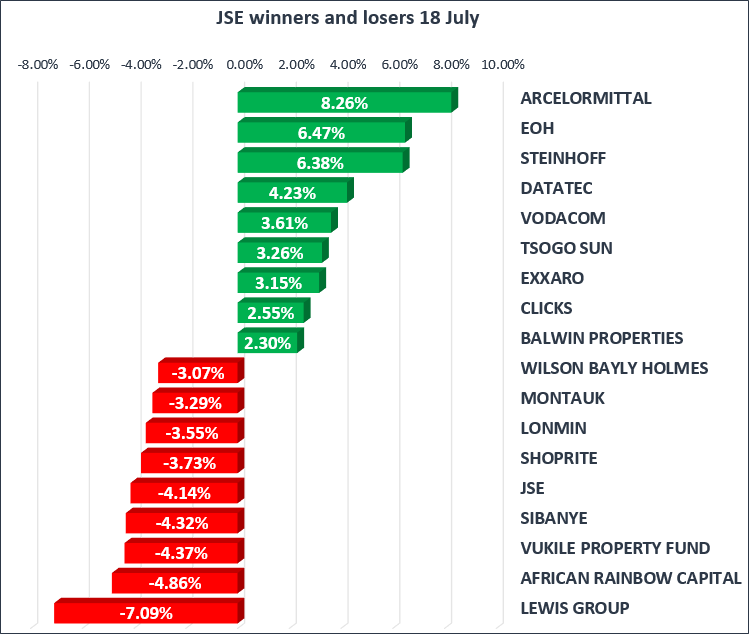 Significant gains were recorded for Steinhoff International [JSE:SNH] which jumped 6.38% to close at R3.00. ArcelorMittal [JSE:ACL] also spiked up 8.26% to end the day at R2.49 per share. EOH Holdings [JSE:EOH] added 6.47% to close at R35.20, while Vodacom [JSE:VOD] led gains on the blue-chip index to end the day 3.61% firmer at R129.84 per share.
Rand hedge, Richemont [JSE:CFR] managed to gain 2.1% to close at R113.64, while diversified miner BHP Billiton [JSE:BIL] closed at R287.92 after picking up 1.51%. Tsogo Sun [JSE:TSH] and Exxaro [JSE:EXX] firmed by 3.26% and 3.15% respectively.
The JSE All-Share index eventually ended the day 0.22% firmer, while the blue-chip Top-40 index managed to gain 0.35%. The Resources index managed to add 0.73% while the Financials index added 0.23%. The Industrials index only inched up 0.12%.
Brent crude traded mostly softer on Wednesday and came under more pressure following the release of US inventories data which recorded a surprise gain. The commodity slipped to a session low of $71.19/barrel before retracing to trade at $71.87/barrel just after the JSE close.
Gold also traded mostly weaker following Tuesday's slump. The precious metal reached a new 12-month low of $1221.17/Oz before retracing to trade at $1224.39/Oz at 17.00 CAT. Platinum was down 0.56% at $813.15/Oz and Palladium was 0.48% weaker at $910.20/Oz.
Bitcoin jumped significantly following news that the CFA institute was adding cryptocurrencies and blockchain to its curriculum for 2019. At 17.00 CAT, Bitcoin was trading 9.94% firmer at $7413.40/coin, while Ethereum was up 4.65% to trade at $493.59/coin.