The JSE capped off a week of consecutive gains as it closed firmer on Friday led by index heavyweight Naspers and miners.
The local bourse shrugged off a mixed session in Asia as it opened firmer and continued to inch higher during the day's session. European markets were trading marginally firmer as investors assessed the trade talks between China and the USA, as well as speeches from Fed governors at the Jackson Hole Symposium.
On the JSE, Naspers [JSE:NPN] rose following their annual meeting held on Friday, where the chairman indicated that they are taking steps to reduce its exposure to the JSE by narrowing its valuation gap to Tencent Holdings. The stock gained 2.82% tom close at R3538.06 per share. Clicks [JSE:CLS] picked up another 3.48% to close at R203.65 per share while Netcare [JSE:NTC] firmed to R28.99 after the stock gained 2.19%.
On the broader index, ArcelorMittal [JSE:ACL] jumped 6.22% to close at R3.93, and Steinhoff International [JSE:SNH] closed 5.48% higher at R2.31 per share. Platinum miner, Royal Bafokeng Platinum [JSE:RBP] was buoyed by higher metal commodity prices which saw the stock close 4.82% firmer at R23.06 per share. Glencore [JSE:GLN] posted gains of 3.09% to close at R58.64, while Old Mutual [JSE:OMU] ended the day 2.56% firmer at R29.81 per share.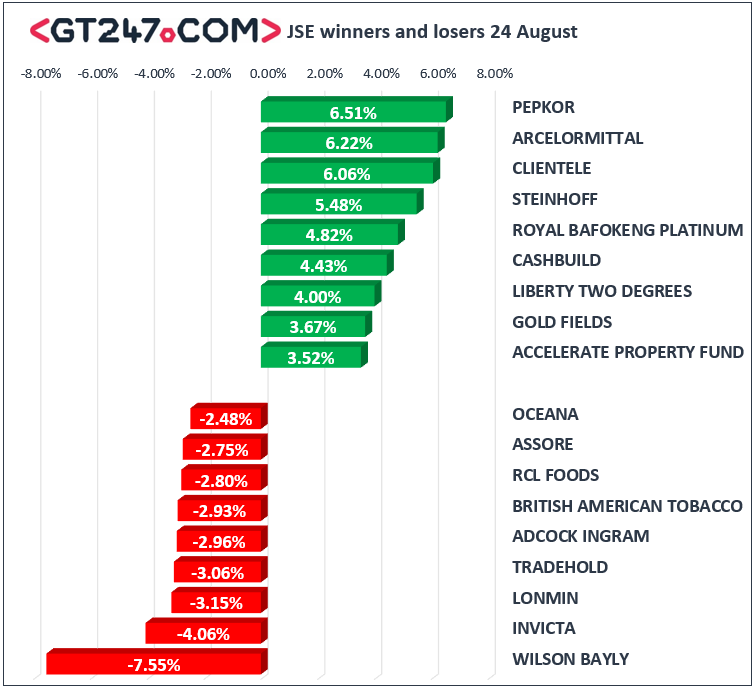 Construction firm, WBHO [JSE:WBO] slipped by 7.55% to close at R147.00 per share as it ended amongst the day's biggest losers. EOH Holdings [JSE:EOH] slowed to R44.96 after the stock shed 0.09%, while South32 [JSE:S32] pulled back by 1.31% to close at R36.25 per share.
British American Tobacco [JSE:BTI] dragged lower due to the stronger rand which saw it drop 2.93% to close at R721.22 per share. Woolworths [JSE:WHL] lost another 1.19% to close at R50.00, while bankers Standard Bank [JSE:SBK] and Nedbank [JSE:NED] lost 1.36% and 0.85% respectively.
The JSE remained buoyant as it closed 1.02% firmer while the JSE Top-40 index gained 1.17%. All the major indices managed to close in the green. The Industrials index climbed 1.34%, while the Resources and Financials indices gained 0.98% and 0.52% respectively.
Brent crude climbed above $76/barrel as it reached a session high of $76.42/barrel. The commodity was trading 1.95% firmer at $76.19/barrel just after the JSE close.
The US dollar erased all of Thursday's gains which saw gold and the rand rebound from their overnight lows. The rand strengthened to a session high of R14.17/$ before retracing to trade at R14.24/$ at 17.00 CAT.
Gold gained over a percent to reach a session high of $1207.23/Oz on the back of the weaker US dollar. The precious metal was trading 1.83% firmer at $1207.34/Oz at 17.00 CAT. Palladium rallied to trade 2.49% firmer at $938.80/Oz, while Platinum was up 2.49% to trade at $794.03/Oz.
At 17.00 CAT, Bitcoin was up 0.88% to trade at $6506.80/coin, and Ethereum was down 0.74% to trade at $271.47/coin.