The JSE recovered from an earlier slump to close the day firmer on Wednesday as global equities staged a minor recovery.
The local bourse was lifted by the resurgence in European equities following consecutive sessions of losses. Asian counters did not fare very well in earlier trading which saw the Nikkei and the Hang Seng shed 0.31% and 1.82% respectively. The JSE All-Share index dropped more than 1% earlier on but it managed to reverse all the losses to end the day in the green.
The Rand came under pressure along with other emerging market currencies as investors piled into safer assets such as the US dollar. The US dollar inched higher which saw the Rand slump to a session low of R13.74/$. At 17.00 CAT the Rand was trading at R13.70/$, down 1.3% for the day.
Astral Foods [JSE:ARL] closed amongst the day's top gainers after climbing 5.6% to close at R291.04 per share while its sector peer, RCL Foods [JSE:RCL] garnered 2.46% to close at R17.47 per share. EOH Holdings [JSE:EOH] broke its recent downtrend to end the day at R27.30 per share after adding 8.33%.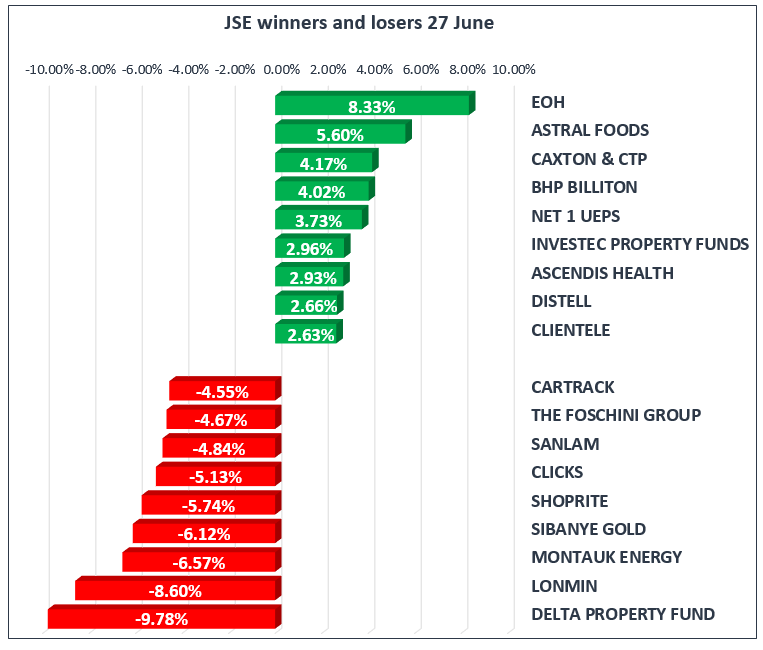 Commodities giant, Glencore [JSE:GLN] gained 2.21% to end the day at R65.58 per share, while Anglo American PLC [JSE:AGL] firmed by 2.51% to close at R297.61 per share. Sasol [JSE:SOL] rebounded to close 1.83% firmer at R474.00 per share after a slow start. Rand hedges Richemont [JSE:CFR] and Sappi [JSE:SAP] gained 1.45% and 1.82% respectively on the back of the weaker Rand.
Delta Properties [JSE:DLT] was trading ex-dividend today and it lost 9.78% to close at R5.26 per share. Platinum miner Lonmin [JSE:LON] slipped by 8.6% to close at R7.44 per share while Northam Platinum [JSE:NHM] lost 1.11% to close at R33.66 per share.
Clicks [JSE:CLS] which is also trading ex-dividend, lost 5.13% to close at R197.80 per share. Retailer, Shoprite [JSE:SHP] closed at R211.98 per share after losing 5.74% following news that one if its largest shareholders was disposing a significant portion of his stake in the retailer.
The JSE All-Share index eventually closed 0.21% firmer while the blue-chip JSE Top-40 index gained 0.39%. The Industrials and Resources indices added 0.29% and 2.83% respectively, however the Financials index lost 2.57%.
Gold weakened significantly overnight as the US dollar advanced. In today's session it weakened to as session low of $1253.50/Oz before it rebounded marginally to trade at $1255.18/Oz at 17.00 CAT. Platinum weakened by another 1.53% to trade at $854.91/Oz and Palladium had lost 1.02% to trade at $951.18/Oz.
Brent crude nearly gained over 2% on the day as it was lifted by news that some top oil buyers might shun away from buying Iranian oil. This is significant given that Iran's current output is around 3.8 million barrels per day. The commodity peaked at $77.95/barrel before a minor retracement saw it trade at $77.65/barrel just after the JSE close.
At 17.00 CAT Bitcoin was 1.02% softer at $6127.90/coin while Ethereum was trading 3.19% weaker at $431.44/coin.