The JSE bucked the trend to close lower on Tuesday as retailers and financials dragged the index lower.
The trend on the JSE contrasted with the direction of other major global indices which tracked mostly higher. There was optimism in the USA as index futures gained due to the positive sentiment surrounding US corporate earnings which are due to start being released this week. On Friday, the US "earnings season" starts with earnings releases from JP Morgan & Chase, Citigroup and Wells Fargo.
Locally, the SACCI Business Confidence index reading for June slowed down to 93.7 from a prior recording of 94.0. The rand continued to trade firmer as it peaked at a session high of R13.34 against the greenback. It was still trading marginally firmer at 17.00 CAT as it was recorded at R13.35/$.
On the JSE, Barclays Africa [JSE:BGA] lost 1.46% to close at R166.25 while Nedbank [JSE:NED] closed 0.96% weaker at R264.67 per share. Retailer, Massmart [JSE:MSM] slipped by 3.85% to end the day at R105.76, while Mr Price [JSE:MRP] closed at R222.19 after shedding 2.55%. Mediclinic [JSE:MEI] eased to R94.00 per share after dropping 3.33% and Clicks [JSE:CLS] lost 1.31% to close at R194.91.
Platinum miner, Northam Platinum [JSE:NHM] was weighed down by weaker platinum metal prices which saw the stock close at R39.38 after dropping 3.71%. It's sector peer, Lonmin [JSE:LON] dropped 0.93% to close at R7.42 per share. Brait [JSE:BTI] eased to R42.50 after shedding 1.37% and Imperial Holdings [JSE:IPL] closed 1.22% softer at R207.44 per share.
Gains were fairly modest on the blue-chip index were Richemont [JSE:CFR] managed to add 1.13% to close at R114.57 per share, while Bid Corporation [JSE:BID] inched up 0.8% to close at R278.20. Oil and gas producer, Sasol [JSE:SOL] firmed by 1.03% to close at R519.65, and gold miner AngloGold Ashanti [JSE:ANG] closed at R117.91 after adding 0.63%.
More pronounced gains were recorded on the broader index with ArcelorMittal [JSE:ACL] which jumped 9.3% to close at R2.35 per share. Steinhoff International [JSE:SNH] closed at R1.87 after adding 6.86%, and PPC Limited [JSE:PPC] firmed to R6.75 after adding 2.92%.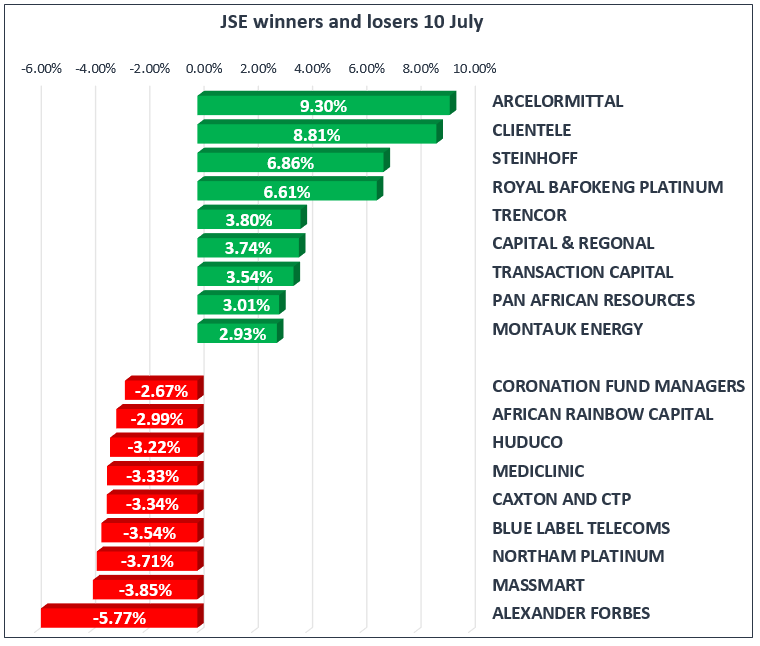 The JSE opened relatively flat but it eventually caved-in which saw the JSE All Share Index close 0.33% weaker, and the JSE Top-40 index lost 0.38%. The Resources index was the only major index to close in the green after adding 0.15%. The Industrials and Financials indices lost 0.34% and 0.94% respectively.
Gold slid to a session low of $1247.41/Oz as the US dollar rebounded. At 17.00 CAT it was trading at $1254.26/Oz, down 0.28% for the day. Platinum was down 1.33% at $839.60/Oz and Palladium was trading 1.74% weaker at $943.56/Oz.
Concerns over possible oil supply shortages have seen Brent Crude advance as high as $79.51/barrel on Tuesday. However, the commodity had retraced to trade at $78.88/barrel just after the JSE close.
At 17.00 CAT, Bitcoin was down 5.23% to trade at $6381.05/coin, while Ethereum was 8.9% weaker at $439.18/coin.