The JSE inched higher on Thursday as retailers and blue-chip index heavyweights firmed.
There was some disappointment in the South African mining production numbers for July which were released on Thursday morning. YoY mining production contracted by 5.2% which missed the forecasted growth of 3%, and mining production MoM decreased by 8.6 which was worse than the estimated growth of 0.4%. The biggest contraction was recorded in gold production which decreased 15% YoY, while platinum production contracted by -6.2%.
The biggest mover of the day was Aspen [JSE:APN] which tumbled dramatically by over 25% from its open of R260.13, to reach a session low of R201.55. This was after the release of its full-year results in which the business indicated that it would be disposing its nutritionals business for it to focus on its core pharmaceuticals operations. The stock eventually closed 14.84% lower at R230.63 per share.
Reinet [JSE:RNI] traded softer to end the day down 3.95% at R272.66, while Adcock Ingram [JSE:AIP] weakened to close at R63.36 per share after dropping 3.44%. Assore [JSE:ASR] lost 0.79% to close at R331.35, Richemont [JSE:CFR] pulled back to close at R123.80 after dropping 1.5%, while Mediclinic [JSE:MEI] eventually closed 2.95% weaker at R90.08 per share.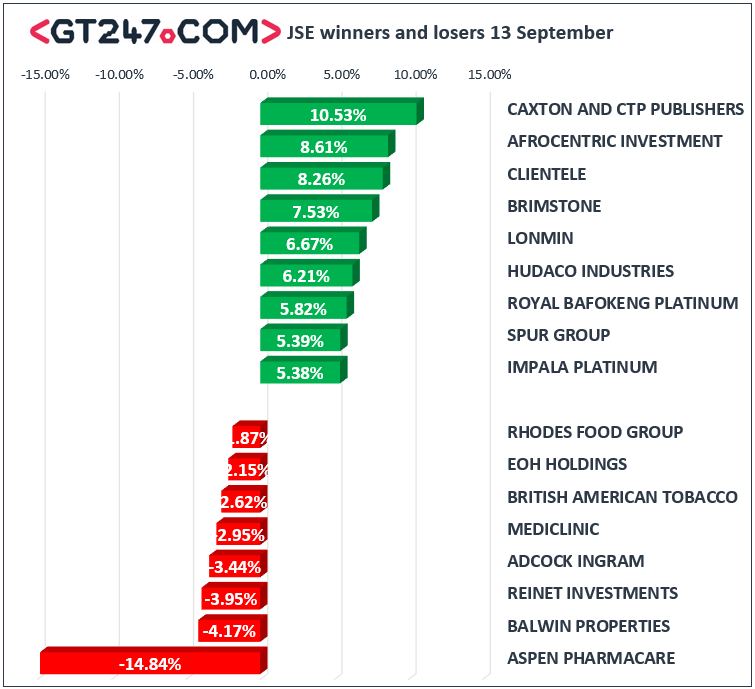 Net 1 UEPS [JSE:NT1] closed amongst the day's biggest gainers after it jumped 21.43% to close at R110.50 per share. More modest gains were recorded on the blue-chip index were The Foschini Group [JSE:TFG] gained 3.37% to close at R165.57, while Mr Price [JSE:MRP] rose 1.82% to close at R214.83 per share. Naspers [JSE:NPN] got a lift due to the firmer close in Tencent Holdings on the Hang Seng earlier. Naspers eventually closed 3.31% higher at R3155.00 per share. Impala Platinum [JSE:IMP] was buoyed by the release of its full-year results which reflected a marked improvement in the miner's profitability. The stock closed the day up 5.38% at R17.63 per share.
The JSE Top-40 index was mixed but eventually managed to end the day 0.35% firmer, while the JSE All-Share index gained 0.38%. The Resources index closed 0.14% weaker, however the Industrials and Financials indices gained 0.62% and 0.2% respectively.
The rand extended its gains as it rallied to a session high of R14.62 against the greenback. At 17.00 CAT it had retraced to trade at R14.74/$ but it still 1.3% firmer on the day.
Brent crude retreated as global stockpiles data showed that inventories were still high despite the potential supply threats due to the hurricane approaching the US coast. The commodity was trading at $78.18/barrel just after the JSE close.
At 17.00 CAT, Gold was 0.22% softer to trade at $1203.45/Oz, Platinum was up 0.41% at $803.07/Oz while Palladium had gained 0.61% to $983.83/Oz.
Cryptocurrencies found some reprieve as they gained in today's session. At 17.00 CAT, Bitcoin was up 3.29% to trade at $6480.10/coin, while Ethereum had jumped 16.95% to trade at $201.63/coin.