Local
The All-Share index fell sharply to close down by 1.34%, the blue-chip Top40 was down 1.26% and industrials down 1.06%. Financial and property shares bore the brunt, financials were down by 3.96% on the day, with Capitec [JSE:CPI] down by 7.97%, PSG Group [JSE:PSG] down by 7.58% and Discovery [JSE:DSY] down by 5.79%. Other notable moves were Fortress B [JSE:FFB] down by 11.57% and NEPI Rockcastle [JSE:NRP] down by 6.25%.
Resource shares managed to inch up by 1.18%, while Gold miners were down 0.87% on the day. The best performer was Glencore [JSE:] up 3.42% and Exxaro [JSE:EXX] up 3.05%.
The rand was trading at R11.95 to the dollar, R16.83 to the pound and R14.77 to the euro.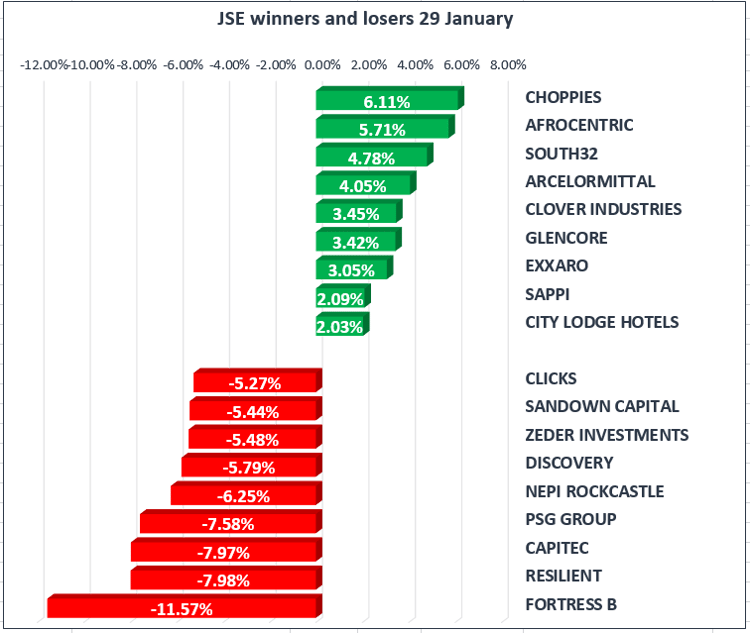 Commodities
Gold prices retreated to $1343.11 per ounce as investors look towards the U.S. Fed policy meeting on Wednesday and nonfarm payrolls on Friday to influence the direction of the dollar.
Elsewhere, silver was down trading at $17.36 per troy ounce, Palladium and Platinum were down, trading at $1,085.95 and $1011.58 per troy ounce respectively.
Oil dipped as rising U.S. output continues to undermine the efforts led by OPEC to reduce inventories. Brent Crude is currently trading at $69.76/bbl up roughly 5.5% this month.
Global Stocks
Asian shares closed mixed on Monday amid upbeat corporate earnings and strong global economic growth, China's Shanghai Composite down by 0.97% and Japan's Nikkei down 0.01%.
We saw European markets track their Asian counterparts, with the CAC-40 up 0.07%, the DAX down by 0.12% and the FTSE up 0.03%.
A 6% surge in the euro since mid-December has hindered the European Central Banks prospect of a change in the quantitative easing policy, officials are now looking to March for the possible first step in unwinding the stimulus.
While in the U.K., a 5% rally for the pound could be coming to an end as Theresa May is again under pressure to find common ground on a Brexit position.
U.S. equities eased on the open after they were boosted last week by stronger-than-expected quarterly results from major companies. This week McDonald's, Apple and Facebook are among the companies planned to report earnings.
Dollar index firms after last week's comments from U.S. Treasury Secretary Steven Mnuchin about how a weaker dollar would benefit trade.
Cryptocurrencies
Major cryptocurrencies were trading weaker after hackers stole $530 million from Tokyo-based cryptocurrency exchange Coincheck. Bitcoin was trading at $11,279, down by 4.48% and Ethereum was trading at $1188, down by 2.72%.