The JSE advanced on Friday as retailers and financials continued to lift the local bourse higher.
Blue-chips were trading mostly in positive territory which helped maintain the upward momentum on the JSE. Retailer, Truworths [JSE:TRU] was buoyed by the release of a positive trading statement for the full-year ended 1 July 2018. The stock added 3.22% to close at R79.24 per share. The Foschini Group [JSE:TFG] added 3.18% to close at R166.39, while Mr Price [JSE:MRP] firmed to R225.08 after adding 2.22%.
BlueTel Communications [JSE:BLU] has traded under significant pressure lately however in today's session it recouped some of those losses to close at R9.08 per share after jumping 8.87%. Rhodes Food Group [JSE:RFG] added 3.35% to close at R18.82, while British American Tobacco [JSE:BTI] firmed to close at R695.36 after posting gains of 3.72%. Banks, ABSA Group [JSE:ABG] and Capitec Holdings [JSE:CPI] gained 3.28% and 2.72% respectively.
On the day's losers, Steinhoff International [JSE:SNH] declined sharply to end the day 9.27% weaker at R3.23 per share. Coal miner, Exxaro Resources [JSE:EXX] lost 6.09% to close at R128.88, and diversified miner, South32 [JSE:S32] closed at R34.70 after shedding 4.2%. Iron ore miner, Kumba Iron Ore [JSE:KIO] lost 4.29% to end the day at R287.55 per share, while African Rainbow Minerals [JSE:ARM] shed 2.59% to close at R109.12 per share.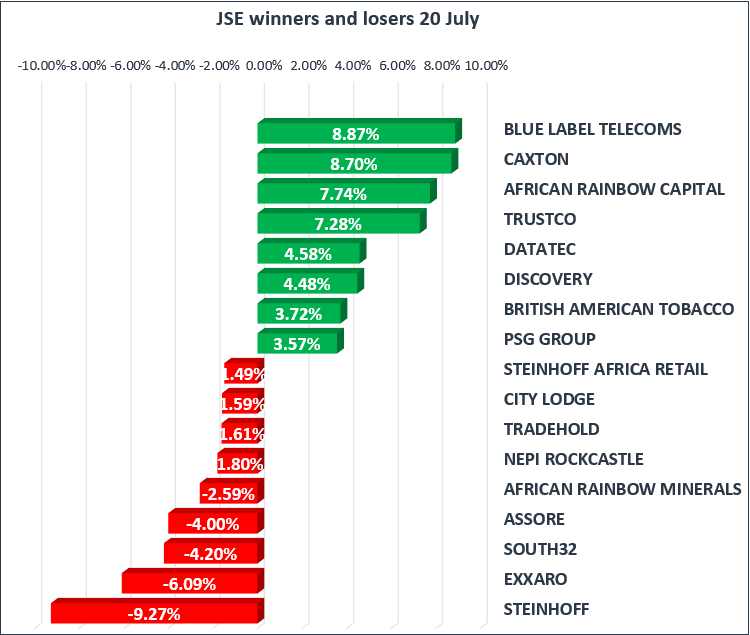 On the blue-chip index losses were fairly mid were BHP Billiton [JSE:BIL] eased by 1.08% to close at R285.34 per share, while Anglo American PLC [JSE:AGL] was 0.96% weaker to close at R282.20. NEPI Rockcastle [JSE:NRP] weakened to R116.31 after shedding 1.8%, and Mondi Limited [JSE:MND] settled at R360.47 per share after dropping 0.47%.
The local bourse gained more momentum towards the close which saw the JSE All-Share index close 1.27% higher, while the JSE Top-40 index gained 1.4%. The Financials and Industrials indices managed to gain 1.99% and 1.89% respectively, however the Resources index retreated to end the day 0.56% softer. For this trading week, the JSE firmed by 1.11%.
Metal commodities staged a minor recovery in today's session which saw Gold peak at a session high of $1232.18/Oz. At 17.00 CAT, the precious metal was trading 0.48% firmer at $1228.65/Oz. Platinum was up 2.72% at $829.04/Oz and Palladium was trading 2.27% at $892.52/Oz.
Brent crude traded firmer on the day which saw it trade at $73.06 just after the JSE close, up 0.66% on the day.
At 17.00 CAT, Ethereum was trading 2.49% weaker at $463.54/coin and Bitcoin was only up 0.12% to trade at $7490.80/coin.