The JSE closed firmer on Tuesday mainly on the back of advances recorded in rand hedges and miners.
British American Tobacco [JSE:BTI] advanced in London and Johannesburg as analysts published a higher price target compared to where it has been trading in recent sessions. On the JSE, the stock closed the day 5.95% higher at R449.42. ABSA Group [JSE:ABG] was also buoyant on the day as the bank announced that the CEO, Maria Ramos, would be stepping down in February. The share closed the day 6.08% firmer at R186.28.
The volatility in Blue Label Telecoms [JSE:BLU] continued as the stock rallied 3.79% to close at R4.66. Unsurprisingly Reinet [JSE:RNI] also recorded gains on the day as it climbed 4.21% to close at R201.41, while Sappi [JSE:SAP] managed to add 4.14% to close at R78.70. Listed property stock, Resilient REIT [JSE:RES] firmed by 4.56% to close at R64.00, and Intu Properties [JSE:ITU] closed at R20.93 after adding 4.13%. Harmony Gold [JSE:HAR] rose 3.4% to R26.44, Glencore [JSE:GLN] gained 2.68% to R53.65, and South32 [JSE:S32] closed 2.92% firmer at R33.47.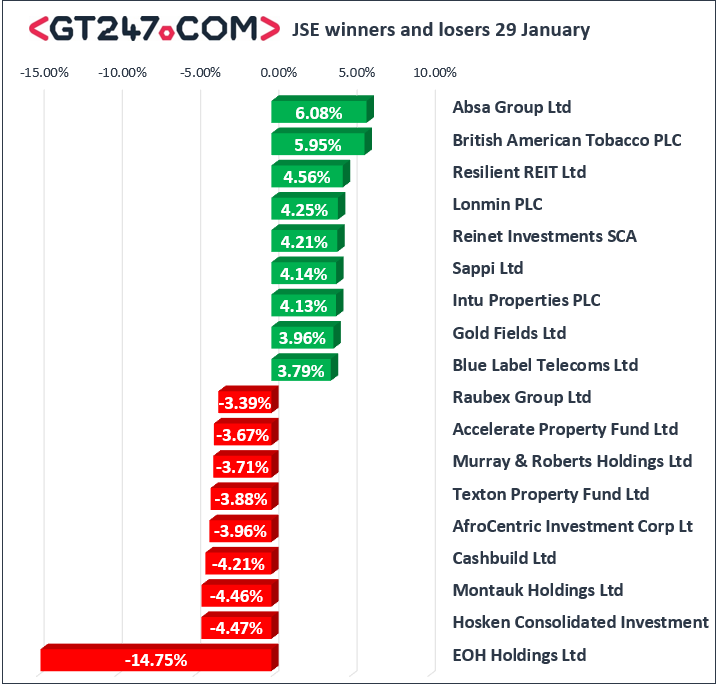 Of the day's losers, EOH Holdings [JSE:EOH] came under significant pressure as it lost 14.75% to close at R26.65. Kumba Iron Ore [JSE:KIO] traded weaker due to iron ore supply concerns on the back of the disaster at a iron ore mine owned by Vale in Brazil. The stock closed 1.46% weaker at R304.50. Alexander Forbes [JSE:AFH] was also softer as it lost 2.95% to close at R4.60, while Mediclinic [JSE:MEI] weakened by 2.37% to close at R54.45. Exxaro Resources [JSE:EXX] bucked the trend in other miners as it lost 1.31% to end the day at R147.94.
The JSE All-Share index closed the day up 1.15% while the JSE Top-40 index gained 1.28%. All the major indices closed in the green with the Financials index advancing the most as it gained 1.47%. The Industrials and Resources indices gained 1.08% and 1.13% respectively.
The rand was flat earlier on, but it managed to gain momentum as the session progressed. At 17.00 CAT, the rand was trading 0.38% firmer at R13.61/$.
Brent crude rallied on the back of a news that Saudi Arabia pledged to increase crude oil output cuts more than the initial estimates as they try to revive oil prices. The commodity was trading 2.4% firmer at $61.37/barrel just after the JSE close.
At 17.00 CAT, Palladium was 0.56% firmer at $1341.19/Oz, Gold had gained 0.32% to trade at $1307.59/Oz, and Platinum was up 0.25% at $814.10/Oz.
Bitcoin was down 0.43% at $3475.90/coin, while Ethereum had managed to gain 1.1% to trade at $106.89/coin.