The JSE was off to a rocky start on Wednesday as investor fears set in surrounding the ANC's announcement Tuesday evening that the constitution will be amended for land expropriation without compensation reform.
Global markets were pretty much muted at the start of the trading session, but most major global indices rebounded later in the day as they await the pending U.S. Federal Reserve's Federal Open Market Committee (FOMC) decision on whether they will raise interest rates tonight at 20:00 South African time.
The JSE All-Share index was under pressure throughout the day by -0.22% at the market close, while the blue-chip JSE Top-40 index deteriorated - 0.25%. The Industrial index edged higher with 0.22%, while the Financials and Resources indices coming in much lower by -0.85% and -0.71% respectively.
The rand shrugged off the political news events and recorded more gains on Wednesday against the U.S dollar. At 17:00, the rand was trading 0.51% firmer at R13.19/$, after opening at R13.24 to the greenback.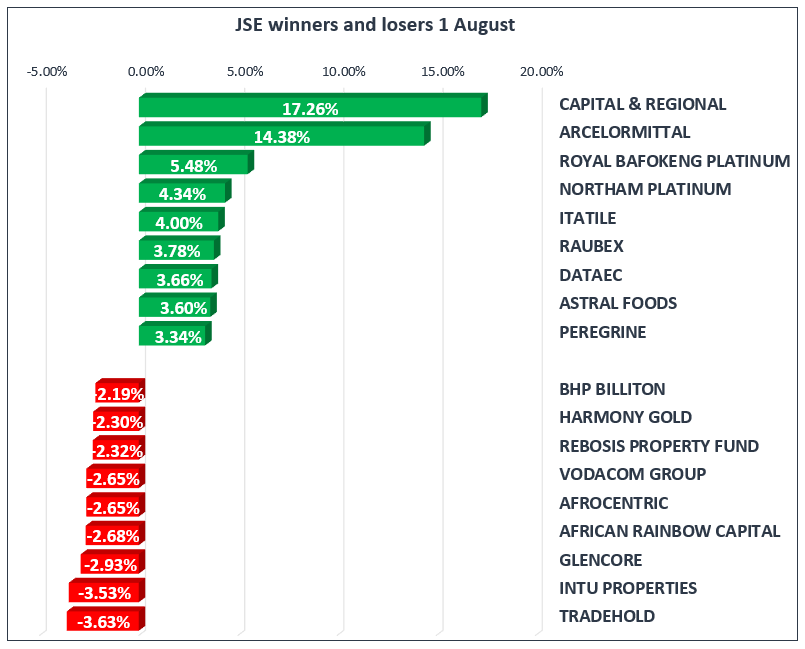 The JSE top performer ArcelorMittal SA Limited [JSE:ACL] was amongst the day's biggest movers closing 14.38% higher at R3.66 per share. Royal Bafokeng Platinum Limited [JSE:RBP] locked in some gains and moved higher by 5.48% to close at R 25.62 per share. Astral Foods Limited [JSE:ARL] added 3.60% to close the day at R 302.51 per share.
Tradehold [JSE:TDH] was under pressure today and closed 3.63% lower at R 13.01 per share while Intu Properties PLC [JSE:ITU] also closed 3.53% lower to close at R29.00 per share. Glencore PLC [JSE:GLN] was down 2.93% to close at R 56.07 per share.
The price of Brent crude came under pressure on Wednesday as weekly Crude oil inventories surprised with a 3.803M barrel build in inventories, Brent crude was weaker by -1.71% at $ 72.95 per barrel just after the JSE closed.
At 17:00 gold was trading -0.43% down at $1218.59 per ounce, with platinum weaker by -2.41% to $820.70/Oz. Palladium lost -1.93% to trade at $911.20/Oz.
Cryptocurrencies also moved lower as Bitcoin traded weaker on the day by -7.22% to trade at $ 7607 per coin while Ethereum was also down by -12.62% to trade at $422 per coin.