Local stocks closed softer on Thursday mainly on the back of losses recorded in industrials and resources stocks.
Trading across global stocks was mixed as signs rose of a potential rift in the US-China trade war despite earlier indications of a possible resolution between the world's two largest economies. Further evidence of slowing economic growth was shown by the weaker Manufacturing and Services PMI data out of the European Union. The ECB decided to keep its main refinancing rate unchanged at 0.00% as it highlighted its concerns over a slowing European economy as well as concerns over Brexit.
On the JSE, Vodacom [JSE:VOD] came under significant pressure following the release of its trading statement which indicated declining service revenue in South Africa and flat revenue growth across the group. The stock fell 5.97% to close at R121.87. Its industry peer, MTN Group [JSE:MTN] also struggled as it lost 2.99% to close at R84.01. Life Healthcare Group [JSE:LHC] traded significantly weaker as it fell 4.5% to R27.14. Nampak [JSE:NPK] lost 5.41% to R13.63, Rhodes Food Group [JSE:RFG] closed 4.12% lower at R16.30, and Sappi [JSE:SAP] lost 2.32% to close at R74.91.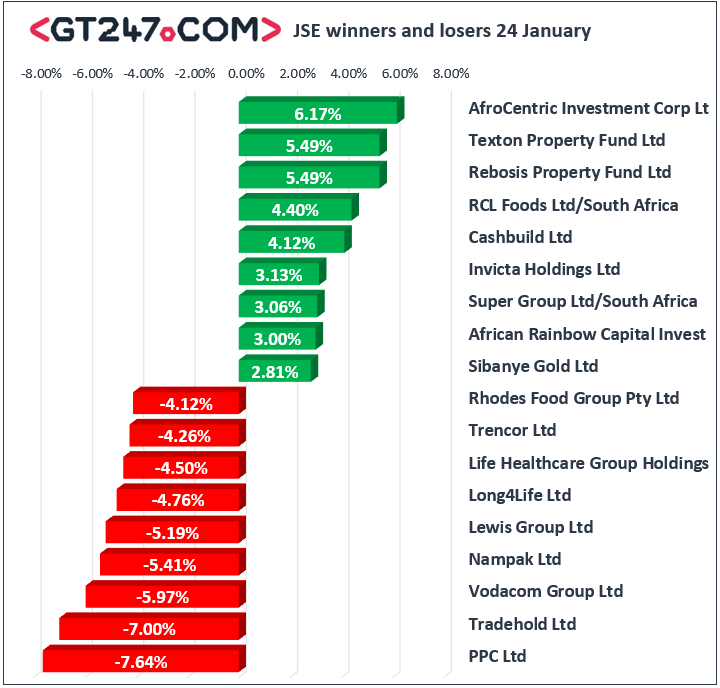 Despite reporting a decrease in sales in its 4th quarter production update, Kumba Iron Ore [JSE:KIO] managed to post gains of 1.68% to close at R288.94. African Rainbow Minerals [JSE:ARM] was also buoyant as it climbed 1.8% to R141.50. Banks were supported by a stronger rand which saw Nedbank [JSE:NED] gain 2.16% to close at R280.14, Capitec Bank [JSE:CPI] added 1.99% to close at R1150.00, while Standard Bank [JSE:SBK] closed at R188.00 after gaining 1.8%. The FoschinI Group [JSE:TFG] also recorded decent gains on the day as it climbed 2.81% to R170.66.
The JSE Top-40 index closed 0.77% weaker while the broader JSE All-Share index shed 0.71%. The Financials index was the only index to close in the green as it gained 0.48%. The Industrials and Resources indices dropped 0.91% and 0.88% respectively.
At 17.00 CAT, Palladium had lost 1.86% to trade at $1325.37/Oz, Gold was 0.09% firmer at $1283.85/Oz and Platinum was trading 1% stronger at $802.64/Oz.
Brent crude was trading mostly weaker on the day and it was recorded at $61.01/barrel just after the JSE close.
At 17.00 CAT, Bitcoin was trading flat at $3635.80/coin, while Ethereum had lost 1.16% to trade at $118.55/coin.