The JSE shrugged off weak global sentiment to close firmer on Friday mainly on the back of gains in blue-chip index heavyweights.
The local bourse was buoyed by Naspers [JSE:NPN] which caught the tailwind of the gains in its Hang Seng listed associate Tencent Holdings, which closed 4.51% firmer in today' session. Equity markets in Europe and equity futures in the USA fought back to pare losses on the day despite threats by Donald Trump of government shutdown due to disagreements over boarder wall funding with the Democrats.
The US dollar advanced after the Chinese yuan slipped on the back of news that Chinese policy makers were considering loosening monetary policy in order to support the economy. This saw currencies such as the rand weakening to a session low of R14.50/$. The rand managed to recover after the US dollar pulled back due to slightly weaker US GDP data, to trade at R14.37/$ at 17.00 CAT.
On the JSE, Naspers stood out as it rallied 2.77% to close at R2880.00, while Richemont [JSE:CFR] managed to gain 1.62% to R90.44. Diversified miner, Anglo American PLC [JSE:AGL] added 1.22% to end the day at R313.27, and BHP Group [JSE:BHP] climbed to R297.62 after adding 1.18%. Shoprite Holdings [JSE:SHP] which has been flagged by the Competition Commission for anti-competitive conduct recouped some of Thursday's losses as it added 1.27% to close at R182.95. Glencore [JSE:GLN] gained 0.48% to R52.16, and Mondi PLC [JSE:MNP] inched up 0.09% to R294.00.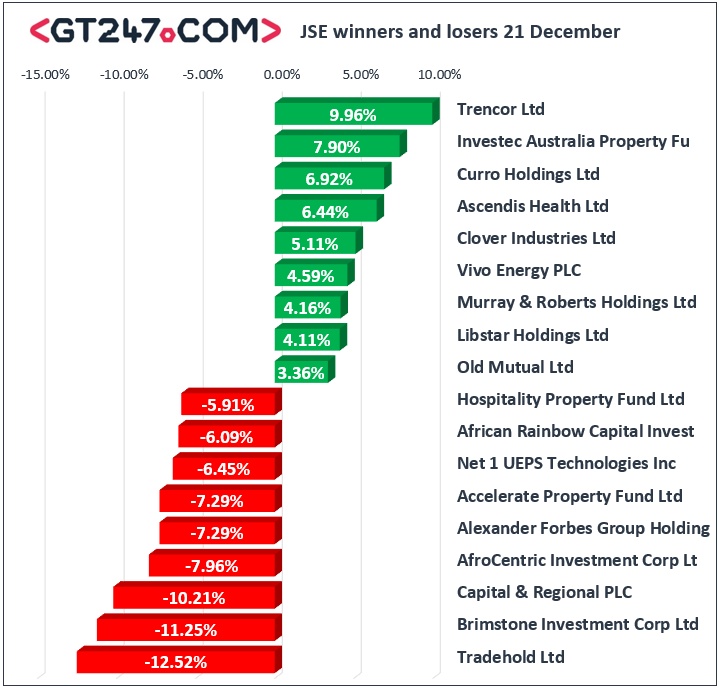 The weaker rand weighed down on most retailers as they traded mostly weaker. Massmart Holdings [JSE:MSM] fell 3.98% to R98.90, The Foschini Group [JSE:TFG] lost 3.72% to R159.87, and Truworths [JSE:TRU] closed 1.9% weaker at R85.35. Brait [JSE:BAT] recorded another session of losses as it fell 5% to R28.50., while KAP Industrials Holdings [JSE:KAP] lost 4.67% to R7.75. Telkom [JSE:TKG] weakened by 2.74% to close at R61.66, and EOH Holdings [JSE:EOH] closed at R30.00 after losing 3.54%.
The JSE All-Share index managed to end the day 0.5% firmer, while the JSE Top-40 index added 0.44%. The Financials index came under some pressure as it shed 0.62%, however the Resources and Industrials indices added 0.44% and 1.17% respectively.
Brent crude recorded one of its biggest intra-day drops in recent history as it plummeted to a session low of $52.79/barrel. It was recorded at $53.19/barrel just after the JSE close.
At 17.00 CAT, Gold was down 0.09% at $1258.68/Oz, Palladium had lost 1.87% to trade at $1237.89/Oz, and Platinum was down 0.7% at $789.65/Oz.
Ethereum was up 4.12% at $117.05/coin, and Bitcoin was down 0.91% at $4125.50/coin.