The JSE closed weaker on Friday as Naspers and other index heavyweights dragged the local bourse lower.
Most of the blue-chip counters were trading in the green but unfortunately the weakness from the index's biggest counters weighed down on the All-Share index. Naspers [JSE:NPN] pulled back due to the weaker close in Tencent Holdings, which closed 4.87% lower after Chinese regulators announced new plans to curb video-game releases and time spent playing the games. Naspers eventually closed the day down 2.51% at R3278.83 per share.
Other index giants such as Richemont [JSE:CFR] lost 1.5% to close at R130.52, while Anglo American PLC [JSE:AGL] closed 1.54% weaker at R296.73 per share. BHP Billiton [JSE:BIL] took a breather from its recent rally as the stock shed 1.32% to close at R315.02, and British American Tobacco [JSE:BTI] retreated to close 1.41% softer at R712.33 per share. Old Mutual [JSE:OMU] announced a special dividend of 100 cents per share in its half year results released on Friday morning. The results were relatively decent however the stock closed the day down 1.84% at R30.40 per share.
South32 [JSE:S32] was one the day's biggest losers after the stock dropped 4.17% to close at R36.74 per share. Steinhoff International [JSE:SNH] closed 1.41% softer at R2.80 following the release of a trading statement for the 9 months ending 30 June 2018.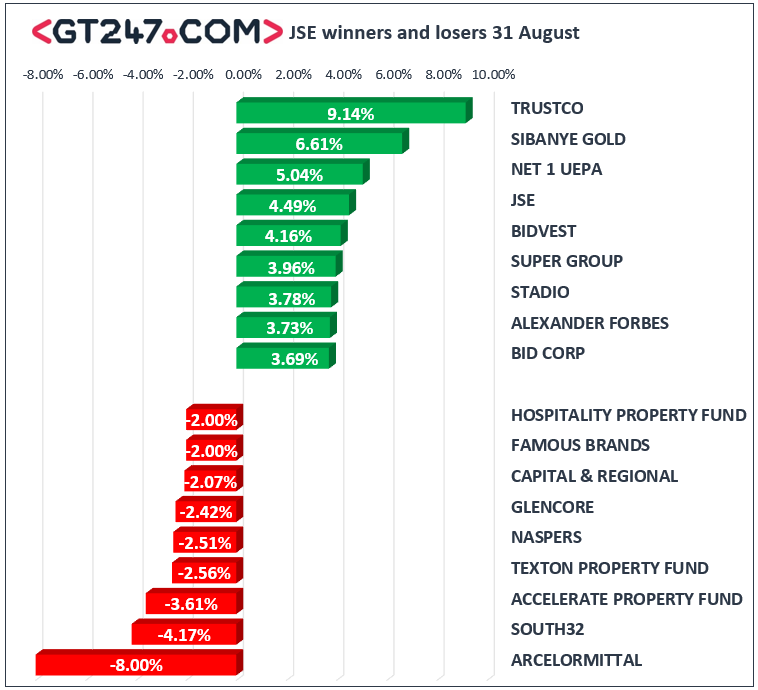 Sibanye StIllwater [JSE:SGL] found some momentum which saw the stock gaining 6.61% to end the day at R8.55 per share. Bidvest [JSE:BVT] rose to R216.00 per share after the stock managed to add 4.16%, while Bid Corporation [JSE:BID] rallied to R313.59 after picking up 3.69%. Stadio Holdings [JSE:SDO] closed 3.78% higher at R4.39, and MTN [JSE:MTN] recouped some of its losses to end the day up 2.88% at R88.99 per share.
The JSE All-Share index closed the day 0.23% lower while the blue-chip JSE Top-40 index lost 0.35%. The Financials index managed to get a lift due to the firmer rand which saw it close 0.76% firmer. The Industrials and Resources indices lost 0.7% and 0.25% respectively.
On the currencies market, the risk across emerging market currencies continues to weigh down on the rand which was little changed from its overnight close. The rand was a marginally firmer at 17.00 CAT to be recorded at R14.64 against the US dollar.
Brent crude traded weaker on the day as it slipped to a session low of $77.00/barrel before retracing to trade at $77.59/barrel just after the JSE close.
At 17.00 CAT, Gold was trading 0.37% firmer at $1204.67/Oz, Palladium was up 1.27% to trade at $982.57/Oz and Platinum was up 0.61% to trade at $794.79/Oz.
Bitcoin was trading mostly flat and at 17.00 CAT it was up 0.69% to trade at $6920.10/coin, whilst Ethereum was down 0.6% to trade at $277.03/coin.