Global stocks resumed their downtrend on Wednesday on the back of renewed fears over the spread of the coronavirus.
Following a minor reprieve on Tuesday, stocks slumped across global markets on Wednesday from Asia through Europe and onto the opening of US stock markets. US equity futures slumped and quickly hit limit down as the selling intensified while locally, the ALSI March futures also hit lower circuit breakers during the course of the day. Losses were recorded for most asset classes including metal commodities as well as brent crude which slipped well below $30/barrel.
Locally, Statistics SA released inflation data for the month of February as well as retail sales numbers for the month of January. CPI YoY inched up to 4.6% from a prior recording of 4.5%, while CPI MoM advanced 1% from a prior recording of 0.3%. Retail sales improved in the month of January as they advanced 1.2% from a prior recording of -0.5%, while retail sales MoM advanced 0.9% from a prior recording of -3.2%.
The rand unfortunately came under pressure along with other emerging market currencies which investors dumped in favor of the greenback. The rand breached $17/$ peaking at a session low of R17.10/$. At 17.00 CAT, the rand was trading 2.84% lower at R17.06/$.
On the JSE, listed property stocks recorded some of the day's biggest declines. Fortress REIT [JSE:FFB] tumbled 35.56% to close at R2.70, NEPI Rockcastle [JSE:NRP] lost 30.7% to close at R54.55, while Hammerson PLC [JSE:HMN] fell 21.83% to close at R18.76. Capitec Bank Holdings [JSE:CPI] slipped dramatically in the afternoon session as it tumbled to eventually close 27.92% lower at R800.00. Anglo American Platinum [JSE:AMS] fell 24.07% to close at R477.99, while its industry peer Impala Platinum [JSE:IMP] lost 23.93% to close at R57.60. Another volatile session ensued for Sasol [JSE:SOL] which fell as low as R24.00 and as high as R42.90 before settling 7.33% lower at R34.00. Significant losses were also recorded for MTN Group [JSE:MTN] which lost 12.75% to close at R38.94, and FirstRand [JSE:FSR] which closed at R36.80 after losing 14.28%. Double digit declines were recorded for most large-cap stocks in today's session.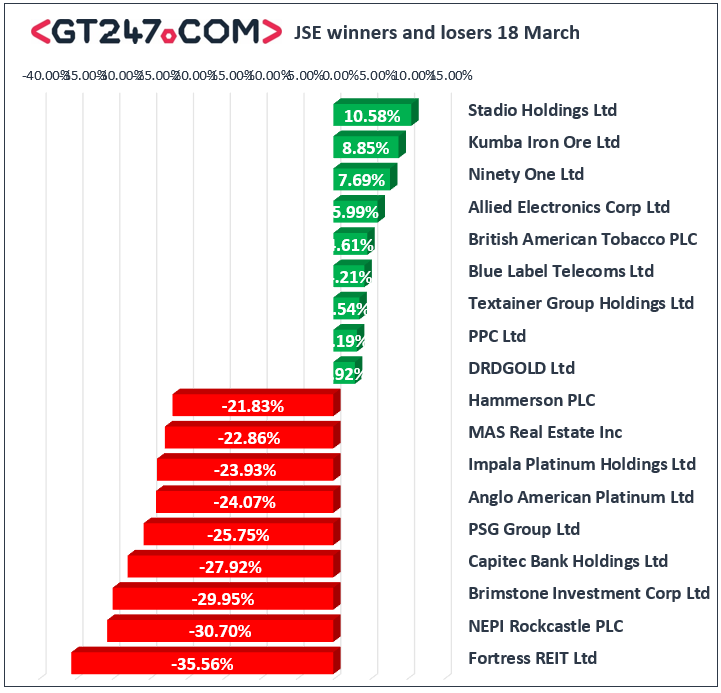 A handful of stocks managed to record gains on the day. Stadio Holdings [JSE:SDO] jumped 10.58% to close at R1.15, while Kumba Iron Ore [JSE:KIO] surged 8.85% to close at R289.85. New listing, Ninety One Ltd [JSE:NY1] rallied 7.69% to close at R32.90, tobacco producer British American Tobacco [JSE:BTI] surged 4.61% to close at R548.04. Gains were also recorded for Blue Label Telecoms [JSE:BLU] which added 4.21% to close at R1.98, as well as Richemont [JSE:CFR] which closed at R89.56 after gaining 1.42%.
The JSE All-Share index closed 7.15% lower while the JSE Top-40 index lost 7.12%. The Financials index was the biggest casualty of the day as it plummeted 12.43%, while the Resources and Industrials indices gained 8.54% and 4.08%.
Brent crude was trading 8.21% lower at $26.37/barrel just after the JSE close.
At 17.00 CAT, Platinum was down 6.73% at $618.98/Oz, Palladium was 4.37% lower at $1576.98/Oz, and Gold had lost 1.92% to trade at $1499.01/Oz
---
Disclaimer:
Any opinions, news, research, reports, analyses, prices, or other information contained within this research is provided by GT247.com at GT247 (Pty) Ltd t/a GT247.com ("GT247.com") as general market commentary, and does not constitute investment advice for the purposes of the Financial Advisory and Intermediary Services Act, 2002. GT247.com does not warrant the correctness, accuracy, timeliness, reliability or completeness of any information which we receive from third party data providers. You must rely solely upon your own judgment in all aspects of your trading decisions and all trades are made at your own risk. GT247.com and any of its employees will not accept any liability for any direct or indirect loss or damage, including without limitation, any loss of profit, which may arise directly or indirectly from use of or reliance on the market commentary. The content contained within is subject to change at any time without notice.