Local
The JSE closed lower on Thursday after a mixed session where the index failed to get a clear direction, the All-Share was 0.42% lower, with the blue-chip Top40 and industrials down by 0.31% and 0.84% respectively.
Miners were mixed with Pan African Resources [JSE:PAN] closing down by 19.72% after being sold-off in response to the operational update released this morning, restating the gold production due to operational difficulties at Barberton Mines. While Lonmin [JSE:LON] and Harmony Gold [JSE:HAR] closed up by 3.28% and 2.51% respectively.
Elsewhere, financials gained 0.08% on the day, as Capitec [JSE:CPI] regained 5.55%, bolstered by a statement from S&P Global Ratings agency dismissing claims that Capitec was hiding bad loans.
Meanwhile, property stocks continued to feel the pressure, with Resilient [JSE:RES] down 7.38%, Nepi Rockcastle [JSE:NRP] down 13.61% and Fortress B [JSE:FFB] down 11.40%.
The rand was somewhat weaker against major currencies, giving back some of yesterday's gains, trading at R11.89 to the dollar, R16.88 to the pound and R14.79 to the euro.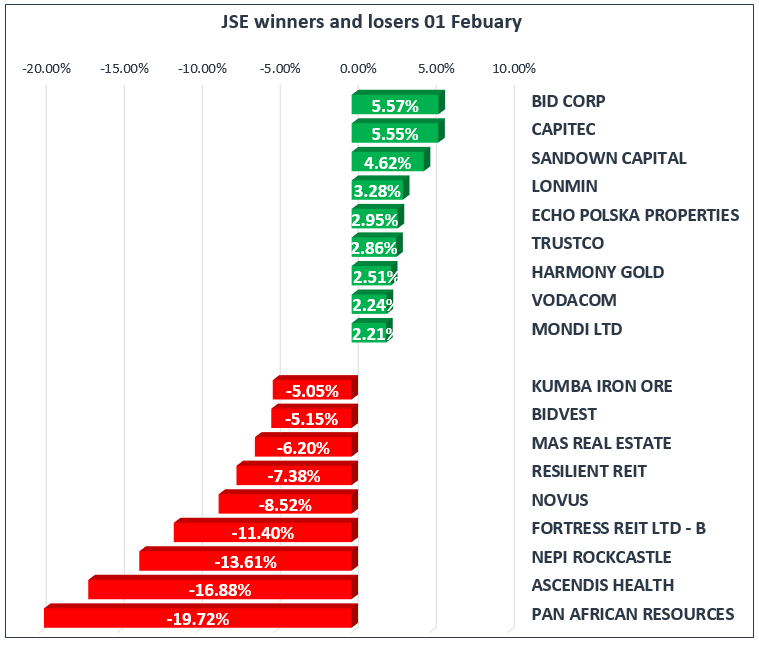 Commodities
Gold prices inched up, trading at $1344.90 per ounce, after last nights Fed announcement that it was holding rates steady with a view to raise rates in March, a move that was widely expected.
Elsewhere, silver was trading down at $17.15 per troy ounce, while platinum continued to ease, trading at $1,003.10 per troy ounce.
Oil prices climb even though analysts warn that U.S. shale producers could ramp up production, potentially derailing OPEC's effort to curb excess supply. Brent Crude is currently trading at $69.48/bbl and WTI trading at $65.42/bbl.
Global Stocks
Most of the Asian markets eked out modest gains on the day after the sell-off earlier this week. Japan's Nikkei surged to closed up by 1.68%, offsetting the declines in China's Shanghai Composite which closed down by 0.99%.
Corporate earnings set the tone in European markets which cold not hold on to earlier gains despite a stronger euro and pound. The CAC-40 closed down by 0.42%, the DAX down by 1.25% and the FTSE down by 0.29%.
U.S. equities open down as stocks give back some of their strong gains from last month, ahead of tech giants Apple, Alphabet and Amazon earnings announcements. Investors will now focus on tomorrow's non-farm payrolls as it is a crucial indicator of the health of the US economy.
Cryptocurrencies
Bitcoin trades under $10,000 amid fears of increased regulatory scrutiny, posting a monthly decline of 25.88%, while Ethereum gained 52.19% in January.