The rally recorded in global stocks on Friday was short-lived as they resumed their downtrend on Monday.
The downtrend was led Asian markets which opened weaker on Monday erasing most of the previous session's gains. The Nikkei fell by 1.87%, while the Hang Seng and the Shanghai Composite Index lost 1.38% and 1.4% respectively. The bearish sentiment surrounding Tencent Holdings also resumed which saw the stock drop 1.94% on the Hang Seng.
Locally, the rand edged higher following the release of retail sales data by the USA for the month of September, which came in worse than forecasted. The weaker data saw the US dollar weaken which fared well for the rand as it strengthened to a session high of R14.33/$. The rand was trading 1.08% firmer against the greenback to trade at R14.35/$.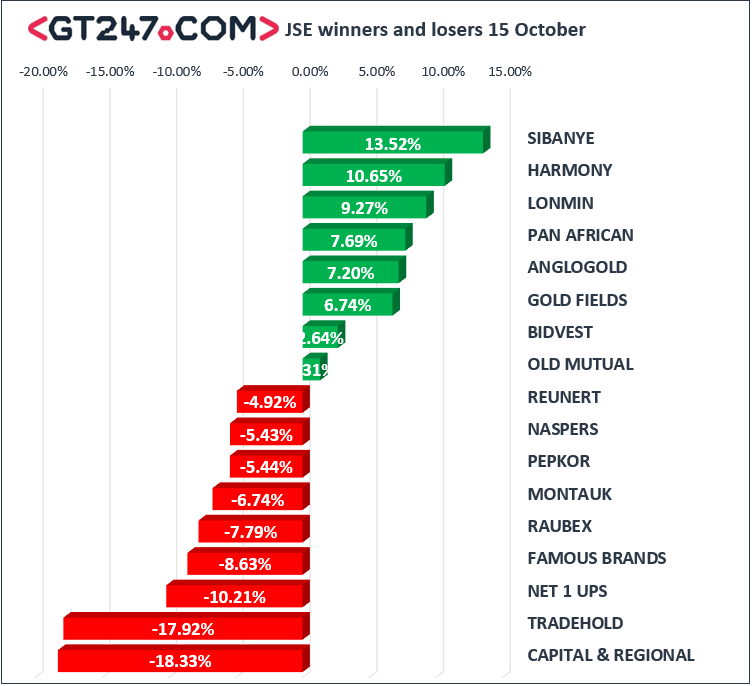 Index heavyweight Naspers [JSE:NPN] led losses amongst the blue-chip index as it lost 5.43% to close at R2750.18 per share. Clicks [JSE:CLS] also struggled on the day as it dropped 3.49% to end the day at R157.30. Famous Brands [JSE:FBR] weakened following the release of its six months trading statement in which the group indicated that it would be recognising a pre-tax impairment of R874 million. The stock fell by 8.63% to close at R93.20 per share.
Bankers, Nedbank [JSE:NED] and FirstRand [JSE:FSR] retreated by 4.84% and 3.15% to close at R233.02 and R60.82 respectively. Bid Corporation [JSE:BID] closed 2.98% weaker at R270.99, while Discovery [JSE:DSY] shed 3.05% to end the day at R153.23.
JSE listed miners were buoyed by a surge in metal commodity prices in today's session. Sibanye Stillwater [JSE:SGL] was firmed to R12.51 after adding 13.52%, Lonmin [JSE:LON] added 9.27% to R11.20, Harmony Gold [JSE:HAR] 10.65% to R31.27 and Gold Fields [JSE:GFI] gained 6.74% to close at R41.81 per share.
Old Mutual [JSE:OMU] rose to R22.35 after adding 1.31%, whilst Bidvest [JSE:BVT] firmed to R187.56 after picking up 2.64%. Anglo American PLC [JSE:AGL] inched up 0.53% to close at R321.49, and Telkom [JSE:TKG]managed to close 0.33% firmer at R51.50 per share.
The JSE All-Share index came under pressure as it dropped 1.88%, while the JSE Top-40 index lost 2.07%. The Resources index closed the day 0.24% firmer, however the Industrials and Financials indices lost 2.98% and 2.27% respectively.
Most of the metal commodities rallied in today's session on the back of the weaker US dollar. At 17.00 CAT, Gold was up 0.97% to trade at $1228.22/Oz, Platinum was 0.93% firmer to fetch $846.05/Oz and Palladium had rallied 0.73% to trade at $1075.55/Oz.
Brent crude was mildly firmer as tensions rose between Saudi Arabia and the USA following Donald Trump's comments. The commodity was trading flat at $80.43/barrel just after the JSE close.
At 17.00 CAT, Bitcoin was up 7.73% to trade at $6868.20/coin and Ethereum was 6.81% firmer at $216.26/coin.