The JSE closed firmer for a second consecutive session on Wednesday as global markets rallied further on the back of optimism that progress was being made containing the coronavirus.
While there are still new cases being reported, there is more confidence globally on the measures that are being taken to mitigate the spread of the virus. Quarantine facilities have been made available at most international hubs which is helping boost confidence for global investors.
Asian stocks picked up from the where they left off on Tuesday as they tracked higher on the day. The Hang Seng added 0.42%, while the Nikkei and Shanghai Composite Index rallied 1.02% and 1.13% respectively. In a similar manner to the session on Monday, European stocks also edged higher by more than a percent on average. The dramatic surge in Tesla's share price has caught headlines as US corporate earnings releases continue to trickle.
On the currency market, the rand had a steep surge in the morning session as it rallied to peak at a session high of R14.66/$. It did ease towards the JSE close before it was recorded trading 0.12% firmer at R14.76/$.
On the JSE, Sasol [JSE:SOL] recorded stronger gains in today's session as it rallied 4.47% to close at R245.50, while heavy-duty equipment supplier Barloworld [JSE:BAW] advanced 3.44% to close at R95.98. Old Mutual [JSE:OMU] gained 2.55% to close at R17.72, while ABSA Group [JSE:ABG] managed to post gains of 1.97% to close at R144.43. Rand hedge Mondi PLC [JSE:MNP] advanced despite the stronger rand as it closed at R316.00 after gaining 3.96%, while telecoms provider Vodacom [JSE:VOD] rose 3.03% to close at R119.84. Discovery Ltd [JSE:DSY] added 4.01% as it closed at R122.80, while Reinet Investments [JSE:RNI] managed to gain 2.37% to close at R334.81. Significant gains were also recorded for Bidvest [JSE:BVT] which closed at R215.66 after adding 2.72%, while Steinhoff International [JSE:SNH] only closed 1.89% higher at R1.62 after having traded as high as R2.05 on the day.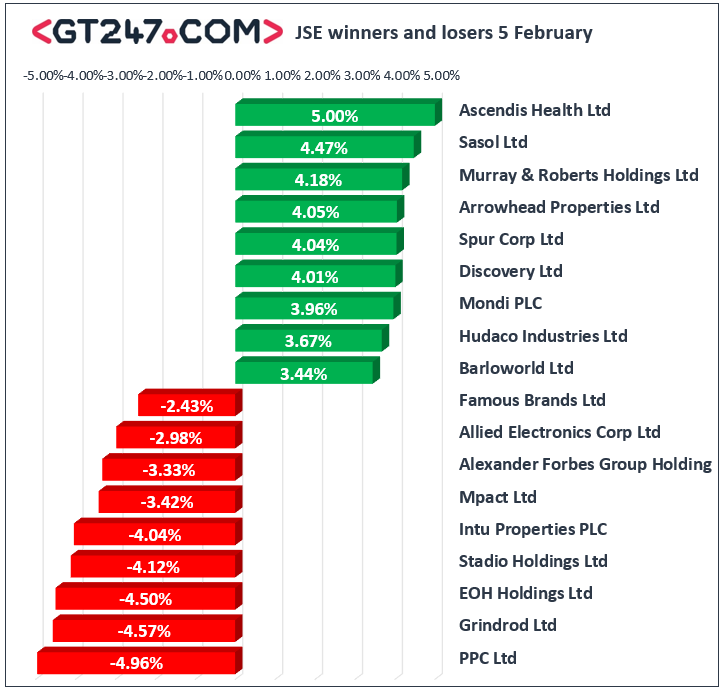 PPC Ltd [JSE:PPC] slipped further in today's session as it lost 4.96% to close at R2.30, while Grindrod [JSE:GND] fell 4.57% to close at R4.39. Intu Properties [JSE:ITU] is still to catch a reprieve this week as the share lost another 4.04% to close at R2.85 in today's session, while its sector peer Hammerson PLC [JSE:HMN] weakened by 1.9% to close at R43.82. Gold and platinum miners generally struggled on the day with losses being recorded for Northam Platinum [JSE:NHM] which lost 1.98% to close at R127.43, Gold Fields [JSE:GFI] which dropped 1.4% to close at R91.80, and Sibanye Gold [JSE:SGL] which closed at R38.58 after losing 1.58%.
The JSE All-Share index eventually closed 1.1% firmer while the JSE Top-40 index advanced 1.21%. Gains were recorded across all the major indices. Industrials gained 0.96%, while the Resources and Financials indices gained 1.02% and 1.61% respectively.
Brent crude seems to have turned the tide as it surged in today's session. It was recorded trading 3.89% higher at $56.06/barrel just after the JSE close.
At 17.00 CAT, Platinum was up 1.03% at $973.00/Oz, Gold was 0.08% firmer at $1553.46/Oz, while Palladium had gained 0.71% to trade at $2451.46/Oz.
---
Disclaimer:
Any opinions, news, research, reports, analyses, prices, or other information contained within this research is provided by GT247.com at GT247 (Pty) Ltd t/a GT247.com ("GT247.com") as general market commentary, and does not constitute investment advice for the purposes of the Financial Advisory and Intermediary Services Act, 2002. GT247.com does not warrant the correctness, accuracy, timeliness, reliability or completeness of any information which we receive from third party data providers. You must rely solely upon your own judgment in all aspects of your trading decisions and all trades are made at your own risk. GT247.com and any of its employees will not accept any liability for any direct or indirect loss or damage, including without limitation, any loss of profit, which may arise directly or indirectly from use of or reliance on the market commentary. The content contained within is subject to change at any time without notice.