Global stocks including the JSE traded relatively mixed on Thursday as the British Prime Minister tried to save the draft Brexit deal.
Theresa May faced a new challenge today as three Brexit ministers quit in protest to the draft deal which they believe will keep them in the EU for longer than they want. The British sterling pound came under significant pressure as a result and the FTSE 100 equity index was mildly softer. The outlook for the deal remains bleak due to growing disapprovals and the possibility of a vote of no confidence in the Prime Minister.
On the JSE trading was relatively mixed, but the momentum was mostly to the downside. Listed property stocks came under significant pressure which saw a couple of them close amongst the day's biggest losers. Rebosis Property Fund [JSE:REB] fell 9.09% to close at R4.00, Intu Properties [JSE:ITU] lost 5.83% to R33.91, and Capital & Counties [JSE:CCO] dropped 3.84% to close at R46.61. Libstar Holdings [JSE:LBR] retreated to close at R6.65 after losing 3.06%, and rand hedge, Richemont [JSE:CFR] lost 3.55% to close at R93.90.
Woolworths [JSE:WHL] was weighed down by the release of its trading update as it flagged a decline sales for its fashion, beauty and home division. The stock closed 0.34% weaker at R53.53. Investec Limited [JSE:INL] released of a decent set of half year results however this was overshadowed by the weaker sentiment towards British financial stocks. The stock lost 3.12% to end the day R89.13.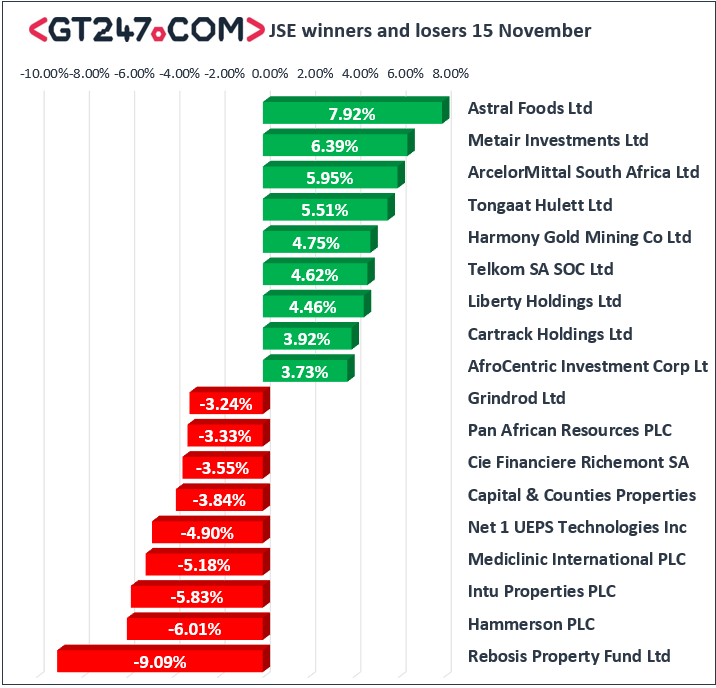 Of the day's gainers, Sappi [JSE:SAP] was buoyed by the release of its 4th quarter results which showed an improvement compared to the prior corresponding period. The stock gained 1.49% to close at R82.25. Astral Foods [JSE:ARL] jumped 7.92% to close at R206.14, while Tongaat Hulett [JSE:TON] firmed to close at R67.18 after adding 5.51%. Harmony Gold [JSE:HAR] gained 4.75% to close at R24.24, and Exxaro Resources [JSE:EXX] closed at R150.15 after adding 3.2%.
The JSE All-Share index gained some momentum towards the close eventually closing the day up 0.28%, while the blue-chip Top-40 index added 0.27%. The Industrials index added 0.64%, while the Resources index gained 0.06%. The Financials index was unchanged on the day.
The rand recorded another session of gains despite the greenback advancing marginally. At 17.00 CAT, the rand was trading 0.98% firmer at R14.25/$.
Brent crude recorded another session of gains as the commodity gained over a percent to peak at $67.00/barrel. It retraced to trade at $66.68/barrel just after the JSE close.
At 17.00 CAT, Gold was up 0.12% at $1212.36/Oz, Palladium had gained 0.22% to trade at $1130.45/Oz however Platinum was 0.35% softer at $832.38/Oz.
Cryptocurrencies cracked overnight and at 17.00 CAT Bitcoin was down 10.72% to trade at $5639.50/coin, while Ethereum had lost 9.04% to trade at $180.06/coin.