The JSE fell on Tuesday on the back of a global slide in stocks as investors fret over the upcoming US Fed rate decision and US-China trade war.
Concerns over slowing global economic growth are also accelerating investors' flight to safety which has seen some of the major equity indices hitting fresh year-to-date lows. The growth concerns are evidenced in the drop in crude oil prices which have fallen to levels last recorded in 2017. The US Fed is widely forecasted to hike interest rates by 25 basis points on Wednesday which is an economic tightening measure. This in conjunction with the end of the asset purchase program by the ECB in Europe also has global investors worried on the source of global growth.
The rand along with other emerging market currencies were steady against the US dollar, with the rand in particular rallying to a session high of R14.24/$. At 17.00 CAT, the rand was trading 0.86% firmer at R14.27/$.
On the JSE, most of the blue-chip counters traded mostly weaker as they tracked global sentiment. Rhodes Food Group [JSE:RFG] closed amongst the day's biggest losers after dropping 6.59% to close at R17.00, while Nampak [JSE:NPK] fell 6.16% to R13.70. Sugar producer, Tongaat Hulett [JSE:TON] fell 5.87% to R56.10, and Famous Brands [JSE:FBR] closed at R95.85 after dropping 4.14%. Bidvest [JSE:BVT] lost 3.27% to end the day at R198.50, while financials also retreated despite the advances in the rand. ABSA Group [JSE:ABG] closed 2.6% weaker at R154.21 and FirstRand [JSE:FSR] shed 2.42% to R62.94.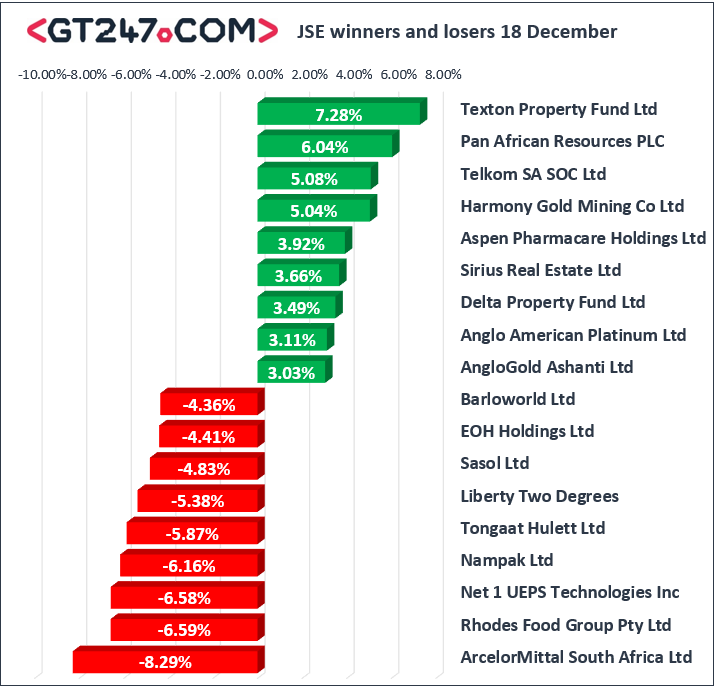 Miners led most the day's gains as Pan African Resources [JSE:PAN] rose 6.04% to R1.58, Harmony Gold [JSE:HAR] gained 5.04% to R23.96, and Anglo American Platinum [JSE:AMS] added 3.11% to close at R546.50. Telkom [JSE:TKG] posted gains of 5.08% to end the day at R63.73 and Aspen Pharmacare [JSE:APN] climbed 3.92% to close at R134.58.
The JSE All-Share index closed 0.63% weaker, while the blue-chip Top-40 index lost 0.66%. The Resources index was the only index to post gains after inching up 0.17%. The Industrials and Financials indices fell 0.68% and 1.49% respectively.
Brent crude declined below $57/barrel in today's session, but it managed to rebound marginally to trade 1.66% weaker at $58.62/barrel just after the JSE close.
At 17.00 CAT, Gold was 0.09% firmer at $1246.93/Oz, Platinum was down 0.37% at $791.64/Oz, and Palladium was flat at $1263.11.
Ethereum had rallied 5.7% to trade at $97.68/coin, and Bitcoin was 3.755 at $3648.90/coin.