The JSE closed weaker on Wednesday as it tracked other global markets lower due to renewed trade war concerns.
Global markets came under pressure after the USA threatened fresh tariffs on US$200 billion worth of Chinese goods. China immediately responded and said that they would be forced to retaliate to these new tariffs equally. US equity indices closed weaker overnight which also filtered onto Asian markets in Wednesday's trading.
The US dollar extended its gains against a basket of major currencies which saw the US dollar index peak at 94.453 index points. Subsequently, the rand traded softer as it slid to a session low of R13.53/$ before rebounding to trade at R13.42/$.
Most of the blue-chip constituents traded under pressure with banks and retailers sliding even further. Investec Limited [JSE:INL] lost 2.65% to close at R96.00, while Nedbank shed 1.96% to close at R259.47 per share. Newly rebranded ABSA Group [JSE:ABG] closed at R162.00 after dropping 2%. Truworths [JSE:TRU] closed at R74.31 after shedding 2.44%, and The Foschini Group [JSE:TFG] was 2.39% weaker at R168.52 per share.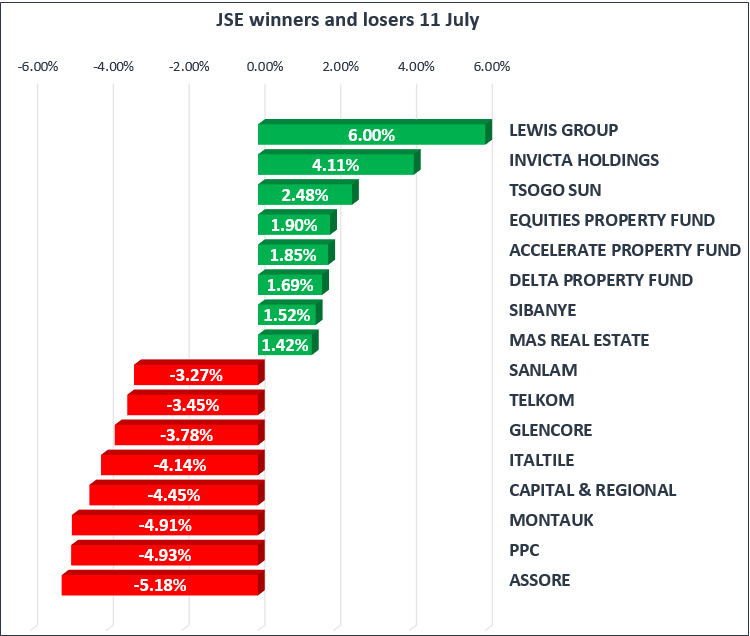 On the broader index Assore [JSE:ASR] slid to R287.66 after dropping 5.18%, while Glencore [JSE:GLN] weakened by 3.78% to close at R56.05. African Rainbow Minerals [JSE:ARM] lost 3.06% to close at R115.80 while telecoms provider, Telkom [JSE:TKG] dropped 3.45% to close at R48.75 per share.
Steinhoff International [JSE:SNH] rallied as high as R2.60 after the release of their restructuring update as investors reacted positively to the process for a lock-up agreement with creditors. The stock eventually closed 20.86% firmer at R2.26 per share. Sibanye Stillwater [JSE:SGL] gained 1.52% to close at R8.04 while Harmony Gold [JSE:HAR] managed to add 0.71% to close at R22.60.
The JSE Top-40 index eventually closed the day 1.45% lower, while the broader JSE All-Share index lost 1.37%. It was tough day for the JSE as all the major indices in the red. The Financials index lost 1.42%, while the Industrials and Resources indices shed 1.28% and 1.67% respectively.
Gold traded mostly softer despite the firmer US dollar. At 17.00 CAT it was trading $1248.61/Oz, down 0.51% for the day. Platinum was down 1.45% at $834.75/Oz and Palladium was trading 0.42% weaker at $939.49/Oz.
US crude inventories data released this afternoon recorded its biggest draw since 2016 of 12.6 million barrels. This data coupled with renewed trade war concerns saw brent crude retreat by 2.24% to trade at $77.09/barrel just after the JSE close.
At 17.00 CAT, Bitcoin was 0.33% softer at $6301.10/coin while Ethereum was trading 0.11% firmer at $440.57/coin.