GBP in for a "Pounding"
Two trade ideas to look at based on my bearish outlook on the Great British Pound (GBP). A few days before the second round of negotiations to discuss the UK's Brexit bill, which will be this coming Monday (17-07-2017). Tuesday the EU's chief Brexit negotiator added, for the second time since the start of July, his concern about how slow the negotiation process is coming along, stating "We can't remain idle as the clock is ticking." This doesn't aid the British government in their negotiations, nor does Theresa May's 'limited' manoeuvrability in the house of commons after the recent elections held in the UK.
The trade ideas below concur with my sentiments about the Gbp. Despite the better than expected numbers for the 'unemployment rate' and the 'claimant count change' numbers released Tuesday, I am sticking to my guns on the trades.
---
GBP / EUR pair
SUMMARY:
Direction: Sell (short)
Entry: 1.1250
Stop: Loss: 1.1420
Take Profit: 1.1040
Take Profit: 1.0920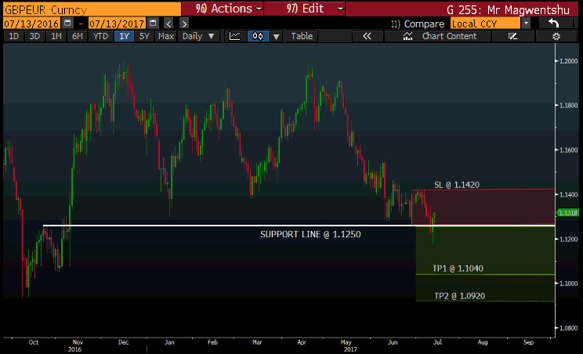 Figure 1: Bloomberg
Tuesday the pair dropped and closed below the support line at 1.1250 level and yesterday indicated that the move was a false breakout. I am waiting for a confirmation on the movement to close below the level again. Great 110 pip movement to the first take profit. The support line was tested in January first and twice in June. The stop loss for this trade would at the 1.1420 level.
---
GBP / USD pair
SUMMARY:
Direction: Sell (short)
Entry: 1.2770
Stop: Loss: 1.3050
Take Profit: 1.2600
Take Profit: 1.2400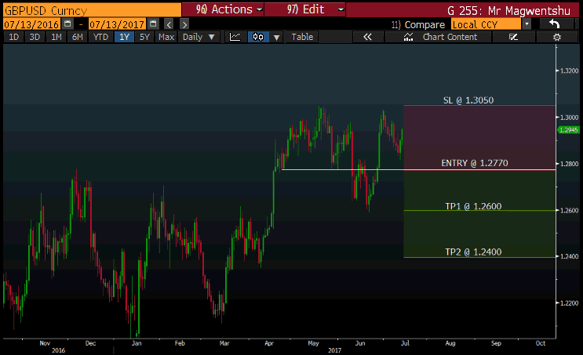 Figure 2: Bloomberg
The entry level for the pair is at 1.2770 with the first take profit level at 1.2600 and the second take profit level at 1.2400, with the stop loss at 1.3050.
---
Remember, trade responsibly, your capital is at risk and trading can lead to capital losses.
Until next time, I wish you profitable trading.

Odwa Magwentshu |
Trading Specialist at
GT247.com
Disclaimer: Any opinions, news, research, analyses, prices, or other information contained within this research is provided as general market commentary, and does not constitute investment advice. GT247.com will not accept liability for any loss or damage, including without limitation to, any loss of profit, which may arise directly or indirectly from use of or reliance on such information. The content contained within is subject to change at any time without notice, and is provided for the sole purpose of assisting traders to make independent investment decisions.
---
Want to trade CFD Equities, Forex, Indices & Commodities on the most affordable online South African trading platform?