The JSE closed flat on Monday as the losses recorded on the financials index capped the advance in the industrials index.
Stocks in developed markets recorded significant gains as they were yet again buoyed by news that the USA and China were closer to inking a trade deal. Donald Trump commented that the USA was not going to increase tariffs over the weekend due to the progress made in these talks. This saw the US dollar and the Chinese yuan advance against a basket of major currencies. The strength of the yuan boosted demand for emerging market currencies such as the rand, which resulted in the local currency advancing to peak at a session high of R14.12/$. At 17.00 CAT, the rand was trading 0.15% firmer at R14.20$.
On the JSE, Rebosis Property Fund [JSE:REB] managed to record significant gains as the stock rallied 6% to end the day at R2.12. Stadio Holdings [JSE:SDO] was boosted by the release of its full-year results which indicated significant increases in earnings per share and revenue. The stock closed 8.11% firmer at R3.60. Super Group [JSE:SRG] gained 3.75% to close at R35.95, while index giant Naspers [JSE:NPN] closed 3.34% higher at R3157.00. Coal miner, Exxaro Resources [JSE:EXX] climbed 1.91% to end the day at R149.50, while platinum miner, Impala Platinum [JSE:IMP] posted gains of 1.62% to close at R58.25. Massmart [JSE:MSM] bucked the trend in most of the retailers as it added 1.49% to close at R89.92, while The Spar Group [JSE:SPP] closed at R201.32 after gaining 1.33%.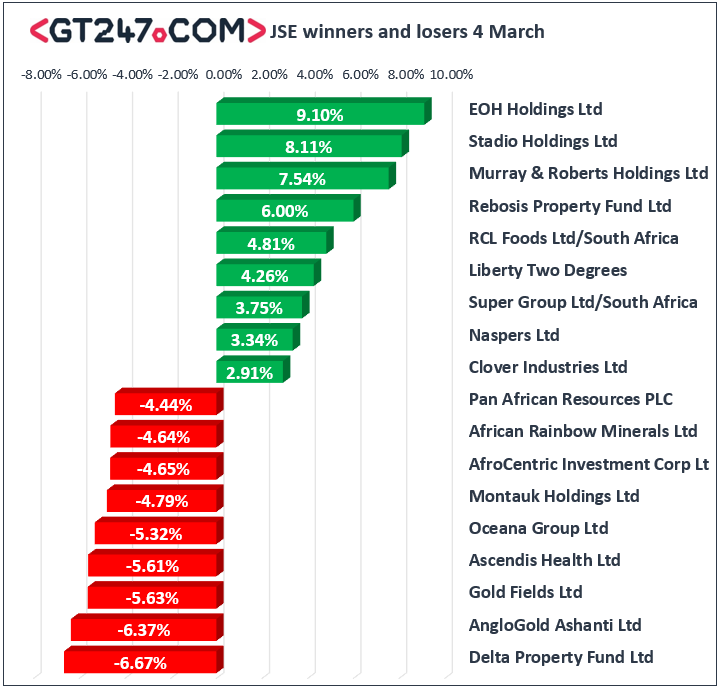 Delta Property Fund [JSE:DLT] came under significant pressure following the release of a negative trading update in which the company indicated they are expecting a decrease in distributable income of between 19% and 24%. The stock lost 6.67% to close at R1.96. African Rainbow Minerals [JSE:ARM] also struggled as it lost 4.64% to close at R163.06, while Blue Label Telecoms [JSE:BLU] dropped 4.25% to close at R3.83. Gold miners traded mostly softer on the day. Losses were recorded for AngloGold Ashanti [JSE:ANG] which dropped 6.37% to close at R186.65, Gold Fields [JSE:GFI] lost 5.63% to R53.32, and Harmony Gold [JSE:HAR] closed 4.27% weaker at R28.23. Financials also traded under pressure which saw stocks such as Capitec Bank Holdings [JSE:CPI] dropping 3.62% to close at R1252.88, while FirstRand [JSE:FSR] lost 2.56% to close at R62.81.
The JSE Top-40 index closed 0.1% firmer while the broader JSE All-Share index shed 0.01%. The Industrials index rallied to end the day 1.1% higher, however the Resources and Financials indices lost 0.45% and 1.84% respectively.
At 17.00 CAT, Gold was down 0.63% to trade at $1285.28/Oz, Platinum was down 2.3% at $839.45/Oz, and Palladium was 0.08% weaker at $1542.45/Oz.
Brent crude gained significant momentum as the day's session went on. It was trading 1.54% higher at $66.07/barrel just after the JSE close.