The JSE advanced on Wednesday mainly on the back of broad-based gains across most blue-chip stocks.
Gains were recorded despite the South African SACCI Business Confidence indicator for March falling to 91.8 from a prior recording of 93.4. Locally, index heavyweight Naspers also pushed the All-Share index higher as it was supported by the rise in Tencent Holdings which closed 1.36% firmer at $HK388.80 on the Hang Seng.

The US dollar rebounded on the day, but this did deter the rand which strengthened below R14/$ to reach a session high of R13.91/$. At 17.00 CAT, the rand was trading 1.11% firmer at R13.92/$.
Rand sensitives such as retailers and financials were the biggest beneficiaries of the firmer rand as they traded mostly firmer on the day. Mr Price [JSE:MRP] rose 7.42% to close at R210.86, Shoprite [JSE:SHP] firmed by 4.67% as it closed at R169.84, while The Foschini Group [JSE:TFG] gained 3.23% to close at R176.01. Nedbank [JSE:NED] managed to post gains of 4.55% as it closed at R266.62, FirstRand [JSE:FSR] added 4.31% to close at R67.11, and Investec PLC [JSE:INL] rose 2.06% to end the day at R88.71. Coronation Fund Managers [JSE:CML] also found some momentum as it rallied 4.2% to close at R51.86. Index giant Naspers [JSE:NPN] eventually closed 2.17% firmer at R3601.66.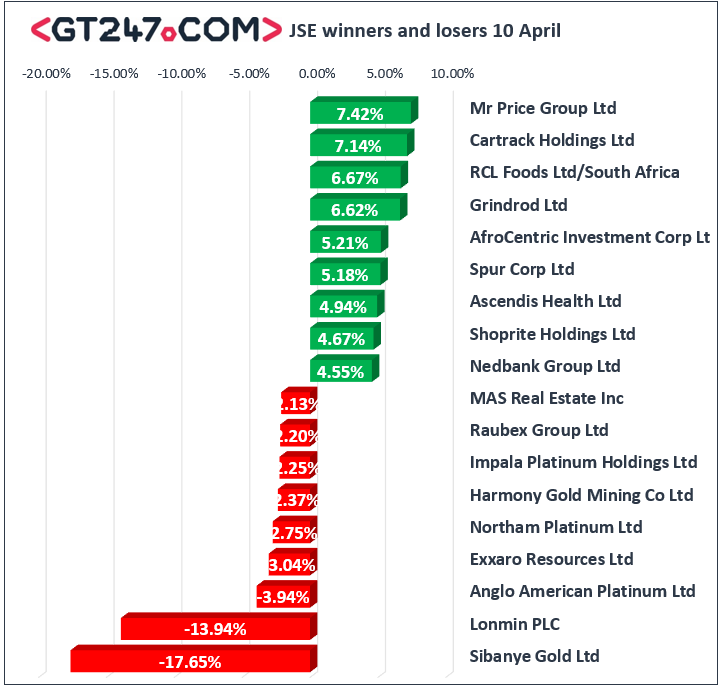 Sibanye Stillwater [JSE:SGL] slumped in today's session primarily due to the dilutionary effect of the placement of new shares with institutional investors which was done on Tuesday. The stock fell 17.65% to close at R14.00. Platinum miners also traded mostly weaker on the day with losses being recorded Lonmin [JSE:LON] which lost 13.94% to close at R13.46, Impala Platinum [JSE:IMP] which dropped 2.25% to close at R63.53, as well as Anglo American Platinum [JSE:AMS] which fell 3.94% to close at R812.54. Coal miner Exxaro Resources [JSE:EXX] lost 3.04% as it closed at R172.86, while gold miner Harmony Gold [JSE:HAR] fell 2.37% to close at R27.64.
The JSE All-Share index eventually closed 0.99% higher while the JSE Top-40 index gained 1.16%. The Resources index struggled on the day as it lost 0.46%. The Industrials and Financials indices managed to gain 1.73% and 1.66% respectively.
Brent crude advanced despite a build being recorded in US inventories data which was released on Wednesday afternoon. Brent crude was trading 0.91% firmer at $71.23/barrel just after the JSE close.
At 17.00 CAT, Gold was up 0.23% to trade at $1307.16/Oz, Platinum was 1.17% higher at $902.45/Oz, and Palladium was flat as it was only up 0.02% to trade at $1391.15/Oz.