Retailers and financials led the JSE higher on Tuesday after the rand strengthened to a 2-week high against the greenback.
The rand briefly traded below R14 against the US dollar to reach a session high of R13.95/$. This was after news broke out that the South African parliament's portfolio committee on public works had withdrawn the Expropriation Bill due to lawmakers reviewing a section of the constitution which allows for the government to expropriate land without compensation. The rand quickly erased those gains as it retraced to trade at R14.12 at 17.00 CAT.
Woolworths [JSE:WHL] ended amongst the day's biggest gainers after the stock added 4.11% to close at R53.41 per share. Mr Price [JSE:MRP] climbed to R243.50 after adding 1.56%, while The Foschini Group [JSE:TFG] added 1.56% to close at R186.30 per share. Old Mutual [JSE:OMU] firmed by 2.11% to end the day at R31.50, and ABSA Group [JSE:ABG] managed to post gains of 1.01% to close at R167.79 per share.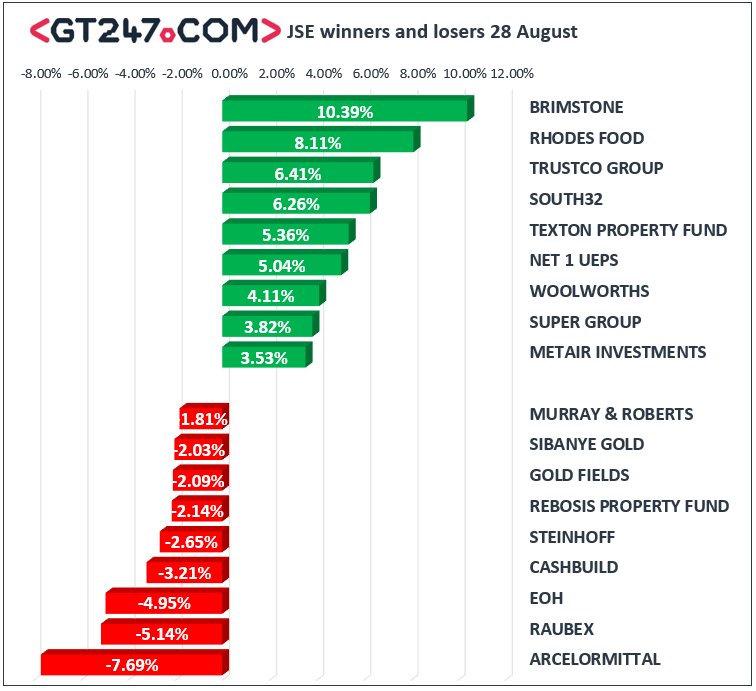 On the broader All-Share index, South32 [JSE:S32] maintained its recent momentum as it jumped 6.26% to close R37.34, while Net 1 UEPS [JSE:NT1] gained 5.04% to close at R125.00 per share. Rhodes Food Group [JSE:RFG] jumped towards the JSE close eventually ending the day up 8.11% at R19.31. Cement producer, PPC Limited [JSE:PPC] climbed to R6.17 per share after picking up 3.31%, and Imperial Holdings [JSE:IPL] closed 2.85% higher at R214.95 per share.
Raubex [JSE:RBX] retreated by 5.14% to close at R22.51 to feature amongst the day's biggest losers. EOH Holdings [JSE:EOH] failed to find any reprieve as it slipped by a further 4.95% to end the day at R40.68 per share. Steinhoff International [JSE:SNH] eased to R2.20 per share after dropping 2.65%, and Murray & Roberts [JSE:MUR] was 1.81% weaker to close at R16.25.
Gold miner, Gold Fields [JSE:GFI] lost 2.09% to close at R35.62, while AngloGold Ashanti [JSE:ANG] weakened to R112.75 after shedding 0.68%. Retailer, Shoprite [JSE:SHP] dropped 1.46% to close at R220.32 and British American Tobacco [JSE:BTI] was 1.72% softer to close at R711.41 per share.
The JSE Top-40 index was largely trading in the green which saw it close 0.61% firmer, while the JSE All-Share index added 0.64%. The Financials index was inspired by the firmer rand as it closed 1.07% higher, while the Industrials and Resources indices added 0.59% and 0.35% respectively.
Gold struggled for direction on the day and at 17.00 CAT it was mildly softer to trade at $1209.56/Oz. Platinum was down 0.42% to trade at $799.98/Oz and Palladium was 0.9% weaker to trade at $942.74/Oz.
Brent crude retreated from a session high of $76.97/barrel to trade 0.1% firmer at $76.29/barrel just after the JSE close.
At 17.00 CAT, Ethereum was up 4.04% to trade at $287.98/coin and Bitcoin was up 4.68% to trade at $7055.70/coin.