The JSE closed firmer on Monday as the move higher in US equity futures gave the local bourse some direction.
Japanese and Chinese equity markets were closed today for a holiday therefore there was no sentiment that filtered onto the JSE from those markets. Trading on the JSE was relatively muted ahead of the workers' day holiday on Tuesday.
Gains on the broader index were led by Fortress B [JSE:FFB] and Curro Holdings [JSE:COH] which climbed 7.41% and 6.98% respectively. Cashbuild [JSE:CSB] gained 4.82%, whilst Barloworld [JSE:BAW] and Liberty Two Degrees added 4.41% and 2.86% respectively.
On the blue-chip index banking stocks such as Barclays Africa [JSE:BGA], Nedbank [JSE:NED] and First Rand [JSE:FSR] gained 3.97%, 2.66% and 1.87% respectively despite a softer Rand. Retailers Truworths [JSE:TRU], The Foschini Group [JSE:TFG] and Shoprite [JSE:SHP] also strengthened by 2.42%, 2.33% and 1.63% respectively. Bidvest [JSE:BVT] added 4.12% to end amongst the biggest gainers of the day, whilst Anglo American PLC [JSE:AGL] and Imperial Holdings [JSE:IPL] managed to add 2.79% and 2.49% respectively.
Pan African Resources [JSE:PAN] came under pressure to end the day down 5.3%, whilst Glencore [JSE:GLN] slid by 5.19% following the announcement confirming that some bank accounts belonging to some of their subsidiaries in DRC had been frozen. Platinum miners Impala Platinum [JSE:IMP] and Royal Bafokeng Platinum [JSE:RBP] shed 2.87% and 2.92% respectively.
Steinhoff International [JSE:SNH] reached a new all-time low of R1.78 per share, but it managed to bounce from this low to close at R1.92 per share, down 2.04% for the day. Old Mutual [JSE:OML] and Santam [JSE:SNT] lost 1.36% and 1.23% respectively, whilst Sappi [JSE:SAP] ended the day 1.89% softer.
The JSE All-Share Index eventually closed the day 1.39% firmer, whilst the JSE Top-40 Index managed to climb up 1.45%. All the major indices managed to close in the green as the Industrials Index gained 1.71%, whilst the Financials and Resources indices added 1.49% and 0.82% respectively.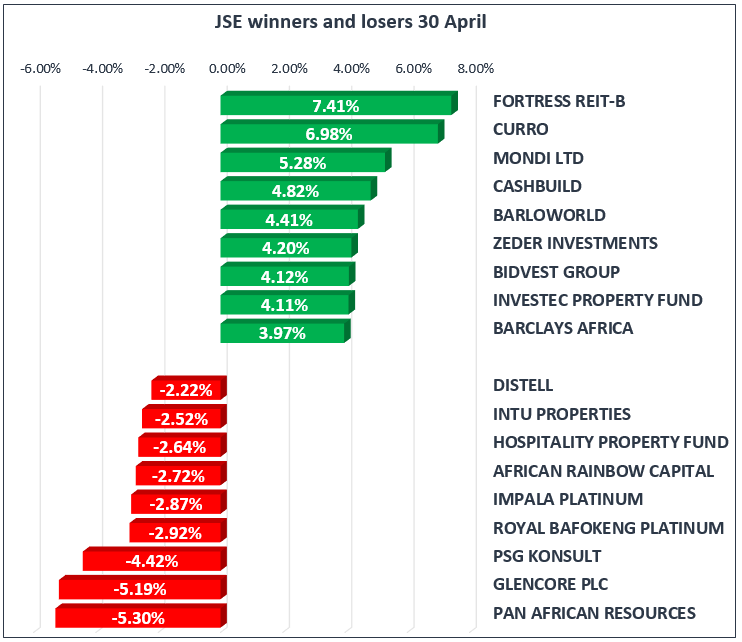 The Rand weakened by more than 1% against the greenback to reach a session low of R12.48/$. This was on the back of US dollar strength which has persisted since the upward movement of US 10-year Treasury yields over the past few weeks. The Rand was trading at R12.46/$ at 17.00 CAT.
Gold traded mostly softer due to the stronger US dollar as it slid to a session low of $1310.27/Oz. There was little impetus to support a move higher in Gold and at 17.00 CAT it was trading at $1314.24/Oz. Platinum and Palladium also traded softer today and at 17.00 CAT they were trading at $904.59/Oz and $961.55/Oz respectively.
Brent Crude traded softer earlier to reach a session low of $73.47/barrel, however the commodity managed to pair to its losses to trade at $74.75/barrel just after the JSE close.