The local bourse managed to close firmer on Wednesday despite trading mostly weaker for most of the session.
Rand hedges pulled back due to a relatively stronger rand which strengthened due to the softer US dollar. The rand managed to peak at a session high of R13.60/$ before it retraced to trade at R13.71/$ at 17.00 CAT as the US dollar rebounded.
In terms of economic data, the Standard Bank South Africa PMI for June was positive as it increased to 50.9 from a prior recording of 50.0.
The JSE traded mostly under pressure as trading in other markets such as Asia did not inspire much confidence and US markets were closed for a holiday. Alexander Forbes [JSE:AFH] slid by 7.49% to end the day at R5.19 per share. Retailer, Massmart [JSE:MSM] lost to 2.41% to close at R113.52, while Woolworths [JSE:WHL] shed 2.65% to end the day at R55.19.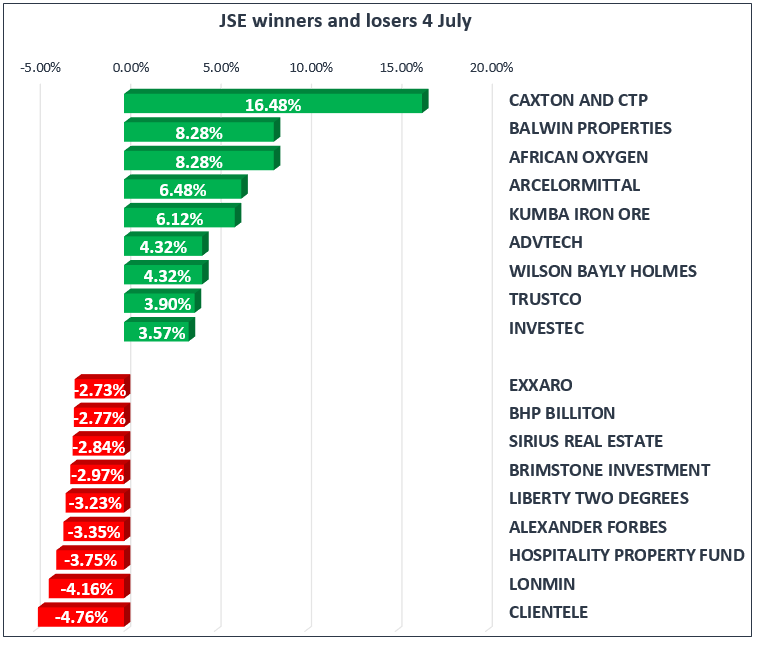 Exxaro [JSE:EXX] was 2.73% weaker to close at R128.66 per share while diversified miner, BHP Billiton [JSE:BIL], closed at R295.65 after dropping 2.77%. Rand hedge, Mondi Ltd [JSE:MND] lost 1.8% to close at R361.46 while Sappi [JSE:SAP] weakened by 0.07% to end the day at R91.07 per share. Netcare [JSE:NTC] which is now trading ex-dividend lost 2.53% to close at R27.70.
Banks responded positively to the firmer Rand which saw Nedbank [JSE:NED] and Barclays Africa [JSE:BGA] gain 1.95% and 1.96% to close at R264.47 and R166.97 per share respectively. Investec Limited [JSE:INL] firmed by 3.57% to close at R99.35 while insurer, Old Mutual [JSE:OMU] rose by 3.19% to close at R28.50. Aspen [JSE:APN] managed to add 0.82% to close at R266.17 and Mediclinic [JSE:MEI] closed at R97.15 after adding 1.2%.
The JSE staged a recovery towards the close which saw the JSE All-Share index eventually close 0.17% firmer, while the blue-chip JSE Top-40 index gained 0.19%. The Resources index lost 0.85% however the Financials and Industrials indices posted gains of 1.45% and 0.11% respectively.
Oil fluctuated on Wednesday as the market reacted to the potential of increased US crude oil inventories as well as statements from Saudi Arabia with regards to oil output. Brent crude peaked at $78.22/barrel before it retraced to trade at $77.84/barrel just after the JSE close.
Gold was lifted by the weaker US dollar and resultantly the precious metal peaked at a session high of $1261.18/Oz. At 17.00 CAT it had retraced to trade at $1255.73/Oz, up 0.24% on the day. Platinum was 0.27% weaker at $839.15/Oz and Palladium was 0.42% firmer at $947.39/Oz.
Ethereum was 1.88% firmer at $476.70/coin and Bitcoin was trading 1.9% firmer at $6706.40/coin.