The JSE broke a five-session losing streak to close firmer on Tuesday as financials and retailers lifted the local bourse.
The All-Share index did open weaker as the negative sentiment from the weaker closes in the USA and Asia weighed on the blue-chips. However, financials and retailers which have continued to weaken even as the rand strengthened managed to spring up in today's session.
The BER Consumer Confidence numbers for South Africa for the 2nd quarter slowed down to 22 from a prior recording of 26. This in conjunction with a firmer US dollar saw the rand retrace marginally from its overnight highs. The rand weakened to a session low of R13.29/$ before rebounding to trade at R13.22/$ at 17.00 CAT.
Imperial Holdings [JSE:IPL] jumped 4.73% to close at R207.13 while Long4Life [JSE:L4L] gained 3.91% to end the day at R5.32 per share. African Rainbow Investments [JSE:AIL] posted gains of 4.44% to close at R6.58, while JSE Limited [JSE:JSE] jolted up 4.48% to close at R169.00.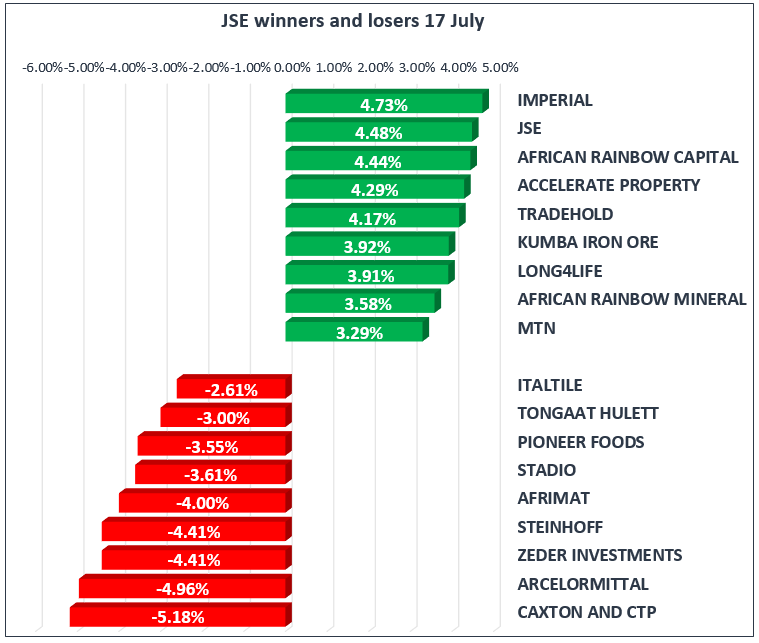 FirstRand [JSE:FSR] and Standard Bank [JSE:SBK] were the biggest gainers amongst the financials after adding 3.17% and 3.05% to close at R65.14 and R194.74 per share respectively. Retailer, Mr Price [JSE:MRP] managed to close at R220.47 after adding 2.69%, and Massmart [JSE:MSM] closed 2.85% firmer to end the day at R106.85 per share. Remgro [JSE:REM] picked up 2.54% to close at R205.25 while Naspers [JSE:NPN] managed to reverse earlier losses to end the day up 2.13% at R3371.90 per share.
On the blue-chip index British American Tobacco [JSE:BTI] came under some pressure to end the day down 1.76% at R668.04 per share. Sasol [JSE:SOL] shed 0.9% to close at R492.40 and Discovery Limited [JSE:DSY] was 0.53% softer at R149.90 per share.
Net 1 UEPS [JSE:NT1] slipped by 10.9% to close at R109.07 to end amongst the day's biggest losers. ArcelorMittal [JSE:ACL] lost 4.96% to close at R2.30 per share, while Steinhoff International [JSE:SNH] and Zeder Investments [JSE:ZED] shed 4.41% each.
The JSE All-Share index recovered from its earlier weakness to end the day up 1.33% whilst the JSE Top-40 index gained 1.21%. All the major indices bucked the downward trend to close firmer, with the biggest gainer being the Financials index which added 1.52%. The Industrials and Resources indices gained 1.32% and 0.74% respectively.
Gold slumped towards the JSE close after the release of positive US economic data. The precious metal slipped to a session low of $1226.16/Oz before recovering marginally to trade at $1227.29 at 17.00 CAT. Platinum was 0.77% weaker at $817.47/Oz and Palladium was down 1.14% to trade at $910.21/Oz.
Brent crude weakened significantly overnight but it was much more stable in today's session. The commodity was trading 0.17% firmer at $71.96/barrel just after the JSE close.
At 17.00 CAT, Ethereum was down 0.75% to trade at $470.99/coin and Bitcoin was up 1.54% to trade at $6740.10/coin.