EUR/USD – Daily
Recommendation: GO LONG (WITH CAUTION)
Current Trend: Short-term down, but oversold. Med and long-term up.
Strategy: Go long at current levels.
Trade summary detailed below:
(Daily)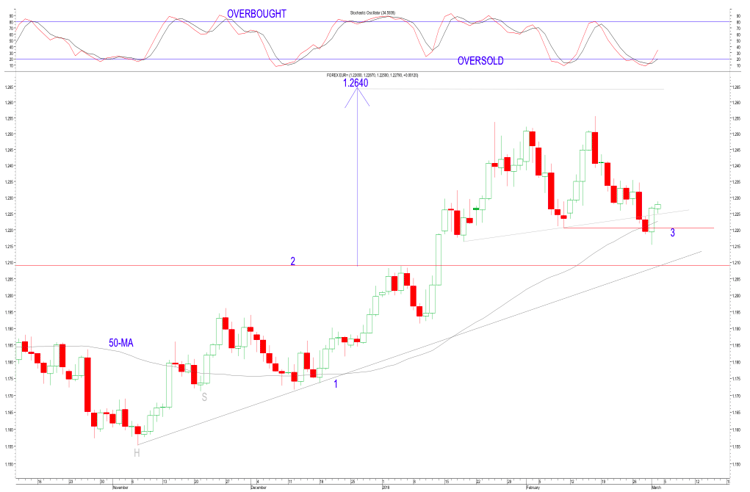 Chart Setup: The euro broke below its 9 Feb low (line 3) briefly and gave a classic bullish reversal candle yesterday (Thurs.). This also occurred from its rising 50-day moving ave (support). It's likely to rally from here.
Its short-term Stochastic is oversold, which is also bullish.
Strategy Details: Short-term traders to go long at current levels (but with caution).
Target: Take half profits at/near 1.2400. And the rest at 1.2540 if reached.
Its main target is still to 1.2640, based on a rounding bottom. But it's unlikely to be reached just yet.
To the downside, support is lines 1 and 2 at 1.2090.
Stop-loss: A close below 1.2150 (below yesterday's low). From 1.2350 raise stop to below 1.2230. And from 1.2390 raise a stop as a breaking of its prior one day low.
COPYRIGHT:
THIS NEWSLETTER IS TO BE READ ONLY BY CLIENTS OF GLOBAL TRADER. UNDER NO CIRCUMSTANCES IS IT TO BE SHOWN (OR GIVEN) IN PHYSICAL OR ELECTRONIC FORM TO ANY OTHER PERSON, WITHOUT THE PRIOR CONSENT OF THEMARKET.CO.ZA. FURTHERMORE, ELECTRONIC TRANSMISSION (EMAIL), REPRODUCING, AND/OR DISSEMINATING THIS DOCUMENT (OR PART THEREOF) IN ANY OTHER MANNER WITHOUT THE WRITTEN CONSENT OF THEMARKET.CO.ZA IS A VIOLATION OF THE COPYRIGHT LAW - AND IS ILLEGAL.