The JSE tracked other global markets lower on Thursday as investors were tentative ahead of the European Central Bank's interest rate decision.
Stocks in Asia lost steam with the Shanghai Composite Index falling 1.02% while the Hang Seng dropped 0.89%. In Japan, the Nikkei lost 0.65%. In Europe, the ECB kept the main refinancing rate unchanged at 0.00% and it pushed out forecasts for a potential rate hike as the bank delivered a more dovish press conference. To avoid a credit squeeze and cushion the current economic slowdown, the ECB launched a new stimulus package to help banks lend more credit. One of the rationales behind the program is that ECB sees growth and inflation for Eurozone slowing down by the end of the year.
The ECB's dovish tone saw the Euro plummet against the US dollar. This also resulted in emerging market currencies including the rand falling relative to the greenback. The rand fell to a session low of R14.42/$ before it rebounded marginally to trade 0.92% weaker at R14.39/$.
Rand sensitives were dragged by the softer rand which saw banks such as Standard Bank Group [JSE:SBK] fall 3.07% to close at R182.43 despite reporting a decent set of earnings in its full-year results. Nedbank [JSE:NED] fell 2.6% to close at R264.92, while Capitec Bank Holdings [JSE:CPI] lost 1.24% to close at R1238.33. Gold miner, Harmony Gold [JSE:HAR] fell 3.97% to end the day at R26.38, while it's industry peer AngloGold Ashanti [JSE:ANG] shed 2.73% to close at R185.52. Index heavyweight, Naspers [JSE:NPN] also weighed in significantly as it dropped 2.65% to end the day at R3130.00. Ascendis Health [JSE:ASC] was one of the day's biggest losers after the stock fell 5.71% to close at R4.95.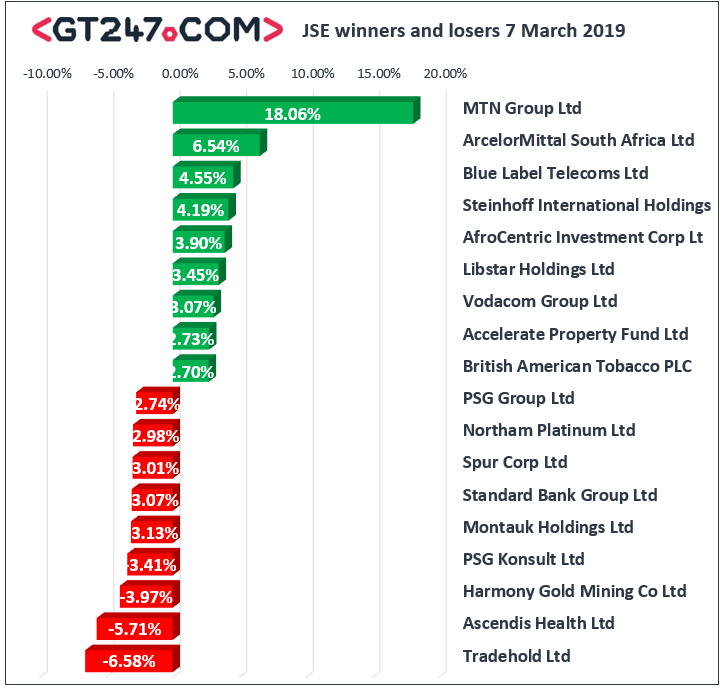 MTN Group [JSE:MTN] stood out on the day as it rocketed 18.06% to close at R89.80. This was mainly on the back of its full-year results in which the company indicated that it is planning to dispose assets worth US$1.1 billion to shore up its balance sheet. ArcelorMittal [JSE:ACL] rose 6.54% to close at R4.07, while Blue Label Telecoms [JSE:BLU] added 4.55% to close at R3.91. British American Tobacco [JSE:BTI] remained buoyant as it managed to add 2.7% to close at R580.26, while Delta property Fund [JSE:DLT] caught a reprieve as it climbed 2.33% to end the day at R1.76. Sugar producer, Tongaat Hulett [JSE:TON] advanced 2.33% to close at R30.70, while Vodacom [JSE:VOD] closed at R116.30 after posting gains of 3.07%.
The JSE All-Share index eventually closed 0.44% lower while the JSE Top-40 index shed 0.48%. The Resources index held on to its gains as it closed 0.06% firmer, however the Financials and Industrials indices retreated by 1.2% and 0.33% respectively.
Trading in brent crude was choppy as the commodity managed to peak at a session high of $67.00/barrel before retracing to trade at $66.05/barrel just after the JSE close.
At 17.00 CAT, Platinum had lost 1% to trade at $819.09/Oz, Palladium was down 0.74% at $1525.44/Oz, and Gold was 0.1% weaker at $1285.09/Oz.