Earnings season is now in full swing now with strong earning being reported by domestically listed stocks and international stocks. US banking stocks continue to defy gravity and strong earnings out of JP Morgan and Goldman Sachs gave support to US banks that have continued their rally since the election of Donald Trump in 2016. Positive effects of US tax cuts are beginning to be felt by some of the US companies as earnings begin to show a positive uptick.
The best was saved for last on the JSE as the much-awaited Steinhoff International [JSE: SNH] annual general meeting (AGM) was held today at 1pm SAST. The global retailer had been on the upward trend ahead of the AGM as investors eagerly anticipated positive news from the retailer. From the AGM presentation it is evident that the business has had to sell down some of their assets to ease the liquidity constraints that the business has been facing since the disclosure of the corporate accounting malfeasance. The positive extracts from the presentation were that the business continues to be a "solid" going concern that is aiming to focus on the overall group restructuring plan.
SNH needs to get to a point where by they no longer need to sell off assets to sustain the businesses liquidity position. The business must be commended for its efforts to engage its creditors in their 4 debt clusters and their efforts to reassure investors. Real solid investor confidence will only return to the business when the investing public are convinced that the dark cloud that once hung above SNH has disappeared and all litigation against the business has been dealt with. This may still take a while as management will only be able to release unaudited interim group results in June 2018 forming the basis to release full year audited 2018 group results at the end of January 2019.
The market was relatively quiet in the first half of the day, however the winners and losers of the day were Cashbuild [JSE: CSB] which gained 4.78%, Hammerson [JSE:HMN] was up 4.22% whilst Rebosis and Intu properties were up 3.23% and 3.22% respectively, giving the REITS something to smile about. There was no Friday cheer for investors in Sun International [JSE: SUI], Tradehold[JSE: TDH], Datatec [JSE:DTC] and African Rainbow Minerals [JSE:ARI] as these shares 5.64%, 5.57%, 5.17% and 4.3% respectively.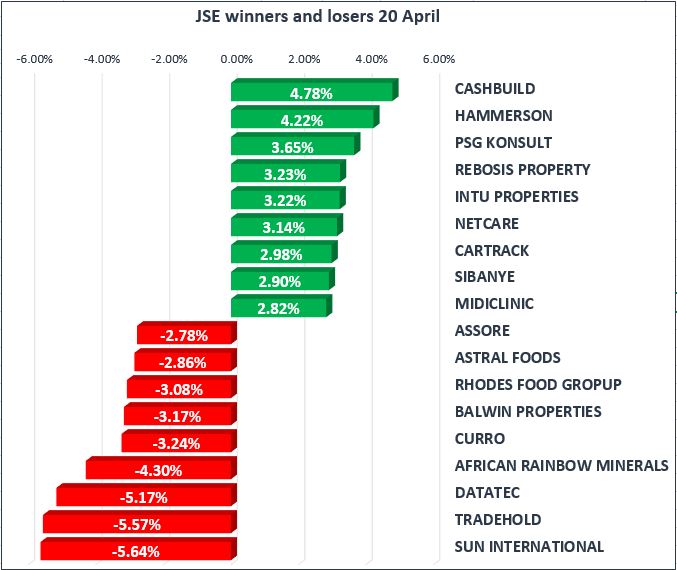 The JSE Top-40 Index was flat on the day to close the week at 50765, whilst the broader JSE All-Share Index was up 0.1% to trade at 57581points. The Resource was down 0.43%, whilst the Industrial and Financial Index was up 0.23%.
This week's performance of the JSE can only be described as a rollercoaster ride, notable gainers for the week were Steinhoff International [JSE: SNH] up 20.83%, Pick N Pay Stores [JSE: PIK] up 11.76%, Car Track Holdings [JSE: CTK] up 11.76% and Mediclinic International [JSE: MEI] was up by 15.17%, these gains were mainly triggered by strong earnings released this week. Double digit moves were also recorded in Clicks [JSE: CLS], Netcare [JSE: NTC] and African Rainbow Minerals [JSE: ARI] notching up gains of 11.35%, 10.86% and 10.23% respectively. Losses were sustained by JSE tobacco giant British American Tobacco [JSE:BTI] which slid 11.93%, whilst Metair [JSE: MTA], Intu Properties[JSE: INT] and Reinet [JSE: REI] shed 9.38%, 9.28% and 6.71% respectively.
The Rand was softer today and was trading at R12.09/ $ at 17:00 CAT. The local unit lost ground against the greenback mainly due to a rebound in the USD today. South African 10-year bond (R186) yields were higher today closing at 8.04% up from 7.98% on Thursday. Yields on the benchmark R186 declined this week moving down to as low as 7.8% on Thursday down from 8.07% last week Friday.
Bullion was weaker on the day as the dollar advanced in afternoon trade. The precious metal made a session low of $1335/Oz having traded at $1343/Oz earlier in the session. At the time of writing Gold was trading at $1337/Oz.
At the time of writing, Brent Crude was changing hands at $72.74/ barrel lower from Thursdays closing levels, this was after DJ Trump twitted that the prices of Brent crude were inflated as the market still had an oversupply of oil.