The JSE eventually closed firmer on Tuesday following a mixed session in which the local bourse traded mostly softer.
The local bourse, along with US equity futures swung into positive territory following rising speculation that the USA would delay implementing new tariffs at the 15 December deadline this week. Stocks in the Eurozone did not advance on the back of this news and remained softer. In earlier trading in Asia, the Nikkei shed 0.09% while the Hang Seng closed 0.22% softer. The Shanghai Composite Index barely closed 0.13% firmer.
The risks associated with load shedding by Eskom, as well as reductions in output reported by some miners and manufacturers have increased the risk profile of South Africa over the past week. In today's session the rand buckled as it fell to a session low of R14.84/$ before it was recorded trading 1.24% weaker at R14.84/$ at 17.00 CAT.
Miners were the biggest gainers of the day as metal commodity prices rose on the back the news that some major miners will be forced to scale back on output due to power shortages. Gains were recorded for gold miners such as AngloGold Ashanti [JSE:ANG] which gained 4.29% to close at R287.50, and Gold Fields [JSE:GFI] which rose 2.6% to close at R87.25. Diversified mining giant, BHP Group [JSE:BHP] surged 1.76% to close at R334.13, while its sector peer Anglo American PLC [JSE:AGL] climbed 1.64% to close at R406.50. Platinum miners also advanced on the day which saw stocks such as Northam Platinum [JSE:NHM] gain 4.6% to close at R117.99, while Impala Platinum [JSE:IMP] added 3.46% to close at R131.39. Other significant gainers on the day included Sasol [JSE:SOL] which advanced 3.4% to close at R272.03, Richemont [JSE:CFR] which added 1.18% to close at R111.63, and Reinet Investments [JSE:RNI] which closed at R287.50 after adding 1.56%.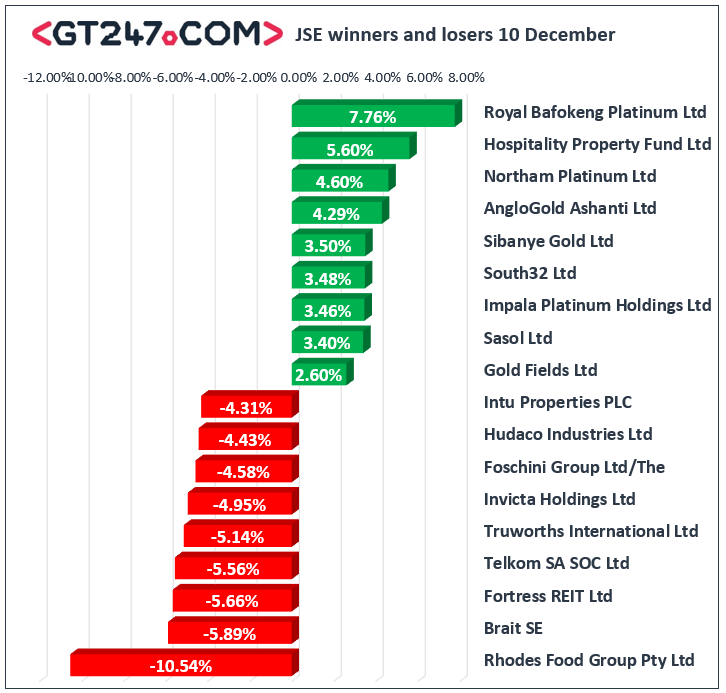 Rand sensitives bore the brunt of the weaker rand as they traded mostly softer on the day. Retailer, Truworths [JSE:TRU] fell 5.14% to close at R46.89, while Shoprite Holdings [JSE:SHP] lost 2.92% to close at R130.44. Telecoms provider, Telkom [JSE:TKG] dropped 5.56% to close at R40.27, while Blue Label Telecoms [JSE:BLU] closed at R2.84 after losing 2.74%. Brait [JSE:BAT] also struggled as it retreated 5.89% to close at R13.90, Tsogo Sun Hotels [JSE:TGO] lost 1.76% to close at R3.90. Losses were also recorded for Intu Properties [JSE:ITU] which retreated 4.31% to close at R6.44, FirstRand [JSE:FSR] which lost 1.67% to close at R61.17, and Naspers [JSE:NPN] which closed at R2030.00 after losing 1.09%.
The JSE All-Share index only closed 0.01% firmer while the blue-chip JSE Top-40 index managed to close 0.13% higher. The Resources index was the only major index to record gains as it surged 1.8%. The Industrials and Financials indices lost 0.65% and 0.69% respectively.
Brent crude was steady in today's session even as the delay in trade tariffs was announced. The commodity was trading 0.05% firmer at $64.28/barrel just after the JSE close.
At 17.00 CAT, Platinum was up 2.79% at $920.55/Oz, Palladium was 0.78% firmer at $1896.34/Oz, and Gold up 0.25% at $1465.45/Oz.
---
Disclaimer:
Any opinions, news, research, reports, analyses, prices, or other information contained within this research is provided by GT247.com at GT247 (Pty) Ltd t/a GT247.com ("GT247.com") as general market commentary, and does not constitute investment advice for the purposes of the Financial Advisory and Intermediary Services Act, 2002. GT247.com does not warrant the correctness, accuracy, timeliness, reliability or completeness of any information which we receive from third party data providers. You must rely solely upon your own judgment in all aspects of your trading decisions and all trades are made at your own risk. GT247.com and any of its employees will not accept any liability for any direct or indirect loss or damage, including without limitation, any loss of profit, which may arise directly or indirectly from use of or reliance on the market commentary. The content contained within is subject to change at any time without notice.