Local
The JSE parred earlier losses to close fairly unchanged, the All-Share index closed down by 0.07%, the blue-chip Top40 down 0.16% and industrials down by 0.11%.
Financials managed to edged up by 0.65% on the day, as PSG [JSE:PSG] and Capitec [JSE:CPI] dealt with the effects of the Viceroy report down another 5.93% and 12.59% respectively.
Today saw Steinhoff International Holdings N.V. [JSE:SNH] trade lower, as the parliamentary inquiry kicked off and news that former CEO Markus Jooste had been reported to the Hawks.
Elsewhere, a 6.7% rise in third-quarter group revenue saw mobile operator Vodacom Group [JSE:VOD] trade up by 5.45%.
The rand rallied against major currencies, after consumer confidence improved slightly in the fourth quarter linked to increased optimism and the recent stronger-than-expected rebound in real GDP growth. We saw the rand trading at R11.84 to the dollar, R16.80 to the pound and R14.77 to the euro.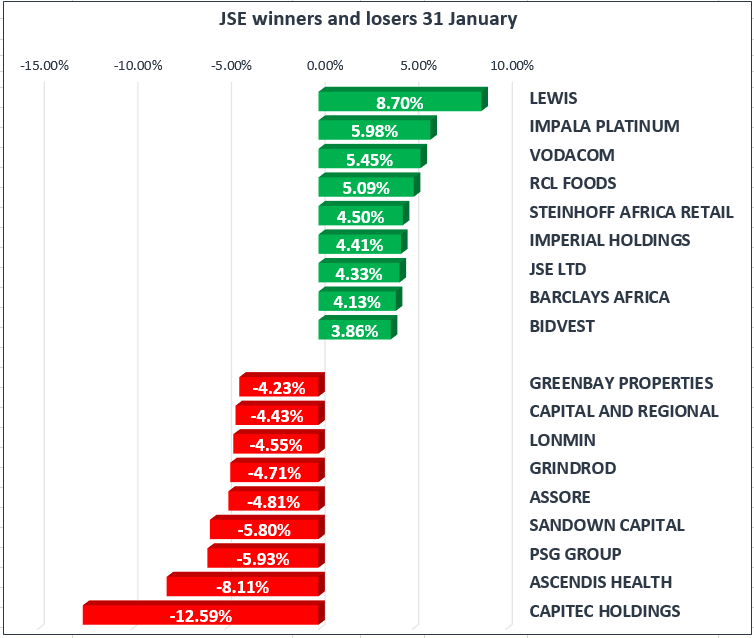 Commodities
Gold prices held onto gains, trading at $1343.91 per ounce, as the dollar shrugged off upbeat U.S. employment data and remained cautious ahead of the highly-anticipated Fed policy decision later.
Elsewhere, silver was trading up at $17.29 per troy ounce, while platinum continued to ease, trading at $1,003.34 per troy ounce.
Oil slips further from previous highs after data from Energy Information Administration's (EIA) Crude Oil Inventories showed an increase of 6.776 million barrels last week. Brent Crude is currently trading at $68.29/bbl and WTI trading at $64.17/bbl.
Global Stocks
After a controversy-free state of the union address from US President Donald Trump, Asian markets closed lower, giving up slight gains. China's Shanghai Composite was down by 0.19% and Japan's Nikkei down 0.83%.
European markets continued to follow suit, with the CAC-40 up by 0.12% and the DAX down by 0.92% after figures released showed euro zone inflation in January was 1.3% year-on-year, below the ECB's target of 2%. While in the U.K. the FTSE was down by 0.40% after E.U. Brexit negotiators have set out a tough line on financial services, ruling out the U.K.'s ambitious deal for the sector.
Today saw U.S. equities rebound on the open from the two-day sell-off, as corporate earnings keep beating expectations. While in economic news, ADP's non-farm employment numbers beat forecasts, coming in at 234,000 ahead of Friday's non-farm payrolls.
Cryptocurrencies
Major cryptocurrencies remained under pressure today with Bitcoin trading lower, down 3.22%. The world's largest cryptocurrency could be set for its largest monthly decline since December 2013 amid the threat of heightened global regulation.