The JSE edged higher on Monday mainly on the back of gains in Asian equities which advanced on the back of the optimism over the Chinese economy.
Equity markets in Asia were buoyant after data from Chinese banks showed a record number of new loans issued in January. This brought confidence that the measures being taken to stimulate economic growth by China could yield the desired effects. In mainland China, the Shanghai Composite Index rallied 3.21% while in Hong Kong, the Hang Seng gained 1.6%. The Nikkei managed to gain 1.82%.
The positive sentiment from Asia filtered onto the JSE which traded mostly firmer on the day. JSE listed miners led the gains on the day with stocks such as Sibanye Stillwater [JSE:SGL] rallying 6.24% to close at R15.15, while Gold Fields [JSE:GFI] added 4.97% to close at R55.09. Anglo American Platinum [JSE:AMS] released a decent set of full-year results which saw the stock gain 1.32% to close at R700.00. Resilient REIT [JSE:RES] managed to post gains of 4.23% to close at R63.06, while Kumba Iron Ore [JSE:KIO] firmed by 3.02% to close at R386.50. Despite a softer rand stocks such as FirstRand [JSE:FSR] gained 3.24% to close at R64.78, while retailer, Woolworths [JSE:WHL] closed at R46.08 after gaining 2.17%.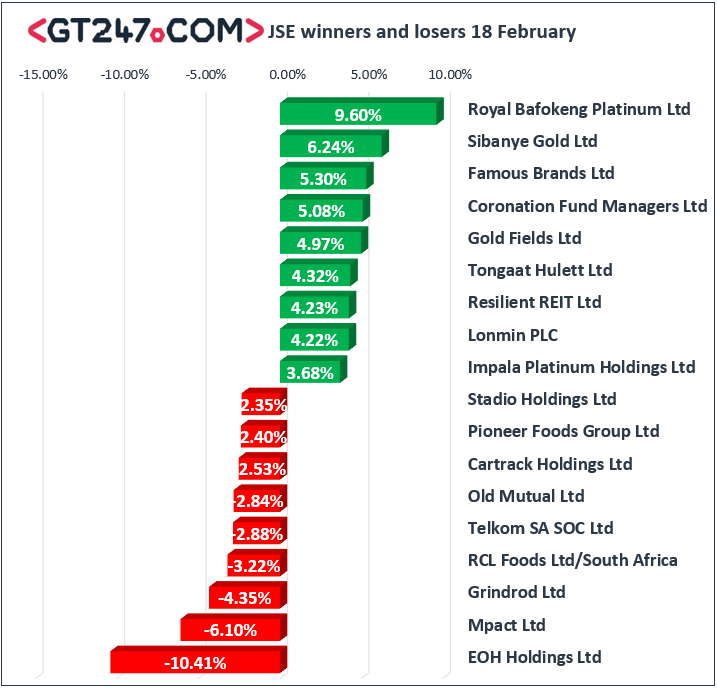 Another tough day ensued for EOH Holdings [JSE:EOH] as more information surfaced in the media with regards to the cancellation of its contract with Microsoft. The stock slumped 10.41% to close at R17.47. Telecoms provider, Telkom [JSE:TKG] lost 2.88% to close at R67.78, while Old Mutual [JSE:OMU] fell 2.84% to close at R22.55. Rand hedge, Bid Corporation [JSE:BID] retreated to R288.70 after dropping 87.70, and Brait [JSE:BAT] lost 2.26% to close at R27.25.
The JSE Top-40 index closed 1.18% firmer, while the broader JSE All-Share index also gained 1.18%. All the major indices managed to close in the green with the biggest gainer being the Industrials index which gained 1.21%. The Resources and Financials indices gained 0.96% and 1.18% respectively.
The rand advanced earlier to peak at a session high of R14.03/$. However, it relinquished all of its gains to trade 0.32% weaker at R14.12 at 17.00 CAT.
Brent crude was mixed in today's session following last week's impressive rally. The commodity was trading 0.2% firmer at $66.38/barrel just after the JSE close.
At 17.00 CAT, Gold was up 0.29% to trade at $1326.30/Oz, Platinum was flat to trade at $808.08/Oz, and Palladium had gained 1.71% to trade at $1458.17/Oz.
Bitcoin was up 5.65% to trade at $3892.80/coin, while Ethereum had surged 13.63% to $146.13/coin.